Hunger Mountain 19: The Body Issue
Hunger Mountain 19: The BODY Issue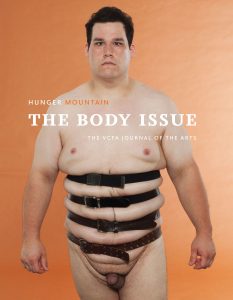 With spectacular (and controversial) cover art, the BODY issue announces bold intentions: to create a collage of poetry, fiction, essays, and children's lit that address the body and all its myriad forms and functions and flaws and failures, its miracles, its magnetism, the way the BODY shows up in culture, in memory, in childhood, in dreams, in our understanding of SELF.
Featuring Tattoos by one of NYC's finest Tattoo artists, the winners of our Poetry, CNF, Fiction, and Children's Lit contests, and a Middle Grade novel-in-verse that's also a book-within-a-book, the BODY issue is 216 beautiful pages of art and literature.
Also in this issue: poetry by Chard DeNiord, Pushcart nominated "Day Trip," by Noelle Catharine Allen (read a review on Ploughshares here), Pushcart nominated "What is There, What is Missing," by River Holmes-Miller, Pushcart nominated "These Things Should Not Happen," by Michelle Webster-Hein, and Pushcart nominated poetry by Joel Brouwer.
$12