Subscribe to Hunger Mountain
Your $18.00 subscription gets you the next two print issues of Hunger Mountain, which publishes award-winning poems, stories, essays, artwork, children's lit, and other surprises. Your subscription begins with the most current issue in print, and will continue until the next print issue is released. Thank you!
---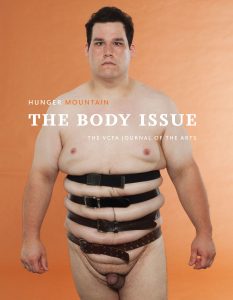 With spectacular (and controversial) cover art, the BODY issue announces bold intentions: to create a collage of poetry, fiction, essays, and children's lit that address the body and all its myriad forms and functions and flaws and failures, its miracles, its magnetism, the way the BODY shows up in culture, in memory, in childhood, in dreams, in our understanding of SELF.  Featuring Tattoos by one of NYC's finest Tattoo artists, the winners of our Poetry, CNF, Fiction, and Children's Lit contests, and a Middle Grade novel-in-verse that's also a book-within-a-book, the BODY issue is 216 beautiful pages of art and literature. Published Spring 2015.
$12
---
Hunger Mountain 18
NewPages calls Hunger Mountain 18 a "go-to for solid stories and surprises."  Fiction by Patrick Dacey, Patrick Downes, John Hough Jr, Kendall Klym, Howard Frank Mosher, and Cody Walker (winner of the 2013 Howard Frank Mosher Short Fiction Prize). Creative Nonfiction by Dionisia Moarales, Allie Rowbottom, and Julie Marie Wade. Poems by Brandon Amico, Susan Cohen, Rafaella Del Bourgo, Chard deNiord, Leah Falk, Matthew Fee, Catherine Freeling, Shelley Girdner, Jessica Goodfellow, Dennis Hinrichsen, Rosemary Kitchen, Sydney Lea, Annie Lighthart, Russ Madison (winner of the 2013 Ruth Stone Poetry Prize), Kathleen O'Toole, and Ann Pelletier. Young Adult and Children's Lit by Maggie Lehrman, Jackie Lea Sommers (winner of the 2013 Katherine Paterson Prize), and Christina Soontornvat. Drawings by Kerri Augenstein, Cathy Jones, Joan Linder, and Samuel Rowlett. Published Winter 2013/2014.
$8
---
Hunger Mountain 17: the Labyrinths Issue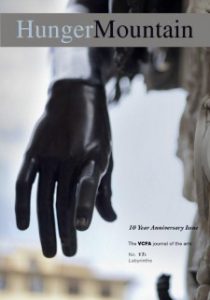 Also our anniversary issue, celebrating ten years publishing great fiction, poetry, creative nonfiction, children's literature, and visual art, The Labyrinths Issue contains two pieces awarded Pushcart Prizes:  Pam Houston's essay "Corn Maze" and Kwame Dawes' poem "The Separation/Retention." Three essays from The Labyrinths issue were named "notable" in Best American Essays. The issue also contains a special 10-year anniversary feature, Lists of Ten by some of today's most exciting writers. Steve Almond gives us his Top 10 Candy Bars. Laura van den Berg lists 10 great titles of semi-recent fiction. Vermont Poet Laureate Sydney Lea lists his 10 favorite sounds. Robin Black presents 10 spaces in her ideal home. Lovely, hilarious, bizarre: there's food for thought on every List of Ten. Published 2012.
$8
---
Number 16: the Hunger Mountain Menagerie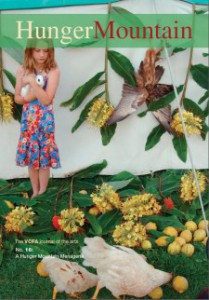 NewPages praises The Hunger Mountain Menagerie for its "visual elegance," and recommends issue 16 "for its variability and literary richness, but more even for its lovely visual presentation." Our special Menagerie Feature includes stories, poems, and thoughts about beasts of all kinds, with writing from Adam Levin, Laura van den Berg, Dani Shapiro, Robin Black, Edith Pearlman, Nancy Eimers, Pam Houston, Ron Carlson, and William Olsen. The Menagerie includes gorgeous glossy full-color photographs by Linda Adele Goodine; an essay on secondary characters in fiction by Robin Black; poems by Marge Piercy, Mark Doty, and so many more magnificent poets; and the winners of of the 2011 Howard Frank Mosher Short Fiction Prize, the Katherine Paterson Prize for YA and Children's Writing, and the Ruth Stone Poetry Prize. Published 2011.
SOLD OUT
---
Number 15: The Thing at the Top of the Stairs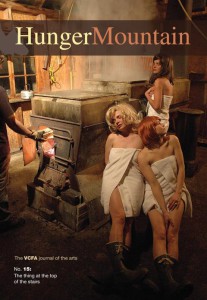 NewPages calls Hunger Mountain 15 a "veritable reading buffet" perfect for when "your brain gets to feeling a bit peckish—in need of a good read." The issue gets its name from a writing challenge inspired by Ray Bradbury. Hunger Mountain asked 21 writers to jot lists, without thinking too hard, of the things that represent the writer's deepest interests, preoccupations, desires, fears, obsessions. These Bradbury lists, from Melissa Febos, Paul Lisicky, Michael Martone, Bruce Smith, and others, are sprinkled throughout the issue's poetry, fiction, creative nonfiction, children's literature, and photography. "The icing on this literary cake," the NewPages review goes, "is the photography by Heather Gray. These sensual, thought-provoking works make a statement about the history of women, the fear of domesticity, and the power of the feminine. As a section placed between the sharp flavors of this literary sandwich, Gray's artistic style adds an amusing note both inside as well as on the cover." Published 2010.
$8