Red List Blue
by Lizzy Fox
Finishing Line Press
ISBN: 978-1-64662-409-6
$19.99 paperback
57 pages
Lizzy Fox's debut poetry collection Red List Blue is a love song to a planet in crisis. By turns conversational, questioning, incantatory, and pleading, her poems circle a profound central question: how might we face the overwhelming calamity of climate crisis without going numb or turning away?
In "On Watching a Video of Sea Creatures Swimming through Trash," Fox chronicles a moment of heartbreak as she grapples with the effects of over-consumption: "It's the stingrays that get me—in the aquarium's/ touch-and-feel tank, how they look like improbable/ birds or gentle dinosaurs." In "Collapse," she visits a resort on a family trip, then swims, "over the reef wearing Banana Boat and cringing, flapping/ my heavy flippers, breathing/ awkwardly through my mouth, wondering:/ where are the fish? Where are the fish?" Fox admits: "I could talk about something cute." Instead, she lovingly faces the disaster. In "Updating the Red List," she chronicles the categories of animals facing extinction, "a menagerie of unpronounceable Latin/ the pixelated faces, tree limbs, ferns." Her willingness to bear witness, whether to extinction or her own chronic anxiety, is a brave beacon, creating a little more light for the reader to see their own fear and uncertainty, asking us to pay attention to the details of our lives and the consequences of our actions with the same care that Fox does.
Recurring poems on anxiety and depression weave through the manuscript. In "On Depression (a sticking point)," the speaker's mind wanders as she tries to swallow a pill: "That kiss at our friends' wedding./ Each of us alone." In "On Anxiety (keeping busy)," she tries to keep herself occupied: "Cat hair vacuumed, swept from corners/ and from under the radiator./ The top of the bureau/ dusted with a wet cloth. Stove sponge-scrubbed." The recurring poems serve as an emotional touchstone: a reckoning with the personal manifestation of collective grief.
In "Monarch Meadow," Fox weaves together personal pain and climate collapse even more directly: "I left before the night came on, but imagine the field filled with fireflies in summer/ and in winter, only ghosts—the same ghosts my brother said/ came into the house at night to shatter bottles and leave holes in the walls." The poem ends with these devastating lines: "I did not know the new farm would pick apart the bales and till the milkweed under./ That monarchs would starve mid-migration./ That they were half-ghosts already, fluttering before my eyes."
Despite the somber subject matter, quiet moments of joy permeate the book. In "Valentine's Day," the speaker celebrates her unabashed love for herself and the world: "I'm/ the anticipation of small births—the burst of tulip petals, geese come north." Her careful witnessing of the details of her life yields this epiphany: "I'm afraid of heights. Living on the ground,/ I see small things: the child who licks cherry goo from her fingers,/ the discarded candy wrapper stuck in a wad of snow sure to melt,/ puddles growing like so many small prayers."
Like an incantation or a prayer, Fox helps us move from numbness to feeling. In Red List Blue, she has woven together a gorgeously haunting collection of poems that bravely investigates crisis without trying to arrive at answers, holding the world and the reader in a generous embrace that has room for grief and complexity, as well as joy.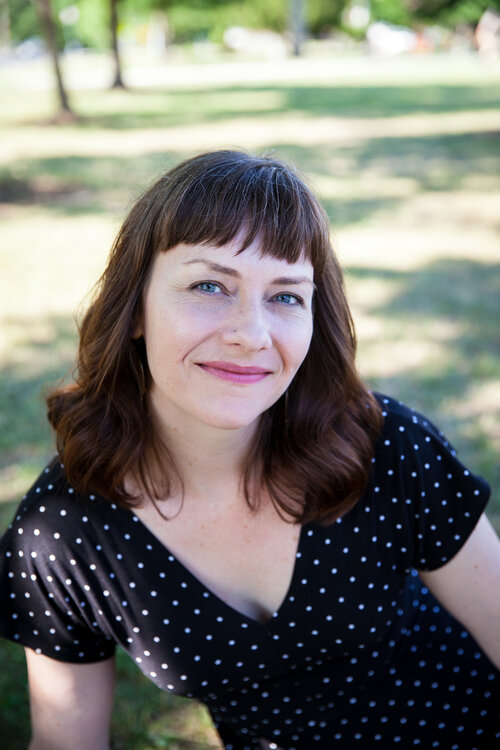 Rebecca Jamieson (she/her) has practiced creative writing and meditation for over fifteen years. She is the founder of Contemplate Create, where she teaches writing workshops with a mindfulness lens, and is the Nonfiction Editor for Isele Magazine. Her writing has appeared in The Offing, Entropy, Rattle, Calyx, Hunger Mountain, Lion's Roar, and elsewhere. Her chapbook of poetry, The Body of All Things, was published by Finishing Line Press in 2017. Rebecca holds a BA in Writing, Mindfulness, and Psychology from Marylhurst University and an MFA in Writing & Publishing from the Vermont College of Fine Arts. She has over five years of experience teaching writing, including workshops with Write Around Portland, The Sitka Center for Art and Ecology, The Northwest Narrative Medicine Conference, the M.Ed. programs at The Institute for Educational Studies, and she also founded and taught in the Community Enrichment Writing Program at the Vermont College of Fine Arts. She lives in Madison, Wisconsin.
https://hungermtn.org/wp-content/uploads/2021/06/redlistblue-1.jpg
499
334
Erin Stalcup
https://hungermtn.org/wp-content/uploads/2021/09/VCFA_logo-rgb-200x200-1-300x300.png
Erin Stalcup
2021-06-28 11:15:54
2021-06-30 16:24:27
A Review of Red List Blue
by Rebecca Jamieson