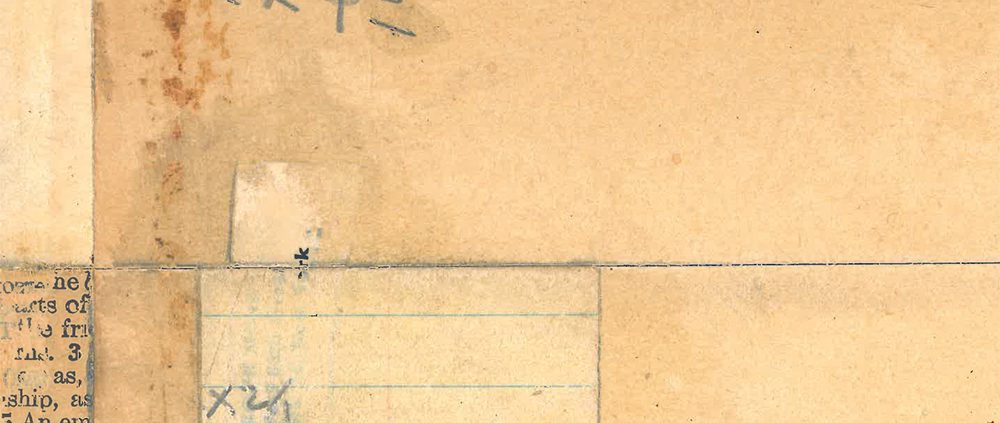 AUGUST 19: NORTH CAROLINA
Elliot Mazer won't work with me. The music producer has been in the business for decades, so he knows what language my funders want. But every time I bring up copyright he changes the subject back to himself and his past glories. In fairness, however, he does this with every other question I ask him as well.
I thank him for the interview and imagine the edited version. I'll include some discussion about how he's produced many of Neil Young's seminal albums, but perhaps—because viewers might think him arrogant—I'll leave out the part where he says the singer and guitarist wouldn't be where he is today without Elliot's expertise with a sound board. I'll include discussion of his life now, here in Reidsville, North Carolina, just south of the Virginia border. How he's converted the stately dining room of this grand old home into a state-of-the-art studio. And how he's using that studio in his semi-retirement to produce albums for clients who find him online.
I'm okay with this interview being a disappointment, because I have another one to shoot, here in this home with his wife, Diana Reid Haig. Elliot and I leave the high-ceilinged front parlor and walk down the home's front hallway, across the worn oak floors, past the antique brass gas-style wall lamps, below the dental plaster molding framing the pressed tin ceiling. Halfway down the hall he slips into his studio and I keep going. As I enter the kitchen a wooden floorboard creaks under my foot. Marisa, seated with Diana at a small round table, slams her sketch book shut. One of the pencils Colleen Doran gave her yesterday rolls off the table onto the parquet floor.
"Oh here, sweetie, let me get that for you." Diana slips gracefully out of her chair and retrieves the pencil as she stands. She reaches down and presses straight the skirt of her blue sundress. Marisa takes the pencil from her.
"Thank Diana," I say to Marisa.
"Oh, that's not necessary. Your daughter is so charming and polite," Diana says, as if boasting about a favorite granddaughter. She's describing the Marisa I once knew, not the teenager I live with now. I decide to celebrate the fact that Marisa did not alienate our host during the hour I was interviewing Diana's husband. "How did it go with Elliot?"
"Great," I lie. "Are you still up for an interview?"
"Oh, why not," she says with a smile.
When it was decided I would interview Elliot first, Diana immediately volunteered to "entertain" Marisa in the kitchen. Elliot clearly won't be playing the same role during my interview with Diana. I recall how quiet Marisa was during my interview yesterday with Colleen, and how much she seemed to get out of being present for it. "Marisa, do you want to join us?"
Marisa looks down at her notebook, and then shakes her head no.
Diana places her hand gently on Marisa's right shoulder. "I think she probably just wants to keep working in her sketch book. She's a brilliant artist, Patrick. You should see the still life she just did. Show your father, Marisa."
I step forward. Marisa would in the past show me some of her drawings, but the person she most wanted to share with was my mother. I don't know who she shares her art with now, or even what art she is producing. I've had opportunities to peek at her work—like everything else she owns, she leaves her sketchbooks all over the house—but I've resisted. It isn't the same if she doesn't show me. I'm not sure this counts, with Diana insisting she do so. But I'll take the opportunity nonetheless. I see on the page the fruit bowl centerpiece. Two bananas, a peach, and an orange emerge from the blue ceramic bowl. The fruit is depicted accurately, but there's more to it than that. It's as if Marisa has added some spark of life to the display. The banana in the foreground appears to be calling to me to choose it over its bowl mates.
"Marisa, that is quite good. Diana is right."
"Oh, your daughter is so talented. She told me all about her love of drawing, and especially of photography. And she's so thrilled you're taking her to Savannah to tour the art school there. She's lucky to have a father like you."
Now my discomfort level matches that of my daughter. I nod to Diana to join me in the hall.
"Marisa," Diana says as we leave the kitchen, "don't forget that I'm sending you two on your way with blueberry muffins. I won't take no for an answer."
We return to the front parlor. I had seated Elliot in a wing-back chair, but I want to film Diana in a separate part of the room. She suggests the bench in front of the upright piano.
"You said this house dates back generations in your family," I say as I set up the camera. "And I can't help but notice that your last name is Reid, and the town's name is Reidsville."
Diana laughs. "Yes, I am local royalty, if you will. But my branch is the black sheep. My grandmother built this house at what was then outside of town. We're still viewed as the splinter line."
I nod knowingly, but don't inform her I also grew up with black-sheep parents. We begin the interview. Diana discusses her early career as a songwriter in New York, Nashville and Los Angeles. She grew up surrounded by music, and it was in that professional world that she met Elliot. She turns and places her left hand on the keys behind her. "I remember when I was young, my piano teacher, at this very piano, told me that when I play, I'm putting my hands in the same position as that composer's hands. That made the music come alive to me. It's like a living link to the past, stepping into someone else's shoes."
"That's not unlike the books you write."
Diana has written a series of travel books that guide the reader along the same paths followed by famous people in their cities of origin. If you've ever been curious about where Napoleon or his wife Josephine passed the time in Paris, her books will take you there. I've been reading a fair amount of travel literature as I've prepared for this trip, and I didn't come across any other works that are so original in concept.
"Yes, you're right, although I've never really thought of it that way. I just am really obsessed with history. You know, that first book about Napoleon grew out of a personal obsession. I love Paris, and when I was there I'd seek those places out. Often they're very hard to find, so I'd jot down directions to share with others. But believe it or not, I found the people I knew, in the music business, weren't that eager to talk about Napoleon. I'd bring him up and I could see my friends kind of back away and say, 'Oh there she goes again.'"
That's my experience when I try to share with Washington lobbyists my passion for antique maps. With these books, Diana found a way to convey her passion to like-minded readers. A perforated ulcer laid her up in bed for close to a year, she tells me, so to keep busy she compiled her travel notes into a book. It didn't take long for her to find a publisher, and she's since written more books about Paris. Her new project is a book about Jacqueline Kennedy Onassis' lifelong love affair with New York City. The Kennedy family has given her access to some of the former First Lady's personal records.
I tell her about meeting Michael Swanwick in Philadelphia, and how he turned a personal obsession about a poet into a published biography. Then I ask what her friends in the music business think of her books.
"It's been very interesting to see how people perceive different forms of creativity, the songs I've written and my books. It's a different reaction. It seems to me that people really admire it when you can make something up, like with my songs. But I love writing nonfiction. It's my passion now. It's what I think about when I wake up in the morning. You just need to find your own compass."
I like that metaphor, and not just because I love the artistry found in an antique map's compass rose. I picture Diana, an artist who reinvented herself late in life, gliding along the cobblestones of a tucked-away Parisian lane, sunlight glistening on her copper hair. I see her bursting with excitement, a skip in her step as she explores, then her stopping to pull out a notebook from her purse so she can jot down her latest discovery.
We discuss the mysteries of the creative process some more and then I wrap up, not distressed that we haven't really discussed copyright law. I secure the camera in its bag. Diana remains on the piano bench, a mischievous gleam in her eye.
"I assume you're writing a book about this trip, right?" she asks.
I feel as if she's caught me stealing a banana from her bowl. I realize now that my subconscious has been toying with the idea since that first day in New England. My resistance stems from the fact that I can't figure out how to write a book about my travels without putting me in it. I think of other road-trip authors like John Steinbeck and Jack Kerouac and William Least Heat Moon and Robert Pirsig. They invite you to join them in their journey. Steinbeck, an old crank longing for an America he feels is lost. Kerouac, living without fear of consequences. Heat Moon, learning and healing from those he meets along the way. And Pirsig, who slowly reveals his struggle with mental illness. That last one hits perhaps too close to home.
"You absolutely must write this story," she says. "What you're doing is so, well, different. I'd love to be Marisa, to ride along with you, even if only for a few days."
We head back to the kitchen. Rain pelts the bay window over the sink, a barrage of liquid bullets. Marisa and I will have to brave a run across the street to the car. Diana offers us umbrellas, a gesture I immediately dismiss. I don't mean to dismiss Southern hospitality, but we'd have no opportunity to return them.
Elliot remains in his studio, but Diana offers us a farewell. She thanks me for the interview before I can thank her. Then she gives Marisa a full-body embrace. I watch for my daughter to flinch, but she does not. Her arms go up, and her red sketch book wraps around our host. Then Marisa and I dash to the car. Once safely inside the vehicle, only moderately drenched, Marisa says, "Um, Dad," and points out my driver's side window.
Diana is rushing across the street, a bag in one hand and a red umbrella in the other. I lower the window.
"You forgot the muffins," she says over the sound of the sheeting rain bombarding the umbrella's nylon.
"You didn't have to do this," I say, but I take the muffins.
"I wouldn't let you leave without them," she says. "It's the least I could do, after your gift of letting me talk about my creativity."
Diana heads back to her family home, I close the window, and then turn to Marisa. She's smiling and shaking her head.
"What the hell was she thinking?" Marisa says. "That is so nice, and so ridiculous."
"You know," I tell her, "I've stopped being surprised by things on this trip."
~
We slice west through the rain toward Asheville, North Carolina. I'm taking Marisa tomorrow to the Biltmore Estate, a summer home for one of the Vanderbilts. It seemed like a good place to give Marisa a tourism experience and, perhaps, make up for having done so little with her during our family vacation on the Jersey Shore. To justify the drive, I booked an interview with an artist nearby.
Marisa and I chuckle over how sweet Diana is. She then tells me that Diana spent most of their time together in the kitchen encouraging Marisa to pursue her passion for art. That was unnecessary. Art is the only thing that motivates Marisa to apply herself. Then Marisa falls silent, and I see her eyes are focused on a highway sign. It tells us we have forty-seven miles to go before we reach Asheville. But it also says we are one hundred and sixty-three miles from Knoxville, Tennessee. Marisa emits a low growl, puts her ear buds back in, and then flips open her sketch book.
I didn't realize that this highway could lead me to my parents' home. I consider the possibility of pushing on to Knoxville for a surprise visit with my parents. Perhaps that is the way to mend this latest rift. I ended the last one, after all, by calling them with news of Marisa's impending birth. Maybe this time having Marisa in tow would do the trick. Since we left their house in the middle of the night a year ago, Marisa has finished her first year of high school. She's knocking at the door of womanhood. But my mother knows that without me visiting. That call fifteen years ago delivered news unknown to her.
I almost drove another route to Knoxville in January of this year. I was attending a conference hosted by one of my funders at the Gaylord Opryland Resort in Nashville. While seeking a quiet moment under a palm tree in the resort's glass-enclosed garden conservatory, my mobile phone rang. It was my mother.
"Your father's having a hard time breathing. I'm taking him to the hospital now."
Somehow I had been expecting a call like this. And here I was, I thought, back in Tennessee for the first time since that August night five months earlier. "I'm in Nashville, Mom. I can rent a car and be there in two hours."
"I doubt your father would want to see you, but hold on. I'll call you from the hospital." And she hung up.
I felt as if the marrow had been drained from my bones. I made my way to a hotel bar, a dark, low-ceilinged establishment that cocooned my fear. An hour later the phone rang again. I quickly put down my scotch and answered.
"He's fine. False alarm."
"I'm glad. I can still come."
"I don't know why we'd want you here."
I took a sip of scotch. How often had I held this conversation in my mind? Hundreds, probably. Each time I tried a different approach. The only commonality was that each ended disastrously.
"Mom, I think we should talk." I forged ahead. "The last time we found ourselves like this, Marisa's birth brought us back together. Well, Marisa and Parker still need grandparents."
"She'd have to apologize first."
Already I was thrown off-script. "You mean Marisa? What would she be apologizing for?"
"For starters, she defriended me on Facebook."
I placed the phone down on the bar, careful not to disconnect the call. I needed a moment to process my mother's demand, and the reason for it. My motion caught the bartender's eye, and he pointed at my near-empty glass. Ordering another round had not been my intent, but I nodded.
Two weeks after the kids and I returned from Knoxville last August, Laura took me to a psychologist she trusted. I wanted to better understand my mother, to learn how I could repair this latest rift or, at a minimum, discuss what had happened with my children. It didn't take him long to assess my situation. He mapped out our relationship on a whiteboard. Various boxes represented me, Laura, Marisa, Parker, my mother, and my father.
"Your mother is a classic narcissist. This is how she views her world," he said. He drew circles that placed all of the boxes in orbit around my mother. "She is basically frozen as a child, the center of everything and all drama magnified. Perhaps some trauma when she was young locked her into that mindset. It's an appealing place to be, the center of attention and no responsibilities. You've empowered her mindset your whole life, and it sounds like your father began to do so when she let him back into her life all those years ago." He then erased the circles and drew straight lines connecting various boxes. Only one line extended from my father's box. It connected with my mother. Laura, Marisa, and Parker were all connected to me via dry-erase marker strokes. These two clusters–my parents and my nuclear family–were joined by a single line between my mother and me. I couldn't reach my father separate from my mother. And she couldn't reach my children separate from me.
"You're the nexus, Patrick," the psychologist said.
"I don't want to be."
"It's not a matter of want. If your children are to have a relationship with your mother, it has to go through you."
In that Opryland bar I took a sip of my new glass of scotch and thought of that whiteboard diagram. Before that night, my mother had a line connecting her with my daughter. It was social media. Marisa had erased that line, and I knew she had no interest in re-drawing it. I picked up the phone again, assuming the responsibility I was evading. "Mom, I hear what you're saying. But I think Marisa would want something from you as well. Not an apology," I said quickly, anticipating an objection to my mother to a word she associated with surrender and defeat, "but perhaps an explanation. You could explain to her you didn't mean some of the things you said, some of the things she heard you say."
"What? That I wanted to keep her safe from her crazy father, who could snap and hurt her in a heartbeat?"
There are a number of fathers who could have been in her mind at that moment other than me. My father, who never physically harmed me but had on several occasions committed significant damage to inanimate objects such as drywall and bathroom doors. My mother's biological father who, like mine, left when she was young, but unlike mine did not return. Or her stepfather, of whom my mother spoke with an unsettling combination of love and disgust. I couldn't know where my mother's mind was at that moment–I never knew such things–but what was clear was that she had spent the last few months completely recasting in her memory the events of that night. She was the saint who had struggled valiantly to protect her grandchildren from a demonic father. I knew my father would have retained a memory of the evening's actual events. But the only box he was connected to on the psychologist's whiteboard was my mother. I could not expect him to support a more accurate version of events. He would do everything he could to keep from having that solitary line erased.
I did not drive to Knoxville that day at the Gaylord hotel. I stayed in that bar. I do not recall how many drinks I had, but it was not enough to fill, for even a moment, the places where my marrow had been drained.
We pass the highway sign directing us to Knoxville and I look over at my daughter. I've never told her about that January call with her grandmother. I consider acknowledging the sign, using it as a way to get her to talk to me about that night, and about the loss she has suffered the last year. She's trapped in the car now, no way to walk away from my questions. But I'm feeling a connection with her that is rare and refreshing. I don't want to ruin it by bullying her into confronting a pain she is actively avoiding.
As I reach the outskirts of Asheville I develop another plan to engage her. When I booked the interview with percussionist Paul Babelay, he told me he lived in a wooded area on a steep mountain slope, and the road that led up that mountain was extremely hard to spot. The GPS tells me I'm getting close. I hand Marisa printed directions provided by Paul. "Marisa, I need you to play navigator."
Marisa removes her left ear bud and takes the paper. "There's supposed to be a turn on the right," I tell her, "but he says it will be hard to find."
The road I'm on hugs a cutout of mountainside. On the GPS screen it appears as a solid patch of green, no black lines penetrating the block of color. Marisa leans forward, squinting.
"There it is!" Somehow her artist's eye has perceived a thin break in the pines. I come nearly to a stop, then wonder if it was wise to lose the car's momentum. The slope is steep and the road isn't paved. I press the car forward. As we move under the tree canopy, the sound of pelting rain is replaced by pings of gravel kicking up against the car's undercarriage. My distress is lessened when I see the smile on Marisa's face, a rare sight in the last year.
"Marisa, that was fabulous. I never would have spotted that on my own." My compliment has the added advantage of being sincere. As we climb, we pass one mailbox, then another. Thin strips of clearing extend left and right past each one. Then I see Paul's house, tucked away in the pines. The main floor extends out off the mountain into space, with a basement level supporting the right half of the house. A wide porch extends the length of the home in front of us, then turns a sharp left to extend along the drop-off. We step out of the car.
"You just missed a bear. Tiger is still a bit freaked out." A thin man about my age places a fat tabby down on the wood. The cat shakes slightly, it looks directly at Marisa and me, and then walks off, tail erect, the tip twitching slightly. We head inside, and I interview Paul in his living room in front of a massive stone fireplace while Marisa sketches. Her subject is Tiger, who stares at us through a glass door. Paul discusses his choice to pursue a musical career here in Asheville rather than Nashville. He and his wife have built a good life here for their children, and he is willing to take the work he can get so as not to disturb that life. I can relate. When I was a single father I turned down reporting jobs that would have had me covering Capitol Hill debates long into the evening because it would have caused havoc with my custody schedule.
Paul says his life choices have not prevented him from exploring his true passion. It's called a vibraphone, which he says is similar to a xylophone but more compelling. I ask him to elaborate but fail to listen to the response. It's as if my mind is being tugged out of my head, pulled west into a different orbit. I am in my mother's office in Knoxville. I am in the Gaylord bar in Nashville. Boxes and lines swirl on a whiteboard. I look again at Marisa. Somehow Tiger has re-entered the house and is now on Marisa's lap, forcing her to hold the sketchbook in the air above him. She doesn't appear distressed by this inconvenience. What terrible act would Marisa have to perform that would lead me to cut her out of my life? What harm would she have to inflict to have me turn my back on her, a person I have dedicated my life to fostering? I come up blank.
Marisa has been unwilling to speak of that Knoxville night with me. But what have I really said to her? Have I shared with her the depth of the pain I feel at losing my parents? No. Because I haven't fully admitted it's there. I have been performing the family tradition of denying what is right in front of me. Sabra Field told me the art-committed life is a difficult one, and many choose the easier path. The easy road–in creativity and in family dynamics–is one with which I am all too familiar. I know without looking at the camera's diagnostic display that I have enough footage. It's time to leave. It's time for Marisa and me to spend a little more time together, to search out dinner and the hotel in our respective roles of parent and child. I'm eager to do so.
AUGUST 20: NORTH CAROLINA AND SOUTH CAROLINA
I am content. Marisa is not. This library fills me with warmth and comfort despite its cavernous size. The Biltmore Estate tour guide tells me the 40-feet by 60-feet room holds 10,000 books written in eight languages. It is the largest privately owned library in the country. But what speaks to me is not the volume of books. It is the reverence in which the room holds them. The tour guide focuses on the ceiling painting, an Eighteenth Century mural by Giovanni Pelligrini that George Vanderbilt actually paid to relocate from a palace in Italy. But my eyes are not drawn to gods and cherubs dwelling in a cloud. Nor are they directed to the massive fireplace that runs the length of the two-tiered room, its black mantel blending in with the dark walnut bookcases running on both levels. No, my focus is on the multitude of books, leather-bound with gold-lined spines. Did Vanderbilt realize that by creating the grandest possible private library, the room itself could serve to humble him, showing him as just one man surrounded by the mental output of thousands? Whatever the answer, he is long gone, but the books remain.
Marisa fell into a funk once the tour began and the docent said no photographs were allowed indoors. As we've entered each room, I've watched as her hand flicked to her camera bag then slowly lowered, as if the bones in her arm had liquefied.
The docent tells us that Vanderbilt owned nearly 30,000 books in all, three times what we see here. I understand the challenge of being able to display all of the books you own, even the modest number I've accumulated. In fact, I came close to solving that problem once by intending to rid myself of most of them. It took nearly three years for my ex-wife and me to resolve our custody battle. I managed to secure three nights a week with Marisa and Parker. To approximate as closely as possible a family experience for them, I moved us from my bachelor apartment to a three-level, three-bedroom detached home in a quiet northern Virginia suburb. In what I now recognize as a bout of manic spending—always a risk for someone with my diagnosis–I furnished every room. But the legal cost of securing that custody schedule produced unanticipated debt. After a year I couldn't afford to keep renting the house. I knew things needed to change when I found myself acting out a cliché, actually digging under couch cushions for loose change so I could buy bread and milk for my children. I did in fact produce enough change, and ignored the fury of the woman behind me in line at the supermarket as I slowly counted out what I owed.
The only way to begin the climb out of debt was to relocate to a small apartment. That meant nearly all of the furniture I acquired had to go, but I hoped to make a little cash by selling it at a yard sale. I gave the kids the apartment's one bedroom, yet it was still too small for their two beds, so I sold them at a severe loss and bought a bunk bed. Marisa played the older child card and took the top bunk, but Parker seemed to like the cocoon-like environment formed underneath when Marisa's sheet hung down over the side. I placed my bed in the living room in the space meant for a dinette set, something else I had sold. I purchased a collapsible card table and folding chairs that I would set up by my bed for meals. My first year in the apartment the custody agreement had the children with me for Thanksgiving. I gathered up a number of my coffee-table books of antique maps and placed them on the bed. Each held one of the sides– mashed potatoes, peas, candied yams, the fruit ambrosia my mother always made for that meal– and my nightstand held the turkey.
I found a use that day for books I ended up not selling. When I conducted the yard sale— a key element of what I called The Simplification, the initial caps visible in my mind even now– most of my books were on display, from suspense novels bought on impulse at airports to firstedition biographies acquired through extensive explorations of used bookstores. The books were of course cheaper and more portable than a 7-piece dinette set or a set of beds, and began moving quickly. As a customer brought to me for purchase a cherished biography of the English clockmaker who made possible the calculation of longitude at sea, I realized there are only so many sacrifices that are acceptable in life. About thirty minutes into the official time of the sale, I covered the books in sheets to ensure they were off-limits. They traveled with me to the small apartment, but were not displayed in two-story walnut bookcases. Instead I stacked them on any free section of floor. My display aesthetic may have been lacking, but my reverence for those books was no less than Vanderbilt's was for his.
We are ushered out of the library to make room for the next tour group, and soon enough we are back outside, walking down the wide stone steps to the gravel drive in front of the mansion. I squint, adjusting to the sunlight after an hour spent in near-darkness. When my vision clears I see Marisa has already removed her camera. In front of us is a large expanse of green lawn. To the right lie acres of flowers and fountains we had darted past on our way to the mansion. Marisa looks at me, I nod, and she is off to the garden.
I catch up with her a few minutes later. She is shaded under a vine-covered trellis, standing precariously several feet up on the edge of a fountain. It appears she's trying to capture a close-up of a cherub pouring water. She's resting her left hand on the wet stone behind the cherub, and I imagine several scenarios that have in common a disastrous ending.
"What are you doing?" I call out.
"I'm trying to freeze a drop of water against the contours of the stone behind it," Marisa says without looking. "It's tricky with this camera, I'm stuck with the built-in lens, there aren't a lot of settings and it seems to have been designed by chimps. But I've struggled with it enough to sometimes fool it into getting the exposure level I want with the focus range I need."
I rush to her side while she takes a few more photographs. Then she permits me to support her by the arm as I guide her back to the ground. She turns instantly to her camera's screen to examine her handiwork.
"Can I see?"
She pauses, then turns the camera display my direction. I see an image too real to be real, a glistening drop of water broadcasting a hint of rainbow from the morning sun. The photograph's tranquility momentarily washes away the scorching August heat.
Marisa's latest passion is photography, and for her fifteenth birthday she had asked for a something called a digital single-lens reflex camera, or DSLR. They turned out to be pretty expensive, nearly as pricey as the laptop I'm using to edit these films. I couldn't pull the trigger on such an expensive gift. So after I said no she gathered up her cash and bought this camera used. It's not a true DSLR, but apparently she's spent the last few months trying to figure out how to get it to do what she wants anyway.
I like to think I have done my part to foster her creative development. But that has mostly been through encouragement. As Colleen Doran said two days ago, an artist needs the right tools. But Marisa's will to create trumps her technical limitations. And perhaps it is will that is the most important thing. I no longer sleep in the living room of a one-bedroom apartment. I cut expenses and took on extra work, and clawed my way out of debt. My parents helped with that, in part by adhering to my request to honor my birthday and Christmas by making donations to college funds I had set up for Marisa and Parker to which I could no longer afford to contribute. I remain grateful for their assistance, even if the amount they provided has continued to balloon in my mother's mind. Then, after I knew I would not be a financial burden on a partner, I remarried. Two years ago Laura and I purchased a three-level, three-bedroom home in a quiet northern Virginia suburb. We bought Marisa a new bed, but Parker insisted upon keeping the bunk bed. He still sleeps on the bottom, and keeps a sheet on the unused upper bunk, which I sometimes find hanging down, cocooning him. It's good that Marisa experienced that life arc, seeing her father fight his way out of a personal setback. I suspect she has focused a fair amount in the past year on what genetic inheritance she may have received from her grandmother, both artistic and mental. I don't know what questions she asks herself about genetic hand-me-downs from her father. She overheard my mother that night. She knows I have struggled with bipolar disorder. She knows I impregnated a girl as a teenager, and paid for it to be aborted. But she has also seen something in both her father–and her grandparents–that should hearten her. Resiliency. Or perhaps stubbornness. My mother has always demonstrated an unwavering determination to overcome obstacles through sheer force of will. I have never ceased to admire that about her. Perhaps unwavering fortitude is part of Marisa's genetic destiny.
~
As we leave the Biltmore estate a road sign informs us that turning right leads to Charleston, South Carolina. A left brings us to Knoxville, Tennessee. I glance at Marisa, who smiles in agreement as I make the right turn. As the driver, I control the car speakers, so I fire up my portable music player as I start down the interstate. After a minute of not hearing any music I glance down at the player and see the screen is frozen. I fiddle with it, turning it on and off with my right hand while my left holds the steering wheel. Such multitasking is reckless, I know, but I am compelled to bring this device back to life. It is unthinkable that I am facing three weeks of lengthy drives with no recorded music to distract me. I filled this player specifically for this trip, hundreds of hours of rock, blues, and gospel to provide energy and classical to wind me down. My record-label and music-publisher members would be pleased to know that all of the music was acquired legally. But now that is all gone.
Thoughts race. Bile rises in my throat. I hear my doctor's voice reminding me of the importance of staying calm in the face of the unexpected. I do not feel calm. I want to take this thin metal contraption with its brand name frozen on the front screen and hurl it out the car window. I want to whip the car into a violent U-turn and thread through the oncoming traffic so I can smash the unfaithful plastic player under two tons of unforgiving steel. Instead I glance at Marisa. Lost in her own music, she has not detected my growing rage. Nor do I wish her to. I focus on the road ahead, counting the white highway dashes whizzing by on the left the way I used to count letters when I would pyramid as a child. The repeated flicks of paint dance across my mind in a rhythmic staccato. My heartbeat synchronizes with the beat, then my breathing joins in harmony.
When my father knew he was on the verge of a manic outburst, he often fled to his car. My mother and I would wait, sometimes for hours. When he returned, he was back to his calm, medicated self, and we would all pretend that life was normal. I am approaching an approximation of normalcy now, at least well enough that I can fake it with my daughter. I point to the music player on her lap, then speak loudly.
"Do you want to play that through the car speakers?" She pulls out her left ear bud, I repeat the question, and she smiles.
"Really? You don't mind?"
"I'd like to hear what you're listening to."
For the next three hours she flicks through her music library, informing me of when she discovered this song or that artist while explaining how her musical tastes have developed. I tell her what I like about what she's playing, as well as what I dislike. I'm surprised at how much of it I enjoy. There's a darkness to a lot of her music, minor chords and lyrics dripping with pathos. It is a stark contrast to the music popular when I was a teenager, bouncy pop tunes by Boy George and Cyndi Lauper. But then again I didn't listen to those artists. Some of the music from my childhood is on that dead music player, including moody works by Pink Floyd. And, from what Marisa tells me, her music isn't what is popular now.
"Oh, you've got to hear this song," she says, repeatedly pressing a button. "It's a giveaway tune that was already on the player."
An acoustic guitar opens to a wholesome male voice.
"The world… is made of energy. And the world… is electricity. And the world… is made of energy. And there's a light inside of you, and there's a light inside of me."
The dark complexities that have filled the passenger cabin are washed away by this sunshiny folk tune. I wince, and begin to seriously question my daughter's musical taste. Then I hear it, rising above the music. Marisa is actively suppressing laughter. I glance at her and see those blue eyes squinting as a smile extends upwards from the edges of her mouth, the same expression she had a year ago as we watched that dancer on my mother's television.
"What a lovely song," I say. "I can see why you like it so much, Marisa. It's so moving. So insightful. And so true!"
Marisa's laugh finally explodes.
Music was central to our time together when she was young. When I first moved out of her mother's house I bought her a pink cassette player. She would fall asleep to Disney soundtracks. Of course, kids that age can listen to the same music over and over again, at least as much as I listened to Dark Side of the Moon as a teenager. The tapes weren't just her bedtime accompaniment. They'd play in the car when I drove her to school, or at the table when I fed her dinner. Those tunes burrowed into my brain without invitation, and sometimes I would snap. Unlike my father's pre-lithium explosions, I instead embraced a more creative response. I would make up lyrics and sing them loudly over the Disney talent.
I find myself doing that now: "And the world… is made of angry bees. And the world… is made of nasty fleas. And the world… is full of underpants trees. And there are leafy shorts on you and there are leafy shorts on me."
Now she's bent over, gripping her side. Apparently she didn't mind that the word "underpants" has too many syllables to perfectly parallel the song's meter. Then she pulls out her phone and begins to text. I had her, for a moment, but now she's fallen into her virtual world, a place without fathers. Yet, after some frantic typing, she resurfaces.
"I just got a text from Brian."
All I know about Brian is what little intel Parker has provided me. Brian is one of Marisa's classmates. From what I gather she is fond of him, but he is like many boys in his early teen years, not fully focused yet on girls. I am very pleased with this and hope he stays that way for some time. But she has never spoken his name around me.
"Brian," Marisa says, "wrote that any dad who imagines underpants trees has to be the coolest dad there is."
I fix my eyes on the road so Marisa can't see how close I am to tears. "Text Brian that he is an excellent judge of character."
Before I know it I see a sign reading CHARLESTON 18 MILES. But my focus is on the sky above, which has turned black as night even though we're still a couple of hours away from sunset. We're scheduled in an hour to interview John Smoak, a jack-of-all-trades photographer. He wants to be filmed outside his home on a small island in Charleston Harbor. I question the wisdom of that desire when a clap of thunder rips over the car. Traffic slows. Moments later we are under assault.
"Is that… hail?"
Marisa's right. It's August, in the South, and yet, somehow, frozen rain is pelting our car. I hand Marisa my phone. "Could you find John Smoak's number and give him a call? We're probably going to be late, and we'll have to film him indoors."
Marisa takes the phone, flips through my directory, and calls. I don't know where the shy girl is who sat quietly on Colleen Doran's rug two days ago. I only hear her side of the conversation, but they talk as if they're old friends.
"Dad, he says he'd like to do the interview tomorrow morning, say around nine. It's supposed to be clear then, and we could still shoot outside."
I run the math in my head. Tomorrow is all about Savannah. We're meeting Meghan Woodcock, an instructor at the Savannah College of Art and Design, in the early afternoon. But the drive from Charleston isn't that long. "Okay, Marisa, tell John that's fine."
The exit ramp drops us onto the edge of old Charleston. I find myself driving through flooded streets. The water level rises on either side of the car.
"Oh my God," Marisa says. "Can we get to the hotel?"
We're only three blocks away, but it's a reasonable question. This rental is a basic sedan with no ground clearance to speak of. And it's a hybrid. I know little about these kinds of cars, but it's generally not good to get batteries wet. I refuse to fail, however. This day has been perfect, and I'm not letting a literal freak of nature–frozen rain on a hot summer day–destroy it. We press forward, deeper into the water. Marisa squeals, I believe more in delight than fear. Waves erupt from both sides of the car like a crystalline angel's wings. And then we're clear, the road rising just enough to allow us to emerge.
The motel parking lot is a lake. At least three dozen parked cars soak in water, the tires very nearly submerged. I locate the highest ground, far from the building, and park. I offer Marisa an umbrella but she declines. Instead she leaps from the safety of the car and runs straight into the lake, kicking the water with her sandal-covered feet. "Come on, Dad!"
She'll be drenched. She must know that. Now Marisa runs in circles near the entrance of the motel. I watch her, experiencing the secondary buzz of her joy, soaking it in the way I do the creativity-driven enthusiasm of my interview subjects. I'm still holding the umbrella. I'm still safe and sound in the car. And then I'm not. I leave the umbrella behind. Rain soaks my shirt as I run to join her. My pace slows as the water level reaches my calf, then my knees. Then I reach her. In one smooth motion she guides her arm down to the water and then up again, splashing toward my face. I smile and return the favor. An older woman with well-coiffed hair glares at us through the lobby window. Let her judge.
Art by Matt Monk
Patrick Ross holds an MFA in Writing from the Vermont College of Fine Arts, and has been published in numerous literary journals. He has taught creative writing for The Loft Literary Center and The Writer's Center. In 2012 he won the Sidney W. Vernick Prize in Nonfiction from fwriction: review, and in 2014 his acclaimed literary travel memoir COMMITTED: A MEMOIR OF THE ARTIST'S ROAD was published by Black Rose Writing. He is currently writing an urban fantasy novel that would be the first of a trilogy. 
Running Sneakers | adidas poccnr jumper dress pants size
https://hungermtn.org/wp-content/uploads/2014/11/monk.HM11.jpg
700
1000
Miciah Bay Gault
https://hungermtn.org/wp-content/uploads/2021/09/VCFA_logo-rgb-200x200-1-300x300.png
Miciah Bay Gault
2015-04-16 15:30:06
2019-10-09 20:44:23
An Excerpt from Committed: A Memoir of the Artist's Road

Patrick Ross