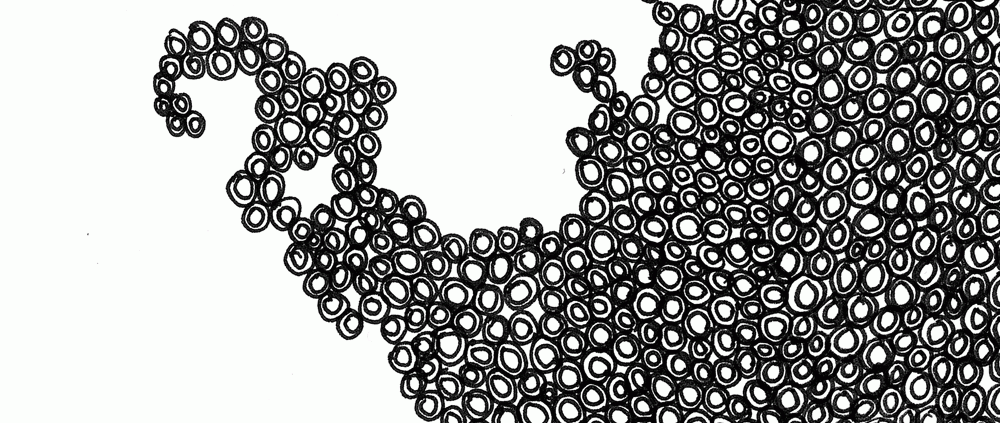 If it takes a kind of genius to strike gold, then I am a genius. In fact my genius blows me away sometimes. Today, reading George Saunders' story "A Lack of Order in the Floating Object Room" for the first time in many years—since 1986, to be exact—I am transported to my old living room in Syracuse, New York. It's late January, the wind is no doubt howling at the windows, the snow flying sideways, and I am sitting on a big red chair with a mess of manila folders scattered at my feet. The folders contain application manuscripts to the graduate writing program, and over the past couple of weeks I have read many thousands of pages, some good, some impossible, most drearily competent and well-behaved, and I am bleary-eyed and bored and thinking of becoming a forest ranger, if they'll have me.
And then I pick up this story; or, more truly, I am picked up by this story and taken for a ride through antic dips and loop-the-loops and headlong plunges into the unexpected. I haven't read anything like it this year, nor, indeed, in all my years of reading applications. It went right to the top of the pile, and stayed there, and a few days later I was calling George Saunders with the offer of a fellowship. If memory serves, he was then living in Amarillo, Texas, playing guitar with a folk-country band, and doing maintenance at a motel for his keep. He took the proffer, bless his heart, and the rest is history.
So what did I see in this story? I saw the future, nothing less—the writer destined to be the  consummate poet of American corporate-speak ("They rotate at about a revolution per minute, as per specs"), a great chronicler of human desire struggling to define itself against a world of manufactured, themed, reality—life subsumed by franchises and doled out in market-friendly dollops drenched in novocaine language: "This is an Employee Objective Assessment Evening." And the story was really, really funny. What did it all mean? Search me. The thrill was in the ride, not in the arriving. Later he'd work out the destination piece, plenty of time for that. And so he did, again and again. He has become a writer of masterpieces.
So what a joy it is to read this again, and feel the renegade heart beating against the ribs of the story, and know that I am a prophet.
https://hungermtn.org/wp-content/uploads/2014/08/firstlinedetail2.gif
697
1000
Miciah Bay Gault
https://hungermtn.org/wp-content/uploads/2019/03/Writing-and-Publishing-Logo-300x874px.png
Miciah Bay Gault
2014-09-15 08:00:24
2019-03-19 08:52:38
Genius: an Introduction to George Saunders' "A Lack of Order in the Floating Object Room"