Erin Stalcup is the author of the story collection AND YET IT MOVES (Indiana University Press), & the novel EVERY LIVING SPECIES (Gold Wake Press). Her fiction has appeared in The Kenyon Review, The Sun, Hinchas de Poesía, & elsewhere, & her creative nonfiction was listed as a Notable in Best American Essays. After teaching in community colleges, universities, & prisons in New York City, North Carolina, Texas, & Arizona, she now teaches in the MFA Program in Writing & Publishing at Vermont College of Fine Arts. Erin cofounded Waxwing. You can read & hear some of her work at erinstalcup.xyz.
Translations Editor // Jacob Edelstein
Jacob Edelstein has worked as a Spanish-English interpreter, a translator, & now teaches English at a small high school in Texas. He is an MFA candidate in Creative Writing & Literary Translation at the Vermont College of Fine Arts. His translations have appeared in publications for the City of Long Beach, California, Introduction to the Pacific Basin (Routledge 2017), & recently, the International Journal of Collaborative-Dialogic Practices, where he serves as an assistant editor.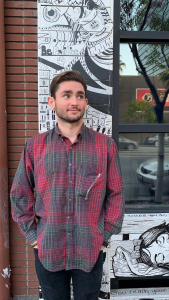 Managing Editor // Amanda Leahy
Amanda Leahy is a poet from Lowell, Massachusetts. Her work has appeared in Thin Air; Anthropocene; Cease, Cows; The Laurel Review; & elsewhere.
2021 Guest Poetry Editor // Sherwin Bitsui
Originally from White Cone, Arizona, on the Navajo Nation, Sherwin Bitsui is the author of three collections of poetry, DISSOLVE (Copper Canyon), FLOOD SONG (Copper Canyon), & SHAPESHIFT (University of Arizona Press). He is Diné of the Todí­ch'ii'nii (Bitter Water Clan), born for the Tlizí­laaní­ (Many Goats Clan) & holds an AFA from the Institute of American Indian Arts Creative Writing Program & a BA from University of Arizona in Tucson. His recent honors include a Lannan Foundation Literary Fellowship & a Native Arts & Culture Foundation Arts Fellowship. He is also the recipient of a PEN Open Book Award, an American Book Award, & a Whiting Writers Award. Bitsui has published his poems in Narrative, Black Renaissance Noir, American Poet, The Iowa Review, LIT, & elsewhere.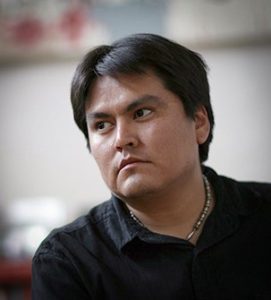 2021 Guest Fiction Editor // David Heska Wanbli Weiden 
David Heska Wanbli Weiden, an enrolled member of the Sicangu Lakota nation, is author of the novel WINTER COUNTS (Ecco/HarperCollins, 2020), selected as an Amazon Best Book of August, Best of the Month by Apple Books, a September main selection of the Book of the Month Club, & is an Indie Next Great Reads pick for September.  The novel received rave reviews from New York Times, Publishers Weekly, Library Journal, Washington Post, Shelf Awareness, Booklist, Minneapolis Star Tribune, Denver Post, USA Today, San Francisco Chronicle, BookPage, Air Mail, Fredricksburg Free-Lance Star, & Los Angeles Times. It was one of 2020's most anticipated books by Library Journal, O, the Oprah Magazine, USA Today, Washington Post, Time, Salon, CrimeReads, Mystery Tribune, BuzzFeed, The Rumpus, Electric Lit, Betches, Shondaland, Dandelion Chandelier, Popsugar, Debutiful, Vol. 1 Brooklyn, Observer, Lit Hub, AARP Magazine, The Millions, The Writer, & Book Riot. 
2021 Guest Nonfiction Editor // Heidi Czerwiec 
Heidi Czerwiec is an essayist and poet, the author of four chapbooks, the full-length poetry collection CONJOINING with Sable Books, & of the recently-released lyric essay collection FLUID STATES, winner of Pleiades Press' 2018 Robert C. Jones Prize for Short Prose, & is the editor of North Dakota Is Everywhere: An Anthology of Contemporary North Dakota Poets (NDSU Press). Recent work appears in River Teeth, Zone 3, Under the Gum Tree, & Nonbinary Review, & in the anthologies Nasty Women Poets & New Poetry from the Midwest. She holds an MFA from UNC-Greensboro & a PhD from the University of Utah, and was a professor for twelve years before absconding to write and teach in Minneapolis, where she is an Editor for Poetry City, USA & for Assay: A Journal of Nonfiction Studies. Heidi teaches with the Minnesota Prison Writing Workshop, Normandale Community College, & occasionally elsewhere. When not writing & teaching, she collects perfume, forages for mushrooms, spends too much time on social media, & answer to "Mom." Visit her at heidiczerwiec.com.
2021 Guest Editor for Literature for Children & Young Adults // Julianna Baggott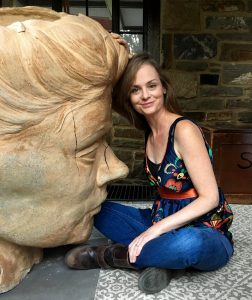 Critically acclaimed, bestselling author Julianna Baggott has published more than twenty books under her own name as well as pen names Bridget Asher & N.E. Bode. Her recent novel, HARRIET WOLF'S SEVENTH BOOK OF WONDERS, was a New York Times Notable Book of the Year (2015). Her novel PURE, the first of a trilogy, was also a New York Times Notable Book of the Year (2012) and won an ALA Alex Award; James Ponsoldt, the director of Smashed and The Spectacular Now, starring Miles Teller, penned the screenplay while it was in development with Fox2000. There are over one hundred foreign editions of Julianna's novels published or forthcoming overseas. Baggott's work has appeared in The New York Times Book Review, The New York Times Modern Love column, The Washington Post, The Boston Globe, The International Herald Tribune, Glamour, Real Simple, Best Creative Nonfiction, Best American Poetry, & has been read on NPR's Here and Now, Talk of the Nation, & All Things Considered. Her essays, stories, & poems are highly anthologized.
Rashmi Vaish is a graduate of the MFA in Writing program at VCFA. An award-winning journalist, she has worked in newsrooms in New Delhi, Mumbai, & Queens, NY. Her poetry & nonfiction have appeared in The Literary Nest, Numéro Cinq, & elsewhere. Born & raised in India, she now lives and writes in New York State's North Country, where she is working on her first novel.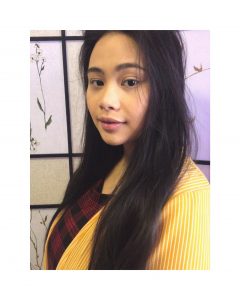 Word-weaver Micah Dela Cueva was born in the Philippines with the ocean on her skin & mountains on her back. Her writing has a gentle nature that is often contrasted by the harsh reality of her stories.
Zoey Adam, hailing from the rural reaches of Berks County, Pennsylvania, is a poet who primarily delves into the complicated interdependence between humans & nature and the experience of living with comorbid mental illnesses & their stigma. She earned a BA in English: Professional Writing from Kutztown University of Pennsylvania. Her collection of 71 snow globes spans 21 different states, 5 countries, & countless noteworthy locales.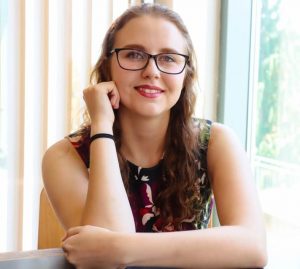 Assistant Fiction Editors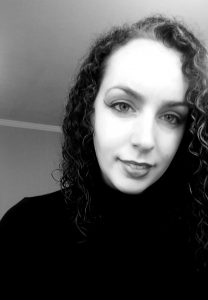 Valentyn Smith is a Brooklynite living in Vermont, where she is writing her first book.
Michelle LaCrosse grew up in the Puget Sound within a stone's throw of Commencement Bay. She held a variety of jobs, ranging from bait shop supplier to bank vault manager, before attending the University of Montana where she earned a BA in anthropology. Michelle has lived in many states, stopping most recently in northern Colorado to graduate from Colorado State University with an M.F.A. in creative writing where she developed essays on place, exploring the connections that humans & animals have to the planet and each other. While at CSU, she worked as an associate editor for Colorado Review and the Center for Literary Publishing, specializing in book and cover design. In addition to being a voracious reader, Michelle enjoys knitting, gardening, & sailing in her spare time, & loves hiking in the woods during rainy days.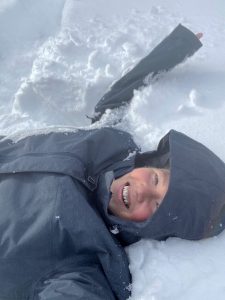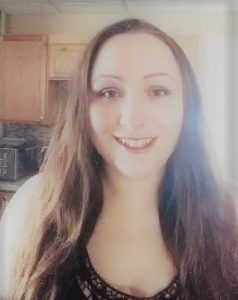 Sarah Karasek writes & generally exists in rural Pennsylvania. She is the author of THE LITTLE PUNK PRINCESS: A FAIRY TALE, released with the New Bizarro Author Series in May 2020. Some of her favorite things are cats, surrealism, & room-temperature black coffee.
E.E.Jacobs, or Eli, is a Maryland-based writer, poet, & graduate student. Her work has appeared in multiple student journals, including AACC's Amaranth & SMCM's Avatar. In 2017, her short screenplay "Neptune's Daughters" was awarded Best Script, East Coast Division by the Community College Humanities Association. She is currently working on her debut novella Guppy in Baltimore while completing her MFA.
Emelda Gwitimah is a Zimbabwean advertising copywriter & former Associate Creative Director. Her short stories have appeared in The Willowherb Review & Bambazonke Magazine, & her poetry has been featured in the anthology One Poem: Survivor's Edition. She is an MFA in Writing and Publishing candidate in the 2022 class.
Jonathan Calloway has lived in Finland and China where he studied folklore and taught English as a foreign language, respectively. His fiction examines mental health, mythology, trauma, & the natural world. Find short stories in Pif & Yale's The Perch Magazine. Find alpacas & allosauruses in two unfinished novels that will some day see the light of day.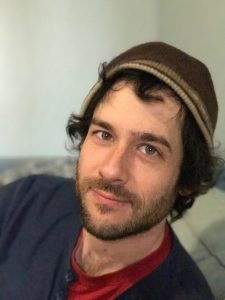 Assistant Creative Nonfiction Editors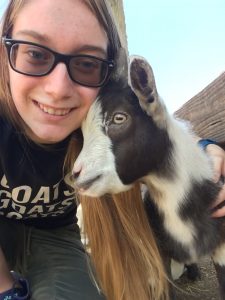 Noelle Thomas is a creative nonfiction writer from the greater Philadelphia area.  She enjoys space (both outer and personal) & drinking tea. When not in school, she can most likely be found at her gymnastics gym or at the zoo.
Dexter Loken is a first-year student at VCFA in the Certificate in Publishing program. He is interested in genre fiction especially of the speculative variety, but he has a growing love of creative nonfiction. He thinks of himself as a nomad in search of new experiences, but he is located in California for the moment.
Breanne Ross is a nonfiction writer and poet whose work has appeared in Hunger Mountain Online and In Residence magazine. She earned her MFA in Writing & Publishing from Vermont College of Fine Arts and is currently at work on a memoir. 
Editor 2014-2018 // Miciah Bay Gault
2019-2020 // 
Guest Poetry Editor // TC Tolbert
Guest Prose Editor // Toni Jensen
Guest Young Adult & Children's Literature Editor // Celia C. Pérez
Managing Editors // Kelsi Long & Dayton J. Shafer
Assistant Poetry Editors // Paul Daniel Ash, Sara Stancliffe, & Bianca Viñas
Assistant Fiction Editors // Hassan A.J., Darla Hitchcock, Molly Martin, Amara Nicole Okolo, & Philip Shackleton
Assistant Creative Nonfiction Editors // Virginia Booth, Antonio Brown, Amanda Leahy, & Noni Salma
Assistant Young Adult & Children's Literature Editors // Nina Appasamy, Imogen Bowdler-Archer, Ma'ayan D'Antonio, & Samantha Keller 
Designer // Marielena Andre
2018-2019 // 
Guest Poetry Editor // Natalie Scenters-Zapico
Guest Prose Editor // James Scott
Guest Young Adult & Children's Literature Editor // Yamile Saied Méndez
Managing Editor // Cameron Finch
Fellows // Cory Schwartz & Dayton J. Shafer
Assistant Poetry Editors // Cory Schwartz & Rebecca Jamison
Assistant Fiction Editors // Ukamaka Olisakwe & Dayton J. Shafer
Assistant Creative Nonfiction Editors // Kelsi Long & Nicholas Howard
Assistant Young Adult & Children's Literature Editors // Tyler Glauz-Todrank, Jordan Glynn, & Tracy Haught
Designer // Dana Lyons
2017-2018 // 
Guest Poetry Editor // Donika Kelly
Guest Prose Editor // Melissa Febos
Guest Young Adult & Children's Literature Consultant // Ibi Zoboi
Managing Editor // Cameron Finch
Assistant Poetry Editors // Lennie DeCerce, Rebecca Macijeski, & Kayleigh Marinelli
Editorial Assistant for Fiction // Dale Smith
Assistant Creative Nonfiction Editor // Valentyn Smith
Assistant Young Adult & Children's Literature Editor // Tirzah Price
Designer // Paulina M. Johnson
Featured Artist // Maggie Nowinski
Past Contest Judges Include // 
Robin Black, Erika T. Wurth, Elissa Washuta, Monica Brown, Natalie Diaz, Pam Houston, Matt Bell, Major Jackson, Janet Burroway, & others.