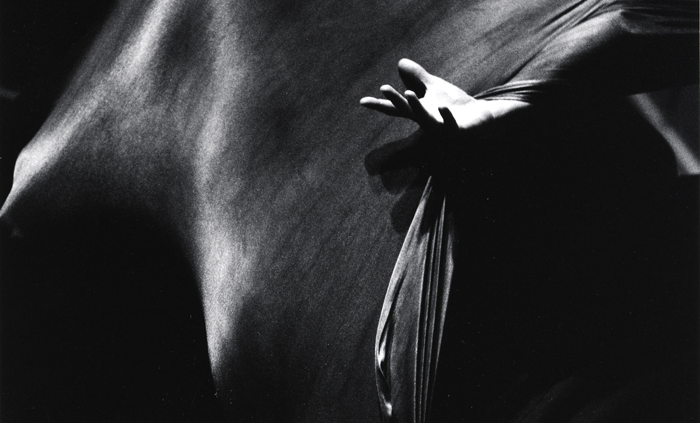 ………It glides by
with the grand leisure of a whale
in migration. Yet once it sees me
………it retires, melts a little
………………foreskin over
.
………its face. The prompt
eyes probe upward and re-bloom, dewed
with humectants. I stroke its neck,
………glandular and chilled
………………as a dog's nose.
.
………When I cover
the single nostril like a fife's
finger hole, the back contracts to buck
………me off in slo-mo.
………………Or is time
.
………lapsing radically
when, under its mantle, tectonic
plates collide, a seam heightens, gains
………flute and pucker—and anon
………………subsides, thumbed down
.
………by fleet
millennia as I gaze. It's young
again, the oldest young thing
………I know. A working proof
………………of the axiom
.
………of nerdy cool:
that patterns purposely chosen
to clash can at times define
………what's dapper. So spots
………………blurred like black
.
………galaxies enhance
the crisp effect of its mushroom-gill
pinstriped tableskirt. A train
………of glycerin lace tows
………………a collection
.
………of debris;
chips of black basalt, the beige bells
of some mountain flower. What if, cooling
………as a cloud,
………………a larger I
.
………pores over
my moraine (the things hitched up
to the bumper of my car,
………the ball-and-chains
………………healed into me)—?
.
I pray I amuse It.
Art by Evie Lovett
Karen Holmberg's teaching and research interests include creative nonfiction and the lyric essay, translation, the intersections of poetry and science, and letterpress printing and the poetics of visual space. Her first book, THE PERSEIDS, won the Vassar Miller Prize and was published by the University of North Texas Press; her second book, AXIS MUNDI, was the winner of the 2013 John Ciardi Prize and was published by BkMk Press.
https://hungermtn.org/wp-content/uploads/2016/01/700-Cat-Adam-II-e1477498569114.png
700
700
Miciah Bay Gault
https://hungermtn.org/wp-content/uploads/2019/03/Writing-and-Publishing-Logo-300x874px.png
Miciah Bay Gault
2010-12-23 17:19:22
2020-03-19 14:14:22
The Slug

Karen Holmberg