To set fire to warships in the water cast your mirror
as parabola. You still won't quiet these waters. Finite are bodies
to drown. Infinite only the quarks & electrons that you won't see keeping
you as one. As more than. Similar. Don't reduce me, says the reflection. But it's already done.
It's a whisper. As if nothing still. Lies outside Saturn & Jupiter. Vibrating the highest key &
timbre:: timber. Only in time is your God. Safe. In song smeared by a warhero across my zero
believers. They never give up. You, poet, are more than. Similar to this. Terror. In clear water
the nautilus forgets easily. After a day it swims again straight toward me. Hungering. & you
hold a single knife. Without one fundamental sliver. Or steady. Particle. I will always. Terrify
water into flame. Devour shell & cirrus. Ornate & plain. This is giving myself. As. Ghosting.
Timelines. & entrapment. What comes after an entrance. & harmony. Drowns you in sleep.
Author's Note: While efes can mean "zero," it also means "to nullify" in mystical Hebrew text; in Sefer Yetzirah, Efes is a concealment.
From Hunger Mountain Issue 23: Silence & Power, which you can purchase here.
Art by @anna_croc01, curated by Dana Lyons.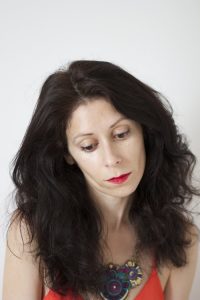 Recipient of fellowships from the New York Foundation for the Arts and Canto-Mundo, Rosebud Ben-Oni's most recent collection, turn around, BRXGHT XYXS, was selected as Agape Editions' EDITORS' CHOICE (2019). She writes for The Kenyon Review blog. Her work appears in Poetry, APR, The Poetry Review (UK), Tin House, Guernica, among other places; her poem, "Poet Wrestling with Angels in the Dark," was commissioned by the National September 11 Memorial & Museum in NYC and published by the Kenyon Review Online. Find her at 7TrainLove.org.
Sports brands | 2021 New adidas YEEZY BOOST 350 V2 "Ash Stone" GW0089 , Ietp
https://hungermtn.org/wp-content/uploads/2019/11/anna_eyes-dazed_v2.jpg
2000
1999
Erin Stalcup
https://hungermtn.org/wp-content/uploads/2021/09/VCFA_logo-rgb-200x200-1-300x300.png
Erin Stalcup
2020-02-17 10:54:59
2020-02-17 11:13:36
Efes Wrestling with the Poet Who Won't Look Away

Rosebud Ben-Oni