Virginia Booth: Bianca, thank you so much for taking the time to meet with me. I am really impressed by your most recent piece of work, Life Lines, a vivid narration of Vermont's incarcerated women depicted through poetry and short stories. One of the things I appreciate the most about this book is that it gives both voice and awareness to women of all ages who have lived a lifetime without being heard and understood. I can only imagine how therapeutic this was for each of them to experience a platform where their stories can be seen.
Bianca Vińas:It takes a lot of strength to go back into that vivid space of memory and trauma and say "I'm going to find the details that make me almost nauseous with feeling, those shards of suffering that the world demands be tagged and sent off to a place of truly awry isolation." I feel with increasing acuteness this electricity where the world should hurt but for some reason there is no evidence of the smallest affliction. You'll find me referring to these strong writers as "my girls." They are my sisters in grief, each one holding the threads of memory and injustice that weave this tapestry of pain. It is one that undeniably blankets this justice system and this nation. These women are evidence of the fact that we are more ready to silence than to provide the resources to heal.
VB: Tell me what is your relationship with language and how do you find it to be healing in your own work?
BV: I have a relationship with the night more than anything. I grew up with this odd distraction to the intangible parts of a lecture or brief synopsis of history. We would learn about the stars and I would sit there and couldn't believe the audacity of the lesson. "So you're saying death is responsible for all that light at night?" The teacher would give me that stern look that usually accompanied one of my shocked realizations. "Stars are dead? You told me in religion darkness was bad but it looks like light is!" From kindergarten onwards, this became my preoccupation. I would go home at night, after a focused parent-teacher conference, grab my diary, and write to the darkness around those stars up there, questioning the seeming disunity of the world: the one I was taught about and the one I actually saw. These letters were addressed to my uncle, my first guide with death and the disparity of reality. When I learned about the AIDS epidemic in biology, a mere paragraph about the myths about disease origin, I saw the wrists of a man that looked like my uncle, their skin the same blotched honey … fingernails hyperpigmented. I vocalized my observation in class, the similarities, and someone said it was possible my Uncle did have AIDS and died because he loved a man. I remember having this intense shock. "My Uncle had loved while he was dying. How is it possible to die and love?" Again, the person next to me directed me to the mark of the lesson I was missing. I was gone, swept away by another appearance of light and darkness. I went home and discovered this intense history of individuals loving through pain, loving intensely while suffering injustice. I grabbed my conduit paper and wrote to my uncle, this time on every space not allotted for words: far, far corners of the page. I gave room for him, the silenced lover, and the darkness that let him emanate from the page.
VB: I find it beautiful that you chose to publish these stories while they were unedited, can you tell me more about that process and the decision to leave them as is?
BV: These women have had a lifetime of being told to direct their energy to a symmetrical standard. Creative writing can't have that same mission. It would be impossible to sustain if it did. I wanted the reader to experience what I did when I first read these pieces: an unhindered actualization of pain and joy and laughter and memory and myth and story. The same way those workshops were a safe space for these women to express their experiences even though they were barred from participating in the world outside, this book is a traveling sanctuary to those individuals that feel trapped in the endless space and terrain out here.
VB: Sarah W. Bartlett and Kassie Tibbott were also in on this collaborative project, do you mind filling me in on what lead to the three of you working on this together? Did you know each other previously?
BV: Sarah has directed this project since the beginning with inspiring momentum. I believe she had a heart for creating safe spaces and in that way fostered one that grew into something life changing for so many women. I met her at a workshop she held on healing from silence and it was an empowering and bonding moment for a group of women hitherto hidden. We created art that we each laid out in our cars to dry. From that moment forward, I had a true understanding of what the mission of the project at Chittenden Correctional Facility was and what we sought to do collectively with these brave women seeking to be heard. Kassie has a calm and kindness in her eyes that immediately grounded me when I met her. She was studying for the Bar Examination and had this willingness and energy to carve out precious to guide us forward in our conceptualization of this collection of creative work and its mission towards restorative justice.
VB:  What was the best part of creating Life Lines?
BV: The intense nervousness that I held in meeting these brave women. A few months into studying these anthologies of work, there was a read around at the jail, and I don't think I could grip my steering wheel straight in that parking lot. Imagine reading the story of an almost unbelievable being surviving the insurmountable … the worst pain imaginable—losing a child, a spouse, a home, a family—and still finding the courage to give you, the reader, hope. I had pages and pages and pages of evidence that ten, twenty, thirty women like this existed and I was about to walk into a room where they were all gathered. That moment changed my life. That energy, that acceptance and love. I was speechless for an hour and had trouble introducing myself. I realized there that a lifetime of looking at the night and the silence that lit up the darkness was constructed to a seam in that tapestry of that room and all these beings were caring for it. There was despair and darkness, yes, but there was also a shared longing for healing and the small hope that it just might be possible.
VB: What was the most difficult?
BV: Realizing the system had failed these women. Every story I read outlined the privilege I had that my girls did not. I sat in my studio overlooking a deep path in the woods questioning at what point I covered my eyes and closed my ears to this mass silencing and incarceration? When did I decide to just continue living my life with no respect to the pain surrounding me? A large majority of the first few months of this project was sitting in a room with this immeasurable culpability and apologizing to the wall and the door and the painting hanging in the corner. Everything was evidence of the fact that I was safe but others were not. That I had a home, food, an education, a future, but my brothers and sisters did not and might never. I don't pretend to know the universe, but I do know we all have something that threatens to destroy us. For me, that was and always will be mental health. To have your mind lock you away from the world is one thing. To have the world lock you away with that mind …  to hear the constant slamming of doors that will never open for you. That is heartbreaking.
VB: Overall, how long did it take to complete Life Lines?
BV: For me, Life Lines took two years to complete. For Sarah and all the wonderful volunteers that moderated these workshops, it took ten years.
VB: The cover of this book along with the images weaved throughout are outstanding. Can you tell me more about working with the illustrator?
BV: Meg Reynolds is a gift. In addition to guiding these women into a meditative safe space to write and share their work during these workshops, she draws these absolutely outstanding works of art. She doesn't know this, but during our first meeting I saw a little drawing on the corner of her notebook and I attempted, at every position while serving my coffee and eating chocolates, to capture it. When it came time to choose the art for the cover and inside, we looked through different options but ultimately rested on what our hearts wanted. Asking Sarah and I to narrow the art we could include, I sat with a coffee pot and cutouts of Meg's work spread out on the library floor at 4am still indecisive.
VB: All of the illustrations are pretty great, but do you have a favorite one? Why does it speak to you in a profound way?
BV: The woman and the threads. I sat with Sarah in a contemplative state regarding the tarot deck I had made for the anthology. That was what I had called it. I created images that faced the emotion or narrative pathway of each story. We were staring at them silently and a quote about tracing pain along a map came to the fore. I explained that the author said she could not find a place where it didn't hurt. "It's a tapestry of pain," we agreed into the silence. We said it a few times. Let the air hear it. When I saw this image, I knew Meg's fingertips were blessed with divination of emotion. That was the tapestry.
VB: What is your most cherished memory you have from creating Life Lines?
BV: The tarot decks mentioned before. Creating them with card stock, choosing the art work … it was a really special process that sequestered me in the library into the early morning … just me and the work of these outstanding women. I traveled with these decks, flew with them, sat by the fire in the Appalachian mountains sorting through them, swept ocean sand off them when I shuffled them too far apart. I had the notion my girls were conduits to a universal healing. I still do.
VB: Your biggest lesson? Or something that surprised you during this process?
BV: Forgiveness. I realized that I knew these women before I knew their crime, and that is a gift I will never trade. To judge a person before you know the world that shut their eyes to them, that is an awful sentence. I learnt to breathe and say, "I forgive." The circumstance of the time we live is too heavy to add another boundary to hope. Without hope, we do not have a lot. Say, "I forgive myself" five, ten times. Forgive your past. Forgive the past of others. And continue.
VB: What inspired the title, Life Lines?
BV: Sarah and I both felt a connection to that title when it was spoken aloud. When she said it to the room, I had a flash of my writing family in Vermont and how much they fostered me, a flash of how much they loved my girls because I loved them and how much my girls accepted them. It was this endless extension of lifelines … All of us writing into the future without being held down by our past.
VB: Any good books that you are currently reading now?
BV: My angel and lifeline Lennie sent me across the states with The Art of Recklessness by Dean Young. I can see the pages she marked and it is like this vibrant extension to her. I am also re-reading Beloved by Toni Morrison because I never miss a chance to keep myself up at night with clenched fingers. I also have this hunger to re-read all of Lenin's parts in Anna Karenina. It will be an eventful month.
VB: As an avid reader can you tell me the books that have been most influential to you and your life?
BV: My favorite novel is The Idiot by Dostoevsky. I owe my love for russian literature to my professor, Dr. Nina Efimov. She literally found me in the back of a classroom and expressed a keen intuition that I needed Tolstoy and Dostoevsky in my life. She brought me into her graduate seminar that night and among all these brilliant intellectuals she said this was my place to feel intensely. When she handed me the Brothers Karamazov I could not leave the antiquities department upstairs. I had to read it behind a staircase there. Crime and Punishment I read three times. I would shyly emerge from the back of the classroom and tell her what I read. Sometimes the students would read in Russian so she enrolled me in a Russian language class. She took me to Russian Fairytale after that. I was astounded by the beautiful, bold heart of this woman and the moments when she would trace her hand under a line and say, "What do you feel here?" She trusted me. That's all I needed to continue.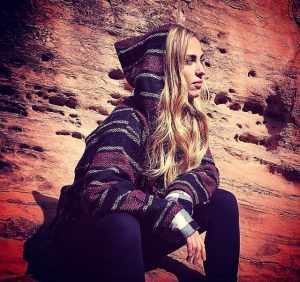 Virginia Booth is currently an MFA Candidate at the Vermont College of Fine Arts. Virginia mainly writes Creative Nonfiction and Memoir but has a natural affinity to all genres in the literary world. Her diverse and rich understanding of culture and human nature comes from her wisdom gained through traveling a vast part of the known world.  Many of Virginia's travel-writing pieces filled with her life-changing experiences can be viewed on her travel blog,   www.healingartstravelgram.com. In addition to this, Virginia is the author of a Travel Memoir, The Un-Named Road, and is currently working on her second novel which sheds light on classism, privilege, entitlement, elitism, and resiliency.  While Virginia's heart lies in her writing, she also enjoys teaching classes on Web Design, Marketing, Travel Writing, and Speculative Fiction at VCFA, is a Editor for Hunger Mountain Journal of the Arts, and has facilitated writing workshops around the world.
Bianca Viñas is a graduate of the Vermont College of Fine Arts MFA in Writing and Publishing Program. Her debut anthology, LIFE LINES: REWRITING LIVES FROM INSIDE OUT, a collection of short stories and essays by incarcerated women, was released in the Spring of 2019 with Green Writers Press. Bianca is currently completing her first novel, a hybrid work of poetry, medical research and narrative prose on Purgatory. She edits novels and is on staff on Mount Island Magazine. Bianca is hoping to get her PHD abroad with her husky Penicillin Jones. P will be studying Wooh Linguistics.
https://hungermtn.org/wp-content/uploads/2020/05/be-brilliant-neon-light-2002719.jpg
800
1200
Virginia Booth
https://hungermtn.org/wp-content/uploads/2021/09/VCFA_logo-rgb-200x200-1-300x300.png
Virginia Booth
2020-02-17 15:41:47
2020-06-20 10:56:00
An Interview with Bianca Viñas

by Virginia Booth