Joel was worried about the dead dog in his trunk. Heat rose off the road in front of him, rippling the air like a photograph warping over a flame—he was beginning to regret his decision to pack the ice inside the trash bag with the dog. In this heat, he knew, the ice would be melting, soaking the fur, and if there's a smell worse than dead dog, it's wet dead dog. What he should have done was put the dog inside its own bag, put that bag inside another bag filled with ice, and then put that bag in the suitcase. That way, the dog would have stayed dry. Every time he hit a pothole or made a sharp turn, he could hear the suitcase with the dog in it thump and slide. He thought he could hear sloshing water too, but he couldn't be sure.
The dead dog belonged to Joel's dying father. He had lung disease, and when he called Joel and said that the dog, a coonhound named Hound, had beat him to the grave and he was going to follow him soon, Joel had checked out of the motel he had been staying in since his wife said she needed some "time," and had flown straight down to Forte, a town where the waters of the Gulf seeped up through the ground to form marshes, undermine the foundation of houses, and breed enough mosquitoes to outnumber the humans. When he arrived, he found his father skinny and stooped, but with joints swollen and huge, as if they belonged to a larger animal. Skin hung off his bones like a turkey's wattle, and his eyes seemed to have a translucent film over them, like a second set of eyelids constantly closed. Joel hadn't been born until his father was thirty-six, which Joel had thought was too old to be having your first child. But then here he was, two years past that age and childless. And jobless. And possibly soon to be wifeless.
Upon the dog's death, Joel's father had gotten the boy down the street, in exchange for a silver dollar, to carry it to the garage for him and store it in the large freezer that formerly held venison from his successful hunting trips. Joel had tried to transfer the dog into his father's biggest cooler for transport, but the animal was frozen solid, or maybe stiff from rigor mortis, or both. Either way, it wouldn't fit, and Joel had to improvise with the trash bags and ice and his big rolling suitcase. He had dumped all his clothes onto the blue-carpeted floor of his childhood bedroom, where they formed a pitiful, odorous pile, and he had reflected on the meaning of that pile, which contained everything he had brought with him to the motel after leaving the house he had shared with his wife but now did not. The pile meant this—failure, regret, defeat. And then he dragged the empty suitcase to the garage and stuffed a frozen dog into it.
But it probably didn't matter about the ice, Joel thought, since the dog itself was probably thawing by now. He had been lost for the last twenty minutes, cursing his unhelpful GPS and weaving through roads that should have been familiar, but now were not. Nothing looked the same, or maybe everything looked the same as everything else. He drove past live oaks trailing Spanish moss, past brightly painted Victorians, past rusted-out trucks and tilting sheds and jungle-like vegetation that swallowed fences and spilled onto the road, as dense and unsurpassable as steel wool. It was stranger than Philadelphia had been, or Chicago, or Louisville, Joel decided, because it was familiar and strange at the same time.
Joel squinted at the passing landscape, hunched over the steering wheel like his father used to do before his eyesight got too bad to drive, hoping for something to trigger a memory. He used to know these roads like he knew his own face in the mirror, but then again, he didn't really know his face anymore. Like his face, Forte had become strange over the years, had changed while he wasn't looking.
Joel had left when he was eighteen. He had only returned for Thanksgivings (they had done Christmas with his in-laws), his mother's funeral, and for the occasional visit to his father after he got sick, but on those visits he seldom drove anywhere except to pick up groceries from the Piggly Wiggly down the street or to take his father to the hospital in Mobile. He hadn't ventured onto these roads since the weekends in high school when he and his friends took six packs into the swamp and shot bottle rockets at each other. And now here he was again, bouncing through the beat-up back roads of his youth in his father's Buick, but this time he had no friends or beer or bottle rockets, just a thawing dog in the trunk.
When he finally found the taxidermist's, he came upon it by accident. He rounded a curve in the road and there it was in front of him, sprung like a bobcat out of the swampy underbrush to stare him in the face, unexpected and startling and sadly obvious, like everything else in his life.
The shop was on the ground floor of a squat house the color of dried moss, right next to a partially abandoned strip of shops which included a tanning salon, a Chinese buffet, and a hunting gear store. "Herbert Taxidermy" said the sign out front. Joel pulled into the gravel driveway and then wondered if he should roll the whole suitcase in, take the dog out first, or walk in and ask. They might not even do dogs, after all. Mounting a pet seemed morbid to Joel, but then again, mounting anything seemed morbid to Joel. For a period of time when he was young, he had refused to go into the den unless his mother covered his father's trophy animals with sheets and pillowcases. When he wasn't looking directly at them, he swore he could see them move.
Joel decided to go in and ask first.
Inside, heads clustered the walls—deer, bucks, boars, even a moose. The front room had been converted into a showroom dominated by a standing and dusty black bear. A random assortment of tables and shelves held exhibits of small game and fowl, and a large desk blocked the doorway to another room shielded with a camo-print curtain. The desk looked like it would be better suited to a smoky study, not a taxidermy shop. On one corner of the desk, a small white bunny was mounted on a shiny disk of wood. The room was so packed with animals that at first Joel didn't notice that he was the only human in it.
"Hello?" he said. His voice sounded very loud. In the corners of his vision, glass eyes rolled towards him.
The camo curtain moved to reveal the head of a girl peering at him. The head had red hair the color of a candy apple, which in some places would be a statement color, but here was just the color people dyed their hair when they went red.
"Oh, I'm sorry," said the head. "I was so caught up I didn't hear you come in."
"It's okay," said Joel. "Are you Herbert? Sorry, do you pronounce the 'H' or not?"
The candy-headed girl emerged the rest of the way from the curtain and tugged it closed behind her. She was wearing a sundress and cowboy boots, and on her upper back, where it wasn't covered by her hair or the straps of the dress, part of a large tattoo was visible.
"The Cajun way: 'A-bear,'" said the girl. "And yes, I'm Abear."
"Oh," said Joel. The girl, Abear, was young, mid-twenties, Joel guessed, with a nose like a smooshed muffin and a large purple birthmark that spread like an ink stain from her left jaw under her ear up to her cheekbone, nearly covering the whole cheek. Joel strained to not stare and to look at her eyes instead, eyes that were a brown so dark that the irises were barely distinguishable from the pupils. They reminded him of the eyes of an animal—not the glass ones in the mounts, but live, blinking animal eyes.
"Can I help you with something?" she said.
"Yes," said Joel. "It's, uh, it's kind of embarrassing, actually. And please don't hesitate to say no if you're uncomfortable with it—"
"What, you want to mount your wife?" said Abear with a smirk, the left edge of her lip drawing towards the birthmark.
Joel was silent for a moment, and then expelled a nervous laugh that sounded more like choking. "No, uh, it's a dog," he said.
Abear's smirk disappeared. "A pet?"
"Yes."
"Are you sure your want to mount it?" she said. "Mounting it won't give you your dog back. It'll give you a statue of your dog. Have you considered cremation?" It sounded like she had given this speech before.
"I'm sure," he said.
The edge of her bra was visible under the sundress. It was the flesh-colored kind his wife wore, which she called "sensible."
"Most shops won't do this kind of work, you know," said Abear. "Too much buyer's remorse."
Joel knew. That's why he had come here, because the ad in the phone book said they did "unusual animals," which he assumed to mean exotic animals, but he was hoping the choice of the word "unusual" would mean they'd make an exception for this one dog. He thought of his father sitting on his cigarette-burned armchair in the wood-paneled den with the animal heads, his oxygen tank at his side, and said, "Please. It's important."
Abear eyed him for a moment, her eyes squinting as if trying to see him better, and then shrugged and offered her hand.
"Okay," she said, "I'll do it." When they shook on it, she gave his hand a reassuring double-squeeze at the end.
"It's in my trunk," he said, pulling his hand away.
When he opened his trunk, Joel was embarrassed to see one plastic-covered paw protruding beyond the zipper of the suitcase as if the dog was trying to escape. He glanced at the girl to see her reaction, but she only raised one finely plucked eyebrow.
The dog was thankfully still frozen solid, but some of the ice had melted and wet the red-brown fur. It had also escaped the trash bag and soaked the bottom of his suitcase and some of the trunk upholstery. He was sure he would never get the smell out.
"It wouldn't fit in the cooler," Joel explained as he stooped to remove the dog from the trash bag, but he was so busy watching Abear's two-toned face that the trash bag slipped and the dog water and remaining ice slushed onto the parking lot and into his shoes.
"Goddamnit!" he said, almost dropping the dog. He could feel his cheeks going red, and then redder when he realized they were going red. For a moment, he had an out-of-body experience. He could see himself from the girl's point of view—a middle-aged man with rings of sweat under his armpits, holding a dripping, frozen dog in his arms, standing in wet shoes, blushing. He saw his receding hairline at the temples, the expanding, pit-like pores on his nose, the growing water spot on the front of his shirt where he held the dog against his softening belly, the gap of his mouth slightly open with embarrassment, his eyes dull and a bit out of focus with humiliation.
And then he was back in his body. The water in his shoes was freezing.
"It's only water," said the girl. And then she reached out and touched the dog. She stroked the matted fur on the top of its head as if it were alive.
"He looks like a nice dog," she said.
Joel couldn't meet her eyes, so he stared at the edge of her bra and said, "He was."
~
On the way back to his father's house, Joel called his wife. He knew she wouldn't answer, but he did this anyway, every day. She always sent him to voice mail, but she never outright rejected the call, which meant something. It meant he had a foothold. It meant he was still present in her life in the form of his messages. It meant she couldn't cut him out completely.
Joel had a plan. He would get back in through her voicemail, convince her to take him back through persistence and eloquence. Every message was carefully pondered and planned out before he left it, and he often pressed four to replay the message and then two to erase and record it again until it was perfect. He would listen to her voice on the recorded greeting, the brisk alto of it, shiny and full and cold like brass, and every time he could feel longing and hope swell in him and then get cut down by the sharp muscle spasm of remembered heartbreak.
The whole thing seemed terribly romantic to Joel. His carefully crafted messages were love letters, hand written, corked inside a bottle, set into the outgoing tide of a grey sea. He imagined her listening to them while standing in the kitchen, the scene of their break, possibly while eating a solitary meal at the new granite island they had just installed six months ago, before he lost his job, on which Joel had broken two plates and three wine glasses (granite is notorious for breaking things—you have to be very careful, and Joel was never careful enough). He imagined that she would imagine him across from her as she replayed his messages, imagine him sharing her meal. He could see her face—her upper lip with the dip over it the shape of a dew drop would tremble slightly—her huge blue eyes that protruded from her face in a way that stopped just short of buggish and landed on startling would be closed—she would run one hand through her blond hair from front to back, the way she did when she was stressed or upset. She would save the message. She saved all his messages. He imagined.
"You've reached Danielle Riggs," the greeting said. "I'm away from my phone right now, but please leave a message and I'll call you back as soon as possible. Thank you. Bye."
Riggs. That was his last name. Riggs. He cherished it, her name joined with his. It was his favorite part of the message. His second favorite part was when she said "Bye." So polite, automatic, and completely unnecessary.
"Hi, honey," he said after the beep. "I just wanted to let you know that I'm in Forte now. My flight was good, clear skies the whole way. I wish you were here. Dad would love to see you. He doesn't have much time left. I would take you to that seafood restaurant you like, the one with the fresh oysters from the Gulf. Do you remember the first night we went there? And what we did when we went back to Dad's? Good thing he's hard of hearing. Ha-ha. I haven't heard back about that interview at AmeriBank, but I'm going to follow up in a couple days. Oh, and Hound died. It's very sad. Dad says he has nothing to live for anymore and he's going to go soon. I wish you were here. I love you. Bye."
He pressed four to listen to his message, and his voice held the perfect mix of sadness and intimacy. That one might bring a tear to her eye. She liked Hound, even though she had animal allergies. She had always wanted a dog but could never have one, and sometimes she would look at Hound longingly from across the room and sneeze.
~
"She said it will take a month at the least," Joel told his father when he found his way back to his house. "Probably more."
"Not good enough!" his father wheezed at him as he dragged his narrow green oxygen tank to the recliner beneath the 8-point buck. "I might be dead by then."
"Don't talk like that, Dad. The doctor said you could have years left," said Joel.
"The doctor doesn't know shit," his father said. "He's a third my age. He doesn't know what dying feels like, but I do. I can feel it all over my body. I predict I have three weeks."
"Dad."
"Don't 'Dad' me. You don't know what it feels like either." He paused to have a coughing fit and hack something from his lungs into his palm. He held it out to Joel, cupped in his wrinkled hand in a way that seemed tender and careful. It reminded Joel of how his father used to scoop tadpoles out of the swamp ponds that were everywhere around here and show them to Joel, pointing out the ones with legs, the ones with legs and arms, the ones with nothing. He would press his fingers together to try to hold on to the water, but it would always seep out, leaving the tadpoles squirming on his bare palm.
Joel looked into his father's cupped hand. In it was something dark and viscous, like black snot.
"See?" his father said. "That's what death looks like. It comes from inside you and fills up your lungs and chokes you." Then he flapped his hand over the trash can beside his chair until it flew into the plastic lining with a thwack, the wet sound of finality. Joel imagined he could feel his own skin getting loose, his joints starting to compact, his eyes starting to blur.
"Tell that girl to hurry it up," he said, pointing a yellow-nailed finger at Joel. "Tell her it's a matter of life and death."
It was too late to call the taxidermy shop, so Joel decided to call the next day. Or maybe he would go there in person, just to get out of the house, get away from the wheezing and the talk of phlegm and death. When he thought of seeing Abear again he felt nervous. He didn't know what he would say. "My father is dying soon and wants the dog ASAP," didn't seem right, especially since Joel had lied and claimed the dog was his. Well, he didn't say that, exactly, but he didn't correct her, either. Why had he done that? he wondered.
She's so young to be in such a grisly trade, Joel thought while he was lying in his old bed in his old room that night. It was a twin bead, and his feet hung off the end, vulnerable, cold. He wondered what Abear's first name was. He wondered if she hated that birthmark. He wondered about the tattoo on her back, what was behind the curtain in her shop, if all her bras were flesh-colored, or if she had some that were colorful, or black, or lacy even.
And then he thought of his wife, and he had a feeling like he was collapsing onto his knees, even though he was lying in bed.
Danielle needed to take some time for herself, she had said a month ago in the kitchen. It had been ten o'clock at night, and she hadn't called, and Joel had been waiting on a stool at the island for her to get back. She needed to get some perspective on things, she had said. Joel had stared at her lips, the insides of which were stained purple with the wine she had just been drinking wherever she had been, with whoever she had been with. He had wanted to rub his thumb across them, rub away the stain.
She needed to re-evaluate her life, she said. She had turned into a person she never wanted to be, she said. Her life was not the life she dreamed of in high school, she said. It was maybe his fault. He had asked what he did to ruin her life.
"You asked me to marry you."
He thought about his knees tucked into the backs of her knees, her hair tickling his nose.
"I fell in love with a different man," Danielle said. "You were exciting and fun and did things. You had beliefs. And then you became a bank manager. And I became whatever it is I am now, and I hate this person."
"Well, I'm not a bank manager anymore," Joel said, joking.
It was the wrong answer. She had thrown up her hands, spun around, and slammed the kitchen door behind her. Joel heard her car start up and pull out of the driveway. He had sat at the island for another half hour, stunned. The kitchen seemed suddenly foreign, a kitchen in someone else's house that he had accidentally walked into, thinking it was his. He watched the door, waiting for her to return, teary-eyed, and take everything back. She didn't.
The next morning, Joel packed the rolling suitcase and took it to the Residence Inn by the interstate, which had rooms with kitchens and rented by the week. He left a message on Danielle's phone saying that he had left so she could have the space she needed, and she should stay in the house. Then he called back and left another message saying that when she was ready, he would make everything up to her, and to please call him back.
When he got to the motel, he slept for a long time. Then he went to the grocery store and bought potato chips, bagels, and a box of wine. He put the wine on the nightstand by his bed and the bagels and chips on the side of the double bed that he wasn't sleeping on, and for most of the next week he stayed in bed and watched the hotel's cable TV, drank wine from a Dixie cup, ate the potato chips and bagels for meals, once creating a potato-chip bagel sandwich, and slept in his crumbs, only getting up to use the bathroom. When he ran out of food and wine, he went to the store by their house and hoped to see his wife there. But then he realized what he looked like—unwashed, stubbly, orange Doritos stains on his sweat pants—and left quickly, darting furtively down the aisles. In the third week, he got a call from AmeriBank, one of the many banks he had submitted job applications to after he lost his job during a merger due to "redundancies." He bathed and shaved, and he put on his work suit for the first time in three months. He clipped his nails and shook hands and answered questions about his strategy for leading a team and situations in which a problem arose and he had solved it. After the interview, he went back to the grocery store, confident this time, and hoped to see his wife. He walked up and down the aisles but couldn't find her. The next day, he started leaving the messages. And then a few days ago, his father called. And so here he was.
Joel hung up and thought about the taxidermy girl and what she would be doing to Hound right then. Would she be taking off his skin, he wondered. Would she be letting his fur dry before she took off his skin? Would she be petting him behind the ears?
~
The next day, he avoided calling the taxidermist. He thought about it frequently, but for some reason it made him nervous, and he found reasons to put it off. He got a roast from the Pig, which was one of his father's favorite dinners, and which would take all day to cook. He cut the grass in the yard and took off his shirt when he started to sweat through it and felt manly and vital and only a little self-conscious about his gut, which wasn't nearly as flat as it used to be. He dusted the mounts in the den and avoided looking them in the eyes. And all the while, his father watched TV and breathed loudly and spouted bits of wisdom during commercial breaks, like—"Women have no heads for numbers. They always bid too high. The one that says One Dollar—almost always a man." And, "Religion is a defense mechanism to deal with death. But don't tell God I said that."
At 4 o'clock, Joel's cell phone rang. Something like electricity or nausea shot through his body as he dug it out of his pocket, almost dropping it in his haste, his hands suddenly damp. It was an unknown number.
Not Danielle.
All feeling vacated his body—he was a limp sack of flesh. And then he realized it could be AmeriBank, and he mustered the will to answer.
"Hi Mr. Riggs," said the voice on the other end. "It's Susanna Abear from Abear Taxidermy?"
Susanna. Her name was Susanna. Oh, Susanna, he sang in his head.
"Of course. I was actually about to call you," he said. He glanced at his father in his recliner and snuck out of the room.
"Have you changed your mind about your pet? People often change their minds, so I always wait a few days before starting."
"No, no. I haven't changed my mind," said Joel. "I was actually going to ask if there was any way you could get it done sooner than a month, so I would prefer if you go ahead and start."
"That'll be difficult," said Susanna. "It's a whole process, you know. It's hard to speed it up. It takes time to tan the skin, sculpt the form, let everything dry out."
"There are extenuating circumstances. If you get it done early, I can pay you extra."
Susanna was quiet on the other end of the phone.
"But what were you calling me about?" said Joel.
"I was going to ask for a photograph. Of your dog. It helps to get the expression right. Pets have a way of looking at their master that's impossible to duplicate from the lifeless form. It's actually really hard even with a photograph. The eyes are the hardest part."
"Oh," said Joel. "Of course. I'll see if I can find one."
"Thanks, Mr. Riggs. And I'll do my best to get your dog mounted sooner."
"I appreciate that."
"Oh, and one more thing. What's his name, your dog?"
"Hound," said Joel.
On the other end of the line, Susanna laughed. "Perfect," she said.
~
Joel's father had a whole shoebox of photos of Hound. When he relayed Susanna's request, Joel's father directed him to the hall closet to retrieve the box, nearly packed to the brim with glossy four-by-sixes. Joel brought it to the kitchen table, and his father wheeled his tank over and pointed at pictures and told their stories—here's Hound as a puppy in your mother's lap, before he got too big to sit in laps. He used to pee everywhere, his father said—we had to get the carpets cleaned professionally three different times. There's Hound and me on a hunting trip, the time Hound tracked down the bobcat on the mantle. Hound in a pile of leaves. Hound and me sitting on the porch. Hound and me shaking hands. Hound and me hanging our heads out the windows of the Buick.
Joel wondered if there was a shoebox somewhere full of photos of him.
Joel rifled through the photos, looking for one of him and Hound. He didn't know if such a picture existed. Hound had never been his pet. His father had bought him years after Joel left, after Hound's predecessor, a dog named Dawg, got into a neighbor's garage and ate the poison left out for rats. Joel didn't know why he wanted to give Susanna a picture with him in it, preferably one of a younger, more attractive him, but he did. He wanted her to study the picture for Hound's expression and find that her eyes kept straying to the side, to Joel's face. She was too young for him, of course. It wasn't a sexual thing, he told himself. He just wanted someone to see him, that's all. And maybe to make up for the moment yesterday with the ice water, when he was sure he looked so old and pitiful.
Then he found it. Joel was sitting on the front steps with one arm around Hound, smiling into the camera. He was wearing jeans and an undershirt, and his hair was longer than it was now and artfully mussed, as if he and Hound had just been rolling on the ground together. His jaw was shadowed with stubble, and his teeth looked incredibly white in comparison. On his wrist was a watch with a brown leather band that his wife had given him on their first anniversary, a watch that he lost two years later when they went on a vacation to Florida and he took it off beside the pool and someone walked away with it. That made him between thirty and thirty-two in this picture, then. He looked like a different man. He looked happy and exciting and fun. He looked like he had beliefs. This was the man his wife fell in love with, he realized. This was who he thought he had been all along, but wasn't. It might have been his wife behind the camera, taking the picture. He slipped the photo off the table and into his back pocket.
Beside him, his father leaned back in his chair and sighed. "He was a good dog," he said. "May he rest in peace."
"How will they do it?" said Joel.
"Do what?"
"Mount him."
"Ah," said his father. He sat up again and leaned towards Joel over the table. "Why the interest now? Want to start hunting? Maybe I'll let you have my mounts when I die."
"I'm just curious, Dad."
"Well, it's a whole process. I don't know much about it, really. They skin them first. I've done it before with bucks. It's surprisingly easy. A few cuts here and there, and the whole thing just peels right off like a banana. And then they tan the skin and do some other stuff, and then they add the original teeth and some glass eyes, and then you've got yourself a pretty mount."
"And you're okay with doing that to Hound?" said Joel.
"Darn right I am," said his father. "Don't give me that face. It's a gesture of respect. It's an art form, boy, an act of reverence. Why would I have this bobcat and that deer and that bass and not want my dog?"
"But why only Hound? Why not any of the other dogs?"
Joel's father was silent for a moment. His breath rattled in his chest and he adjusted the oxygen tube over his ears.
"'Cause he's my last dog," he said.
~
That night, Joel called Danielle's answering machine—"Hi, honey. I'm still in Forte. My father is having Hound mounted. How messed up is that? I think he's just lonely and doesn't want to die that way. Of course he doesn't. No one wants to die alone. I'm just hoping that he's not going to ask me to get him mounted next. Ha-ha. I found a photo of me from a little after we were married. I can be that man again, just with less hair. Ha-ha. But really, we can be happy. I can make you happy. I love you. Bye."
~
The next morning, Joel was planning on taking the photo to Susanna, but as his father was eating his oatmeal in his recliner and Joel was doing sit-ups on the floor in front of the TV (he had decided to fight back against the advance of his gut, reclaim that flat stomach, be the man his wife loved), his father started having chest pains. He tried to set the bowl on the coffee table, but he missed the edge and oatmeal spilled across the carpet. Joel heard the clink of the bowl and spoon knock together as they hit the floor and turned around to find his father bent forward, bunching his shirt-front in a gnarled fist and struggling to breathe. His breaths were shallow and gasping and loud with phlegm. The skin around his mouth and eyes was going blue.
Joel knelt in front of his father and turned up the oxygen. His hands fluttered around the edges of his father's form, not touching him, not knowing where to land. He settled on his hand, the one that wasn't grabbing his shirt, and his father's burled fingers closed around his and squeezed. Joel could feel the bones through his father's skin, narrow and light, but still strong. His grip was actually causing Joel pain. "It's okay, Dad," he said. "Try to breathe slowly. Try not to hyperventilate. Just breathe."
After a few minutes, his breathing got better, but the pain in his chest was still there, and he couldn't draw breaths deeply. Joel helped his father to the car and drove the forty minutes to the hospital in Mobile, against his father's protests. In the passenger seat, with the oxygen tank between his knees, Joel's father wouldn't look at him. He stared out the window the whole drive, and Joel watched him out of the corner of his eye. He watched the hunch of his upper back and shoulders, curved so far forward they didn't touch the seat. He watched the skin that hung from his neck sway with the movement of the car, looking thin as a cobweb, able to be brushed away with the swipe of a hand. He watched his father's hands, curled and inert in his lap like broken game traps.
In the ER, Joel's father didn't want him in the room when he was called back, which didn't take too long since they used the magic words "chest pains," so Joel sat in the scooped plastic chairs of the waiting room by himself and called his wife. But this time, instead of sending him to voice mail, she rejected him.
"The caller you have dialed cannot be reached. Please try again later," said an automated female voice that wasn't his wife's. Joel's lungs felt suddenly filled with blackish fluid, rising from the inside, choking him.
~
Joel's father was checked into the hospital to stay overnight. They took another chest x-ray and were running more tests. It was probably an infection that was exacerbating his condition, the twenty-something-year-old doctor said. He asked Joel how long his father had been coughing up blood, and Joel remembered the black fluid in his father's palm two days before, and said, "I don't know."
"Your father knows that he should come in at the first sign of hemoptysis," said the doctor, and Joel assumed that 'hemoptysis' meant coughing up blood. "The fact that he didn't does not bode well for his mental state. Many patients his age with conditions like this stop caring about their lives. It's a good thing you're with him."
Joel tried to sleep on the chair in his father's room, but his father wouldn't let him. His nasal tubes had been replaced by a full oxygen mask, and his voice sounded muffled and far away when he talked. Joel wondered if this was one of those things you hear about where an elderly wife dies and the husband follows the day after the funeral, except Hound was a dog and Joel's father outlived his wife by ten years. Joel asked his father why he didn't go to the hospital days ago, asked him what he was thinking.
"Do you want to die?" he said.
"Don't be a sensitive ninny," his father replied, and then told him to go home and not to come back tomorrow unless he brought the stack of National Geographics from the coffee table with him.
Joel drove back to Forte alone and did not get lost on the way. But he did drive for fifteen minutes with his headlights off, not noticing how dark it was, not noticing the cars flashing their lights at him, until he got to the back roads and realized he couldn't see a thing. He tried to call his wife again and was rejected. He imagined her in their house in Philadelphia, seeing his name on her cell phone, pressing reject. But he didn't know what he would have said, anyway. He felt as if his insides were hollowed out by a grapefruit spoon, his outsides scrubbed pink with bleach.
~
His father stayed in the hospital the next night, and the next. It was, as the doctor suspected, an infection that had set into his lungs and was inflaming them and causing the chest pain and making his breathing even more difficult than usual. It doesn't look good, the doctor said, but they were doing everything they could, and he might pull out of it. He should have come in sooner.
Joel wanted to talk to his wife, to someone, but the only person he knew anymore in Forte was Susanna the taxidermist. He found himself thinking of her often when he was in his father's trophy room. He thought about her making precise slits on Hound's body and removing his skin as easily as unzipping a jacket. He imagined her sculpting Hound's form, paying special care to the place behind his ears. On the umpteenth time he thought about this, he started imagining Susanna gently pulling off Hound's skin while wearing nothing but her sensible, flesh-colored underwear. He considered that these thoughts might be perverse, but he didn't care enough to stop them. So he let himself think of her skinning Hound in a nude underwear set, the birthmark vibrant on her cheek, completing her back tattoo with his imagination, a different tattoo every time—a tree, some flowers, a dragon, a moose head, a house. Then he imagined her holding up Hound's skin and giving it a shake like airing out a sheet, and then swinging it around her own shoulders, draping herself in it, shaking her nail-polish-red hair down her back over Hound's brown-red fur. He imagined that the skin would still be warm, but not bloody. In his imagination, he removed the blood. He imagined her in a Hound sundress. A sundress of fur.
On the third night, when Joel was having trouble sleeping, he decided to try his wife again. It was the middle of the night, and she would have her phone on silent so it wouldn't wake her up, and it would go to voicemail, and he'd be able to leave a message. The blue screen of his phone when he opened it was so bright in the dark room that he had to close his eyes for a second. He squinted at the photo of his house he used as a background, and it felt like looking into the sun. He pressed her speed dial.
"Hello, you've reached Danielle. I can't come to the phone right now, but please leave a message, and I'll call you back as soon as possible. Thanks. Bye."
Joel's whole body went numb. His muscles felt like well-baked chicken, ready to fall off the bone.
Riggs. There was no Riggs.
He was so shocked that he forgot what he was going to say in the message, and when it beeped, he fumbled the phone trying to end the call and dropped it off the bed, chasing it onto the floor before hanging up.
On the floor, he could feel his heart pumping madly, spurting adrenaline into his veins. What a stupid muscle it seemed, with its dumb, reflexive pump, its instinctual clench-clench-clench, moving his passive blood all over his body. He was amazed that it hadn't given up, hadn't got tired after these thirty-eight years of him wandering just as stupidly and reflexively through his life, hadn't just called it quits and relaxed, loosened, gone still. He was amazed that things like this could happen—separations, divorces, deaths of parents—things that end your life, or what had been your life, over and over and over again, and in the dark inside your chest your heart just keeps blindly pumping, pumping, pumping, unaware that your life is over.
Joel stayed on the floor, the soft blue light of his phone beside him, and stared forward into the dark, seeing nothing and thinking of everything, until it all became nothing, too. Joel felt as if his skin had been peeled off and tugged over a fiberglass him-shaped mannequin, but also like what was left over, the living red meat of him exposed, white veins of fat glistening, lipless teeth bared, lidless eyes wide open.
~
The next day, Joel thought about calling AmeriBank to follow up on his interview, but he didn't. He thought about calling his wife, but he didn't. He took his wedding ring off and put it back on again. Took it off and put it back on again. He took the photo of him and Hound out of his wallet and looked at it. His youthful smiling face, Hound's pink lolling tongue. He still hadn't taken it to Susanna. It was bent now.
In the hospital, a purple bruise spread on the inside of his father's arm around the IV needle, and he coughed up blood, and he breathed behind his mask.
"See?" he said. "T minus two weeks. You'll see."
Joel drove straight from the hospital to the taxidermist's, and this time, he didn't get lost.
~
"I was beginning to think you forgot," Susanna Abear said when Joel walked in, his thumb worrying the bare skin on his ring finger like a bad tooth.
Joel stopped in front of the desk and looked at her. Her hair was pulled back from the temples with bobby pins, and her skin was bright and firm and flawless except for the dark bruise of her birthmark. This was only the second time he'd seen her. She looked different than he made her in his imagination, her nose and her figure a little less shapely, but close enough. She was wearing jeans and a t-shirt this time. He remembered the fur sundress of his imagination and blushed.
Her line-less brow knitted, possibly in response to the sudden reddening of his face, and she said, "You okay, Mr. Riggs? Do you miss him?"
Joel looked at her concerned face, and her youth suddenly seemed tragic to him. Nothing is how you expect it to be, he wanted to tell her. You have no control. The most formative events in your life will not be your wedding, your first child, your promotion—they will be the things that rear up and punch you in the face, the things you don't see coming that knock you down and you can't get up for a long time and when you do eventually get up—which you will always do, you'll always get up and get up and get up—all you can do is just wait for the next thing, knowing it's out there, knowing you're always travelling towards it, knowing it's crouching somewhere, waiting, and there's nothing you can do but walk right up to it.
"He's not dead yet," said Joel, and then he realized she was asking about Hound's death, that she didn't know about his father, that Hound wasn't even his. Susanna looked at him, confused.
"Oh, Hound," said Joel. "I thought you meant my father. My father's dying."
The look on Susanna's face was like wings opening.
"I'm so sorry," she said.
"It's his dog. That's why I need it sooner."
Susanna nodded. "Okay."
"I brought the photo," Joel said, pulling it out of his wallet and handing it to her. "It's from six years ago. I hope that's okay."
"Good picture," she said, looking from him to the photo. "You look exactly the same."
Joel watched the part in her hair, incredibly white next to the red.
"Hound lived a good life," she said, looking up at him with seriousness. "I can tell."
"He was a dog," said Joel.
"I know, but I mean it."
"Well, what makes you think that?"
She shook her head. "You'd think I'm crazy."
"No I won't."
Susanna looked at him, her eyes narrowing as if trying to squint enough to see through Joel's pupils and into his head. Her face settled into some sort of resolution and she said, "Okay, follow me."
She held the camo curtain open for him and he stepped into a dim room. He could make out the forms of more mounts, but there was too little light to see what they were. Behind him, Susanna turned on a lamp.
The room was filled with mounts, but of animals he'd never seen. On the table in front of him was a creature with the head and wings of a hawk and the body of a cat. To the left of it was a hare with the curled horns of a ram, then a baby crocodile with the wings of a bird of prey.  There was a lamb with a unicorn horn, a bobcat with a lion's mane, a rainbow trout with small out-spread wings. On the wall were a two-headed deer with red plumage on its throats and a boar with antlers. Joel stood frozen, staring, his eyes wide as the eyes of the mounts.
"This is my private collection," said Susanna, walking up to a large squirrel with a fox tail and stroking its head. "I make the animals into what they want to be."
Joel wanted to look at her but couldn't stop looking at the animals. The shift from fur to feathers to scales was perfect, seamless, organic. They looked so real. So whole. So this is what the ad meant by "unusual."
"What do you mean, 'what they want to be?'" he asked.
"Our outsides rarely fit our insides," she said, casually, with a shrug. But one hand rose unconsciously to the dark spot on her cheek.
"And how do you know what they want to be?" he asked. He found he was whispering and didn't know why.
"I just get a feeling when I touch them. I look at them, and I can see it. Sometimes I'll get a warthog and think 'turtle,' or a mallard and think 'goat.' It's weird, I know. Some people can write music, just like that. I make animals."
This is crazy, Joel thought. But he also wondered what he would be. What would she make him into? Would she slide fish scales under his skin, growing from his flesh like fingernails? Would she crown him with the curled horns of a ram, the fuzzed nubs of a fawn, the rack of a buck? Would he have a tail, a fin, claws, hoofs, a shell? Would he have wings? Would his face still be his face, or would he have the face of an animal, furred and snouted and wet-nosed? What would he be?
"Are you going to do this to Hound?" he asked.
"No," said Susanna. "Hound was exactly what he wanted to be. Hound was Hound, through and through."
Joel was silent for a moment, and then asked, "And what about me?"
Susanna smiled at him and shook her head. "Doesn't work with humans," she said. "Too complex. All I know is myself."
"So what are you, then?"
"Would you like to see?"
Joel nodded.
Susanna turned around and pulled up the back of her t-shirt to expose the rest of her tattoo, bisected by the strap of her bra. It was wings. Dark, mottled wings, like an owl or a grouse. Of course, he thought. Of course she would be a bird. Everyone thinks they're a bird.
"Did it hurt?" he asked.
"Not as much as you'd think," Susanna replied, her back still to him, her shirt still up. Then she said, "Do you want to touch them?"
Joel did. He really did. He reached out one hand slowly and touched the tip of her left wing, lightly. He ran the tips of his fingers over the ink, expecting it to be raised and scar-like, but it was all smooth, deep in her skin. His hands ran over the strap of her bra, nude like it was in his imagination, and he wanted to take it off, to remove it so he could see her wings free and unobstructed. Nothing is permanent, he wanted to tell her. You think you'll have these forever, but they'll fade and blur and sag with the rest of you. You will look behind you one day and find them changed, unrecognizable. You will wonder what happened. But he said nothing, because, for now, they were perfect. They held so much hope, those lame, flightless wings. He wanted to bend down and put his lips on those wings, trace the feathers with his tongue. He felt bold, strong, reckless. He could feel the animals watching them with their glass eyes, and he didn't care. He felt as if he was on the edge of something, and he was going to throw himself off, goddamnit, and see what happened. He thought maybe he was a bird, too.
And then he did it.
Art by Kerri Augenstein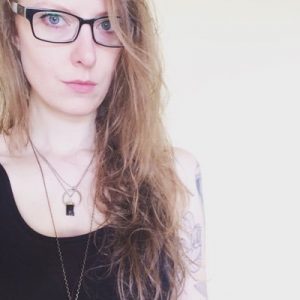 Claire Burgess (they/she) is a writer, teacher, metaphysical practitioner, and ever-shifting human being. Their short fiction has received a 2014 Pushcart Prize Special Mention, been listed as notable in Best American Short Stories 2012 and Best American Nonrequired Reading 2012, and been anthologized in New Stories from the Midwest 2016. You can find their stories in Joyland, Third Coast, Annalemma, PANK, and elsewhere. Claire received their MFA in Creative Writing from Vanderbilt University and was a founding editor of Nashville Review. They wrote the weekly blog column "This Week in Short Fiction" for The Rumpus from 2015-2017, where they covered one newly published short story a week, with an intentional emphasis on LGBTQIA+ writers, female-identifying writers, works in translation, and writers of color.
https://hungermtn.org/wp-content/uploads/2014/06/firstchapterdetail.gif
693
1000
Miciah Bay Gault
https://hungermtn.org/wp-content/uploads/2021/09/VCFA_logo-rgb-200x200-1-300x300.png
Miciah Bay Gault
2017-09-29 11:19:57
2019-10-01 12:28:06
Last Dog

Claire Burgess