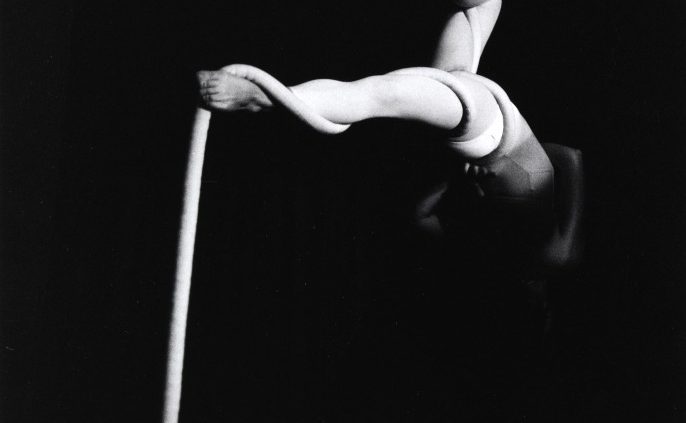 Greedy doll, so greedy you swallowed
four more like you, each with a rosebud mouth
matching floral blouse and hair kerchief too.
I take you apart in demitasses,
half-cup after half-cup girl.
I can't ever decide if you're meant to be
sisters, daughters or a woman
with her past stacked inside her.
I pause over your smallest one,
curved as a spindle.
Is she the baby about to be imprinted,
taught to be a woman with earrings
and black hair held back from her face
in swoops like the swallow's tail?
Or is she the end of the line,
the last chance to be otherwise?
The least ornate, she's the only thing solid.
Sometimes, she's the soul to me,
the tongue of conscience clicking against
the hollow wants of the world.
Others, she's sadder: when we're born,
we're this way, all encased, and despite
the growth, the paint, the layers put on,
there's still a nub, the bit we push at
but can never make open.
Art by Evie Lovett
Shelley Girdner is a writer and teacher living on the Seascoast of New Hampshire.  She is author of YOU WERE THAT BIRD (Bauhan Publishing, 2016). Her poems have appeared in The Mid-American Review, Indiana Review and others. She has been a finalist for the Slapering Hol Chapbook contest and has been nominated for a Pushcart Prize.
Adidas footwear | Air Jordan 1 Retro High OG "UNC Patent" Obsidian/Blue Chill-White For Sale – Fitforhealth
https://hungermtn.org/wp-content/uploads/2016/01/Cat-III-e1477498433646.jpg
686
686
Miciah Bay Gault
https://hungermtn.org/wp-content/uploads/2019/03/Writing-and-Publishing-Logo-300x874px.png
Miciah Bay Gault
2014-09-12 09:00:49
2020-01-29 13:08:55
My Matryoshkas

Shelley Girdner