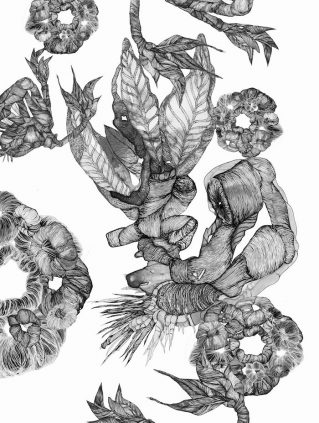 Its beneficiaries ordinary
in their disgrace, made to break
at lathe or lumber
mill, they like to say. Fruit
bruised before the fall, broken open
beneath the tree, they are liquor
for wasps and ruined
gods, rust-riven and rat-
gnawed. They croon
funereal rights, conceal
what they carry. Of them,
the garment rent by a master's
machine, the treatise
only a woman, they say,
can name — of softness
no one has invented better confessors
for. Theirs the brass
knuckle, the why won't you learn,
bitch? Call them salt
not of the earth; they are of cul-
de-sacs named for nothing
still living, of flood-
plain and desert molded
to will, they came of age
where petals shone in moonlight
on the lawn. They will come
wrapped in the flag
of their dead
things, its rot exhumed
from rich loam. They are thorns
in the hoof and thieves
enchanted by childish things, they salt
their children's field.
The house they have helped build,
they resent. It is larger than them.
They will set it aflame.
From Hunger Mountain Issue 22: Everyday Chimeras, which you can purchase here.
Image: Nowinski, Maggie. "From Somaterra Series (in grayscale)" 2017. Pen and ink on yupo and stonehenge drawing and digital collage. 
https://hungermtn.org/wp-content/uploads/2018/08/laCfG17D.jpeg
927
700
Cammie Finch
https://hungermtn.org/wp-content/uploads/2019/03/Writing-and-Publishing-Logo-300x874px.png
Cammie Finch
2018-08-20 12:05:26
2019-03-16 07:38:17
Of Inheritance

Miriam Bird Greenberg