Some admire the old bull's cracked horns and peeling hooves, the second
skin of ancient mud as wrecked and crumbling as this narrow road
just wide enough for the bulk of him.
And a few marvel at his great rolling breath rolling beneath the rhythm of
gnats, beneath the heat waves over fields of alfalfa.
And a handful are in awe of his stillness, haunted by his tranquility.
And still more appreciate the composition in which he's poised: his enormity
balanced on the slender lip of his shadow as it stretches eastward in
this last light.
The cars are backed up, north and south of him, and each driver makes the
long walk to this inconvenient place he's chosen.
They pause, circle slowly, until finally, one after another, they stand in front
of him,
beneath the great shadow and the lazy fabric of gnats, close enough to bathe
in the warm exhale of alfalfa,
while the one tattered ear twitches and pivots toward this moment
that is oddly polite and expectant, almost tender, ready to hear whatever it
is that might be said.
Art by Daniel Toby Gonzalez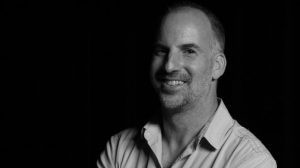 Matt Yurdana has worked at a variety of jobs, including raising salmon in Alaska, teaching literature to U.S. soldiers in South Korea, and directing a graduate program in creative writing. His poems have appeared in Alaska Quarterly Review, Massachusetts Review, North American Review, Poetry Northwest, Prairie Schooner, and The Southern Review. He is the recipient of a Pushcart Prize and the Academy of American Poets Award from the University of Montana. He lives with his wife and two children in Portland, Oregon.
Best Authentic Sneakers | BAPE adidas Superstar Green Camo GZ8981 Release Date – SBD
https://hungermtn.org/wp-content/uploads/2015/08/RESIZED-GONZALEZ_Twist_1000x700_2012_tobygonzalez.jpg
2917
4164
Miciah Bay Gault
https://hungermtn.org/wp-content/uploads/2021/09/VCFA_logo-rgb-200x200-1-300x300.png
Miciah Bay Gault
2016-09-29 07:00:39
2020-01-29 12:54:51
Old Bull in the Road

Matt Yurdana