When the history of the Zoological Park is written, this incident will form its most amusing passage.
–William Temple Hornaday, Director, Bronx Zoo
1. Forest
Ota Benga, flecked with shadow and besmeared with elephant dung, crouches at the base of a zebrawood tree. He hears branches crashing down, liana tearing free of the canopy, and then his prey shoulders past: the elephant, the meat that walks like a hill. He leaps from his cover and plunges his spear deep into her side, slipping it forward between her ribs and into the thick muscle of her heart. She stomps and whips her trunk, but Ota Benga drops flat and it slams harmlessly into the tree behind. The elephant smashes off into the brush, trumpeting desperately, spear-haft still jutting from her side. Ota Benga wipes the sweat from his forehead, grabs another spear, and runs behind.
He follows her ragged trail through acacia and eucalyptus and blossoming flame trees, always watching for ambush by the others of her herd, but at last he finds her sprawled dead and alone, bleeding out into the ferns. He bites back a shout of triumph, and as he jogs back to camp, he's already rehearsing his story and imagining the night to come: the hurried move of the camp to surround the carcass and protect it from scavengers, the steaks he'll present to his brothers and cousins, the smiles of his daughters as he carves a fatty slice of rump, the week of idleness as the band feasts and praises his kill.
But when he steps into the clearing, the huts are burned, the band dead, his wife dead, his children dead, their bodies stacked beside the huts, their hands severed and smoking like jerky above the fires. Ota Benga turns to flee, but the Mongo and Kasai soldiers have legs twice the length of his and they run him down in moments.
Give us the rubber, dog-fucker, one of them orders, or we take your hand next.
But Ota Benga has no rubber and doesn't even know the word, so they settle for scourging his back with a hippo-hide whip and selling him into slavery.
˜
Ota Benga sits beside the Hutu giant and tugs again at the liana rope that binds their ankles.
They see you do again, the giant says in halting Tschiluba, they say, you die.
Ota Benga pretends not to understand. If he gets free, he thinks, he's not the one who's dying. The slavers may have guns, but they're still villagers, and he is forest people. If he can trick them into the trees, he'll have spears in their throats by nightfall.
But the disfigured Kakwa is returning now, an albino walking at his heels. The albino's lips are freakishly thin, his body covered head-to-toe in clothing, and when he takes off his hat to fan himself, his hair shines like honey in the slanting light. Ota Benga's heard stories of these creatures, and now, at last, he sees one: the muzungu, the all-white men returned from the land of the dead.
This one, the muzungu asks in Tshiluba, noticing Ota Benga, is he Twa?
The Kakwa shakes his head. Mbuti, he says, but a Pygmy is a Pygmy.
The muzungu reaches for Ota Benga's face and he flinches away, but the Kakwa grabs his head and holds it still as the muzungu peels back Ota Benga's upper lip with a pale thumb and then smiles to see the filed points of his teeth. It makes sense, Ota Benga thinks, that if he's the only one left, the dead would come for him in person.
I'll give you a pound of salt, the muzungu says.
It's five times what Ota Benga's worth, and the yaws-eaten face of the Kakwa twists into a smile.
He's yours.
The muzungu turns back to Ota Benga.
My name is Samuel Verner, it says, its eyes malarial and crazed. I've come to free you.
Are we going to the land of the dead? Ota Benga asks, more curious than afraid.
No, the muzungu says, laughing. We're going to, and here it lapses into the language of the dead, the World's Fair.
˜
What is it? Ota Benga asks a Kasai porter. Is it white all over?
Down to its dick, the man confirms, hacking a vine from their path. I saw it in the river.
Is it ashamed? Is that why it wears all these clothes?
Probably.
Is it true that they feed on human flesh?
We haven't seen it, another man says, waving the black flies from his face. But we think so.
Where did it come from?
It came from across the, and then the man stops, shifting his pack. There is no word for it in your language. We call it the ocean.
Ocean, Ota Benga repeats.
This could be hard to explain, the Kasai says.
Later, when the muzungu calls for a rest beneath an obeche tree, Ota Benga squats beside it.
What do you want from me? he asks.
We'll travel across the big river and visit a giant village of muzungu, the muzungu replies. It uncaps its canteen for a long and desperate swallow.
Why?
They want to meet you. Because we are so different, you and I.
Ota Benga scratches his elbow, considering.
Was the land of the dead too crowded? he asks, thinking of his camp. Is that why you came?
˜
The muzungu canoe is the size of a dozen elephants and just as loud, and Ota Benga spends hours walking its deck, climbing on and off its soft stools, watching its wheel churning the water like an angry hippo, watching its smoke feather away into the sky. How is it safe, he asks the muzungu, to have a fire in the canoe?
So the muzungu shows Ota Benga the boiler and starts to teach him the language of the dead, but learning words for chairs and windows and steam power don't make them any less amazing, and the muzungu's stories are even stranger: wagons of metal as fast as leopards, huts of metal and glass that stand higher than any tree. Another night, the muzungu describes how the sap of landolphia vines can be dried into rubber for wagon wheels and explains that this is the reason the Force Publique is raiding villages.
But we didn't have any rubber, Ota Benga says in Tschiluba. We were hunters.
The muzungu stretches and sighs. Try telling that to the Belgians, it says, patting Ota Benga's knee.
But it doesn't take Ota Benga long to notice that even more than the muzungu likes hearing its own words back, it likes to hear Ota Benga gibber nonsense, to see him flash his teeth and prance with his spear as he once did for villagers when trading scraps of meat for their manioc and groundnuts. Ota Benga hoots and hops, miming the leaping and stabbing of an elephant hunt as if still dancing for his daughters, and even when these memories claw at him and bring him to his knees with tears, the muzungu seems to like this, too, crouching down to ply him back to smiling with rolls of burning leaves and candies that melt on the tongue like honey until Ota Benga forces a laugh just to be left alone with his cigarettes and pain.
Maybe he should weep more often, he reflects, smoking leisurely at the stern.
˜
After ten days on the river, they make a detour for a Twa encampment, but the instant the muzungu steps into the clearing, the Twa snatch up their children and run for the trees.
Wait, the muzungu calls in Tschiluba, we're not the Force Publique, but nobody stops to ask questions. In moments, the forest is silent save for the chattering birds of the canopy and the hoarse shouts of the muzungu. It's all right, it calls, lapsing into English, I'm an anthropologist.
These may not be Mbuti, but they're still forest people, and suddenly Ota Benga realizes he doesn't have to go to the muzungu world alone.
Hey, come back, he yells into the forest, we've got presents for you.
We don't have any rubber, someone calls back.
We don't give a shit about rubber, Ota Benga calls, come have some palm wine, and reaches into the muzungu's bags. When the Twa creep back out, the men first and then the women and children, Ota Benga hands out half the trade goods on the spot.
Go easy with that, the muzungu says. Ota Benga pulls out another can of corned beef.
You want Twa, or not want Twa? he asks in English, and as the Twa flock around him for salt, tobacco, and palm wine, Ota Benga lights a cigarette and tells them about skyscrapers, about boats and oceans, about piles of honey and whole elephants for the taking. By the time he finishes, more than twenty Twa have pledged to go.
Nice work, Friday, the muzungu says in English, dropping a tipsy arm onto Ota Benga's shoulders.
Ota Benga frowns. You said, it is Sunday.
Never mind, the muzungu says, giggling, and takes another swig.
But in the hungover dawn, all but four of the Twa recant, and even those remaining have their doubts.
Are you sure it's human? a Twa man asks, eying the muzungu.
I think so, Ota Benga says. His name's Verner.
What if he's a wizard, another man asks.
I don't think he's that smart, Ota Benga says, watching Verner struggling with a buckle of his pack. He's just very strange-looking.
What if he eats us, another Twa asks.
He didn't eat me, Ota Benga says, and I'm extremely tasty.
Then maybe you should stay here with us, a Twa girl says. The women laugh and so does Ota Benga, and the temptation falls over him like a net: to stay, to hunt, to marry, to start again. But it's when he stands still that he feels his wife's fingers enlacing his or hears the laughter of his daughters climbing a tree, and Ota Benga's not sure he can feel much more of that and survive.
I want to see the country of the muzungu, he says, and then I'll be back with your men.
And if it is the land of the dead? the girl asks, and Ota Benga grins.
Then I want to see that, too.
˜
You're sure it doesn't sink, Ota Benga says, looking up at this boat the size of a river island.
It doesn't sink.
Never?
Well, hardly ever, Verner says in English, and laughs deliriously. The Twa look doubtful.
He says it's fine, Ota Benga calls, come on, you cowards.
And Verner's right. The boat bellows and smokes but then slides forward as if pulled by a hundred ropes, and as the shore recedes behind them, Ota Benga is already crouched in the bow, waiting for the land of the dead to appear. He waits there, day after day, looking out over the impossible expanse of river, as Verner convulses in his stateroom with fever and the Twa pester the other Africans aboard for information.
They say there's meat at every meal, Bomushubba reports.
They say there's water as hard as rocks and so cold that it burns you to touch it, Lumo says.
They say there's a cup that can talk to a city ten miles away, Shamba says.
They say there's one of every animal and the muzungu keep them as slaves, Malengo says. It's called a zoo.
Yes, Ota Benga says, and soon, all these things will be ours. He turns to a passing sailor and hops and puffs and purses his lips until the man laughs and pats Ota Benga's head and hands him a cigarette. Ota Benga draws a matchbook from his breechcloth, lights the cigarette, and lifts it to his lips.
You see, he says to the envious Twa.
2. Fair
Pictures 5¢, the sign says, and after Verner explains, Ota Benga and the Twa enforce it rigorously.
Nickel, Ota Benga shouts, seeing a camera in the crowd, you, nickel! When the muzungu raises his camera anyway, Shamba and Bomushubba leap the fence, spears in hand. They shove aside the over-hatted muzungu ladies and the sailor-suited muzungu boys as the flash bulb pops, and before the muzungu can turn to run, he's got an armed Twa on either side.
Why you little niggers, he says.
No money, no good, Shamba shouts, and puts the point of his spear to the man's Adam's apple, which shuts him up quick.
Nickel, Bomushubba shouts, and does the same.
Nickel, Malengo and Lumo yell from the fence.
Okay, boys, the man says, easy now. He fumbles a dozen coins out of his pocket, and extends them with a shaky hand. Shamba takes them all, and the Twa climb back into the enclosure.
˜
Pygmy, a little girl calls, braids flapping as she jumps, look here, Pygmy.
Shoot your bow, kid, a drunk shouts from the bars.
It's just like Peter Pan, a woman cries, clasping her hands above her well-concealed breasts, and Ota Benga wonders again why these muzungu women hide their bodies—are they deformed? Do they wear piles of lace and ruffles to sleep? To fuck? But then Lumo trades some nickels for a photo of one atop a bicycle, wearing a gleaming white loincloth and nothing else.
Take a look, he says, tapping her fat breasts, just like a Twa woman, but with twice as much to love. Everyone laughs but Ota Benga, who runs his finger along the bicycle tires.
Is that rubber? he asks. Is that what they use it for?
˜
Ota Benga visits the floral clock, the jai-alai court, and mock-ups of the Tyrloean Alps and a Turkish market. He rides in a rickshaw, a gondola, and a zebu carriage. He trades his nickels for hot dogs and fruitsicles, root beer and fairy floss. He sits on the mowed grass of a university lawn and watches hot air balloons inflate like frogs and soar into the air. He watches the Grand Parade of Automobiles and as the red and green and silver cars gleam past he thinks rubber, rubber, rubber. He rides the Observation Wheel far above the trees and buildings and even the wireless tower, and the lights of the muzungu extend in every direction beneath him, as if an entire forest were ablaze.
˜
Though Ota Benga and the Twa are up to their ankles in coins, the old Apache beside them is doing even better. He sells arrowheads and signed pictures for whole handfuls of change, feathered bows for a dollar each, a button off his coat for a dime and the hat from his head for five dollars. The line to see him snakes up and down the Hall of Anthropology, and two muzungu with rifles stand before his enclosure night and day.
Ota Benga and the Twa throw their spears and dance and play the sacred molimo, but still the muzungu glance over them with a smile and then get in line for the Apache.
Geronimo, Verner explains. An Apache war chief. He killed a lot of white men.
So why don't they hate him, Ota Benga asks, watching a woman with hair as red as parrot feathers lean to whisper in Geronimo's ear. The old man signs a photograph and slides it across his table, and when she holds out a palmful of coins, he folds her fingers back atop them and shakes his head.
Because our God teaches mercy, Verner says, but as Ota Benga watches the old man sign picture after picture as the muzungu guards laugh and spit tobacco into empty root beer bottles, he's skeptical.
One day Ota Benga and the Twa are miming an elephant hunt for a group of shrieking children when they look up and see Geronimo standing at their fence, smoking a cigarette.
Where are you from, little men? the old man asks in English.
The forest, Ota Benga says, stepping forward to translate for the others. Africa.
What do they pay you?
Nickels.
The nickel game is easy to play, Geronimo says, looking back at the line queuing before his wikiup. But it's not easy to win. Get all the nickels you can, and go home.
But Ota Benga studies the old man's practiced humility, the clandestine deliveries of pre-built bows and pre-shaped arrowheads, the bulging sacks of coins that he buries beneath his woodpile. I can do this, Ota Benga thinks, and I can do it better. Just because he's lost one world doesn't mean he can't succeed in another. And when the parrot-haired woman slips through the Twa compound on her way to Geronimo's wikiup, Ota Benga touches himself in the dark and imagines that it's him she's lying down beside.
˜
At noon each day Ota Benga leaves the enclosure and walks the Pike, past the Japanese tea garden and the Eskimos sweating in sodden parkas and the statue of the muzungu king Teddy made entirely out of butter and the statue of a bear made entirely out of prunes and past the ostrich farm and the baby incubators and the Ainu village and Scott Joplin ragging at a piano and Will Rogers telling jokes, out into the clearing where the muzungu men in red and brown assemble to re-create the charges and counter-charges of the Second Boer War. The organizers brought a hundred Zulus to circle and ululate in the background, and the first day he saw them, Ota Benga joined them with a whoop, but an angry one-armed Boer yanked him from the circle. War's not a joke, boy, the man growled, then ran back to the lines to cheer as the Boer general leapt from the wooden cliff to a pool of water below. So now Ota Benga just watches, amused by the perfect lines of bright red jackets, by the booming of the cannons and the popping of the muskets, by the dramatic poses each man strikes on the ground when he decides his death is upon him. Afterward, Ota Benga joins the Zulus for ice cream.
Tonight, we leave, Msizi says one day in the Chinese market, taking a big lick of chocolate from his cone.
For home? Ota Benga asks, glancing at the other Zulus in surprise, but as always, they look only to Msizi, waiting for his translation.
No, Msizi says. He glances around the stalls to make sure none of the strange-eyed merchants are listening, then takes another lick as he considers his words. The black men of this city. They will help. They will hide. These Boers, and here Msizi shakes his head, no good. He passes Ota Benga the cone. You will come?
Ota Benga takes a pensive slurp. He thinks of the children who pelt him with peanut shells and the men who try to burn him with cigars but also of the nickels and the thousand things he's yet to buy, the re-enactment of the Galveston Flood he's yet to see and the thousand other adventures he's yet to have, and above all, the Twa that he's sworn to return safely to their home. He takes another lick and then hands the cone back to Msizi.
No, he says. I'm okay here.
Msizi shrugs, another muzungu habit they've all adopted. You choose, he says, and turns back to the other Zulus.
But the next day when Ota Benga sees the Boer and British lines collapse from the loss of half their Zulus, when he sees the Boer splitting into squads and vowing to hunt the kaffir through the streets, slums, and parks of St. Louis, he feels something building in his chest, and when he passes the Eskimos sweating back and forth on their dogsleds, it explodes.
Take off your coats, he yells, it's goddamn hot!
An Eskimo glares as he turns his panting Huskies in the fake snow.
You wait, he calls.
˜
And soon enough, the leaves flush an angry red and leap from the branches, piling around the teepees and igloos of the Pike. The wind whips through the Hall of Anthopology with tongues of ice, licking at his arms and ears and thighs. Ota Benga and the Twa crouch in their hut, shivering in their loincloths, and at night they lie pressed together like corpses. Their fingers stiffen, their lips dry and crack.
Please, Ota Benga says to Verner in Tshciluba, in our country, we treat monkeys better than this. Bring us blankets.
I'm just worried about authenticity, Verner says, lapsing back into English. We're being considered for the gold medal.
We're freezing, Ota Benga yells.
Verner shakes his head. I'll see what I can do, he says.
On break Ota Benga runs to the black American, Joplin, at his piano.
Msizi, Ota Benga says, Msizi.
Joplin blinks. What now?
Msizi, Ota Benga demands, where is Msizi?
Sorry, kid, says Joplin, his fingers never pausing on the keys, I don't speak Pygmy, and then he launches into Meet Me in St. Louis, Louis, for the twenty-seventh time that day.
3. Forest
As the gaslamps of New Orleans retreat from the stern and the ocean liner bellows above, Ota Benga and the Twa perch on the rail and look to the future.
We'll be heroes, Bomushubba says.
The first honey from every hive, Lumo says.
The fattest steak from every elephant, Shamba says.
The fattest virgins from every village, Malengo says.
Better than having you guys holding me in the night, Ota Benga says, and though they laugh, the truth is that he'll miss waking in the dark to find an arm over his chest and pretending that it was his wife's and that everything, the Force Publique and the Kakwa slaver and the whole muzungu world, had been only a dream.
Don't worry, Mbuti, Lumo says as if seeing his thoughts. We'll find you a good Twa woman for company.
Or three, adds Bomushubba.
Or Shamba, adds Malengo.
As Shamba pushes Malengo laughing to the deck, Ota Benga reaches down to scratch his beagle's head.
And you, Darwin, he says in English, you will be my new family also, and the dog bangs his tail happily against the deck.
˜
Ota Benga and the Twa pass the afternoon napping on a train platform aswarm with flies and beggars, and when Verner finally returns with the porters, Ota Benga doesn't recognize a single face.
Where is Kamba? he asks. Where are Muswamba?
Verner bends down to stroke Darwin's neck. Whosa good boy, he croons.
Where is Kamba? Ota Benga insists. Where are the others?
It seems there have been many deaths, Verner mumbles, not looking up from the dog.
And on the train, the new porters tell Ota Benga of their own villages, flattened by artillery and ravaged by pox, of children starving while mothers gathered rubber in the forest, of wives kidnapped as hostages and of infants tossed shrieking into the bushes for the leopards and baboons.
It's a dangerous trip, says a man who lost five children to the Force Publique. His eyes stray down the car to where Verner sits, humming and scribbling. If a muzungu invader disappears, who'd ever know why?
Ota Benga smiles and shakes his head. But nothing will happen to this muzungu, he says. He's under my protection.
˜
Their third day on the river, Verner shoots a wallowing hippo and as the Kasai rope it and haul the carcass to shore, Darwin barks happily down to the bank.
No, bad dog, Ota Benga shouts, but before he can take more than a step, a crocodile lunges from the river, snatches the dog in its jaws, and pulls him howling toward the water.
Gun, gun, Ota Benga shouts to Verner, but the rifle is propped back against a tree and before either of them can reach it, the dog is gone.
Oh no, Verner says, oh dear no.
But Ota Benga is already poking along the bank for the nest.
How much gunpowder do we have? he asks.
When the crocodile slithers out of the water and over her eggs later that afternoon, Ota Benga is waiting with a matchbox and fuse. He lights it, covers his ears, and watches. The explosion sends parrots and guenons screeching from the trees as scales and flesh and teeth rain down through the canopy, but he doesn't blink, and that night he and the Twa play the molimo for Darwin.
˜
A few days out from Twa territory, they pass through weed-choked fields of groundnuts into a village of silent huts. The Kasai porters gather its goods wordlessly: mildewed pagnes, rusting machetes and hoes, terracotta pots of moldering manioc, a slothskin cap, a dented musket.
It's all right, Ota Benga says to Bomushubba. These were villagers. Your people are forest people. They know how to hide.
Sure, Bomushubba says. Just like yours.
But soon they find a hunting trail, fresh with running Twa footprints, and trace it to the collapsing huts of an abandoned campsite. The Twa press on in the lead now, almost sprinting, the Kasai grunting like cattle beneath their swaying packs and Verner panting and puffing at the rear, until they break into a clearing and in moments the whole of the Twa band is running to welcome its lost sons, shouting and weeping, as Ota Benga stands awkwardly aside.
˜
The band fetes them that night with a feast of boiled tortoise and fried plantains, and Bomushubba and Shamba marry within the week, while Malengo and Lumo slip into the trees with one girl after another. The travelers tell their stories beneath the twined branches of the baraza and sometimes the Twa women call them liars, but they always have their pet muzungu on hand to verify, and at every description of a telephone or a gas lamp or a soda pop, Verner lifts his sun-peeled face from his notebook and says yes, it's true, this is civilization. The women look at him with concern, and after Shamba tells about Ota Benga's revenge on the crocodile, they start to look at the Mbuti the same way. Sorcery, someone whispers, and several others murmur agreement.
No, no, Shamba says, lapsing into horrified English, gunpowder, gunpowder. But the Twa continue to watch Ota Benga with distrust as he smokes his cigarettes and parades his muzungu clothes. The children ogle him and Ota Benga struts and clowns to hear them laugh but when he hands a wide-eyed boy a nickel, the mother runs up and makes him give it back.
No, thank you, she says to Ota Benga, he doesn't need anything, thank you, and pulls the boy away.
What kind of forest people believe in sorcery, Ota Benga asks Lumo in disgust, they sound like villagers.
Frightened ones, Lumo says. It'll pass.
˜
Though Ota Benga has no sister to trade for a bride, he still has his wits and his spear, and when he imitates Verner, twisting his face into constipated rage, and catches Tamasa laughing, her arms folded tight over growing breasts, he grins pointedly back. Later, he brings her reluctant mother the flank of an okapi and the ribs of a sitatunga and two palm leaves of fresh honey, and that night Tamasa slips beneath the thatch to join Ota Benga in the forest.
Marry me, he begs her in the naked dark. But Tamasa is young and much-pursued and even Malengo has given a block of salt to her parents.
We'll see, she says, giving his cock a squeeze.
Finally Ota Benga comes to her hut with a muzungu jacket for her father and a muzungu pot for her mother and a dozen butterscotches and the last of his cigarettes and even Tamasa's mother is persuaded. Within the week, Ota Benga has Tamasa in a hut of his own, redolent with oil and nkula powder and promising him a dozen sons. No more land of the dead for you, she says, kissing his chest.
But still Verner lingers in the village.
Felicitations, the muzungu calls at the ceremony, scribbling madly in his notebook. Later he gives Ota Benga a dollar.
˜
On the next hunt, Ota Benga hears screams from where the women are beating the bushes and drops his net and rushes to them to find Tamasa stretched out dead.
Sorcerer, Tamasa's mother screams when she sees him, and the word hangs in the air as Ota Benga kneels beside the snake-bit body, touching her hand, as Shamba and Malengo haul him to his feet, as the women carry the corpse to the village, as they scrub and bury the body within the hut that she and Ota Benga shared, as Tamasa's mother and sisters try to throw themselves keening into the grave and their cousins pull them free and collapse the hut and prepare to move the camp. The men avoid condoling with Ota Benga, and the women avoid his gaze.
It might be tough for a while, Shamba says, but we'll change their minds again. Ota Benga crouches at the edge of camp and ignores him, staring into the forest. Again, he thinks. Again.
Later that night, he packs a bag and finds Verner crouching beside a hut, eavesdropping on a marital dispute.
I think I should go back with you, Ota Benga says. Verner's eyebrows compress in suspicion.
For science, Ota Benga adds quickly, and the eyebrows relax.
I don't know if I can bring you back this time, Verner warns, but he's already stuffing his notebook back into his pocket, eyes agleam.
Ota Benga adjusts the bag on his shoulders. I don't care, he says.
4. Museum
As Verner negotiates with Director Bumpus, Ota Benga stands aside, a new black tie knotted around his neck like a leash. Though Ota Benga struggles to follow the conversation, he doesn't have to be a wizard to get the gist: he's being sold again.
A treasure of anthropology, Verner calls him, a one-of-a-kind specimen, if only the museum could fund Verner's research a little further, or perhaps consider him to curate the Africa collection or the…
But Director Bumpus is already shaking his ostrich-egg head. Remember Peary's Eskimos, he says, remember the tuberculosis and the bad publicity.
Ota Benga looks at Verner in concern. Though Verner's said nothing, Ota Benga's noticed the shrinking of their rooms, the thinning of their food, and the growing desperation in the way Verner asks hotel clerks for his mail.
They wander out through the Hall of Dinosaurs, past the arching Brontosaurus and the rearing Yaleosaurus and as they pass a snaking mosasaur, Verner suddenly stops and puts his hand on Ota Benga's shoulder.
Ota, Verner says, never try to reason with an ornithologist.
Okay, Ota Benga says.
There's one more person I can talk to, Verner says. You wait here.
Okay, Ota Benga says, staring at the mosasaur's crocodile skull.
Wish me luck, Friday.
Good luck, Ota Benga says, and never sees Samuel Verner again.
˜
He hides in the museum for five days, stealing ham sandwiches from the lunchpails of night watchmen and peanuts from sidewalk vendors until at last they corner him screeching and kicking in a stairwell and drag him to the Director's office.
Please, Ota Benga says, I'm a oneofakindspecimen.
Bumpus frowns, his mustache arching like an angry leopard.
All right, he tells the guards, the cannibal stays until we find Verner. Don't let him eat any kids. And you, and here he jabs a finger at Ota Benga, are going to need to learn to work.
Work, Ota Benga repeats skeptically, and when a pockmarked Italian tries to demonstrate the punch clock, Ota Benga hops and gibbers and smacks his lips until the man leaves him in peace.
˜
They give Ota Benga a cot beside a partial tyrannosaur skull in the paleontological storage area and sometimes he spends his nights there, but more often he spends them walking the museum in solitude. He climbs the lump iron of the Ahnighito meteorite and sits atop it like the Buddhas of the Hall of Asian Peoples. He jimmies open a case in the Morgan Hall of Minerals, draws out the Star of India Sapphire, puts it in his mouth, and sucks at its coolness. He climbs into the Eskimo exhibit in the Hall of Northwest Coast Indians and fingers the sealskin of their canoes and the ivory blades of their ulus. He touches the plaster face casts of Peary's Eskimos and the anoraks and mukluks draped over hollow mannequins. Maybe the muzungu are cannibals after all, he thinks. He sits before the skeleton of Jumbo the elephant and stares for hours into its empty orbits. When he walks away, his footsteps echo like he's the last man in the world.
˜
One afternoon, Ota Benga's lounging against the stuffed hippo when he sees Bumpus struggling with the falcon head of a totem pole, and Ota Benga runs to take it from him.
Look, Ota Benga says, work, and Bumpus smiles as Ota Benga lugs it into storage.
A few days later Bumpus strolls past Ota Benga with a woman in a wide green gown.
Otto, Bumpus calls, miming pulling out a chair, please get a seat for Mrs. Guggenheim, that's a good boy, that's a good Pygmy, and the woman laughs. Don't worry, Bumpus explains, showing her into his office, he doesn't speak ten words of English.
Ota Benga gets a thick wooden chair from a side hallway and carries it back to the office. Here, he says, chair, and throws it as hard as he can at the woman's head. She ducks, shrieking like a peahen, and the chair shatters a diploma case and clatters to the floor.
Help, Bumpus yells, guards.
Ota Benga runs back to the Ahnighito and climbs atop it, but Bumpus and the watchmen have him surrounded in moments, hands extended, batons ready to strike.
I think it's time we found you a new home, Bumpus says.
5. Zoo
Director Hornaday gives him another new suit and a cot for sleeping and orders to stay out of trouble, and Ota Benga walks unremarked through the crowds, practicing his muzungu stride and scowl and eavesdropping the names of the animals: Dewey the tiger, Sacha the polar bear, Señor Lopez the jaguar, Olive the musk ox, Dohong the orangutan, Gunda the elephant. He learns the names for beavers, vultures, peccaries, caribou, and giant anteaters. He explores the reptile house with the rest, but the crocodiles only make him think of Darwin and the snakes only make him think of Tamasa, and he never returns. He watches the sea lions beg for fish and Gunda cadge peanuts and pennies from the children. When Gunda gets a penny, he drops it into a hanging metal pig and a bell rings, summoning the keeper.
Good boy, the man calls theatrically, a penny saved is a penny earned, and gives the elephant a hunk of bread.
How easy it would be to kill this one, Ota Benga thinks, how long it's been since he's had fresh game. But he can see that the elephant would be missed, so he settles for spearing a prairie dog in the empty dawn and then roasting it behind the worksheds.
˜
Ota Benga knows better than to approach the muzungu women no matter how well-hipped they are, but one day he sees a black girl watching the wolves pace in their cage and he can't resist.
Hello, he says, sliding up beside her.
Hello yourself.
You like wolf? he asks, careful to keep his words in a muzungu monotone.
Depends on the wolf, she says, looking him over. I'd say you was more of a cub.
Cub?
A baby, she says, laughing, what they teach you in school? Ota Benga doesn't get the joke but he laughs anyway, which is a mistake because her face goes flat and serious the moment she sees his teeth.
Seeya, mister, she mutters, and steps away.
It's okay, Ota Benga calls, I am Mbuti, but she doesn't even turn.
˜
Another dozen days and nights of silence and Ota Benga strides into the Administration Building, past the chirping secretary and the squawking assistants and pushes open the big doors of Hornaday's office.
I want to go home, Ota Benga says.
The Director frowns, setting aside a sheaf of papers.
Knock-knock first, he says, rapping on his desk. Then we talk.
Ota Benga slams his fist down on the wood.
Knock-knock, he says, I want to go home.
Mr. Verner's in Panama, Hornaday says, waving his assistants from the door. We can't reach him.
Then I will go alone.
Do you know what that costs? Hornaday asks. How do you plan to get the money for that?
I'm a Pygmy, Ota Benga says. Money is everywhere.
˜
The next morning Ota Benga tears a strip from his blanket and ties it into a loincloth and he sharpens an elm branch into a spear, and when the first crowd gathers around the sea lion pool, Ota Benga steps to the front and climbs atop the rail.
Look, there, he shouts, indicating a pigeon across the walkway, and when he's sure he has their attention, he hurls his spear through the bird's wing.
Tada, he calls as the bird flails squawking in the grass. Give a penny, give a nickel! But already a girl is shrieking, mothers are shielding the eyes of their children, and an angry rumble passes from man to man. Police, someone yells.
Look, a Pygmy, Ota Benga cries desperately, look, a Pygmy, and then a hairy-knuckled hand drops on his shoulder like a tarantula.
Come on, Otto, the keeper says, let's go see Hornaday.
But instead of scolding, Hornaday stares at Ota Benga for a long time, picking at his teeth with a sliver of wood.
You know, it's not a bad idea, he finally says. We just need to get organized about it.
˜
The keepers hose out a spare enclosure in the ape house and tie paper targets around bales of hay and at noon Ota Benga steps out with a new-strung bow and fires arrow after arrow into the red eye at the target's center.
Tada, he calls after he expends his arrows, and the muzungu throw so many pennies through the bars that he does it all over again, taking his time now and letting out a ululating Zulu war cry with each shot. Tada, he says again, and the coins pour in like a river. He shoots until his arms ache and the pennies slow down to a trickle, and finally he gathers them up into a pouch and steps to the exit to find it locked.
Hey, he calls, and even as he does, another door rattles open behind him and Dohong the orangutan steps into the enclosure.
Hey, Ota Benga calls louder, this is not funny. He knows Dohong is tame but he's also seen a troop of baboons rip the legs from a leopard, and Dohong's four times their size. As he backs up to the bars, he's aware of the crowd re-congealing at his back.
You're fine, a keeper calls from inside, he loves people.
But Dohong glares and puckers the lips of his burnt-pancake face. He yawns broadly, flashing his canines. He toddles forward like a monstrous child and hoots a long, irritated call.
Give him an arrow, someone calls, but Ota Benga knows that if he only wounds the ape, Dohong could tear Ota Benga's head from his body. He drops the bow.
Hi, Dohong, Ota Benga says, opening his arms, and the ape charges. Ota Benga sees a flash of orange fur and flailing limbs and he averts his eyes and waits to feel the teeth sink into his neck, but instead of tackling him, Dohong stops just short and grunts, his breath rancid with bananas and eggs, and slaps the cage floor with a massive hand.
It's okay, Dohong, Ota Benga says, backing up slow, but Dohong grabs his ankle and pulls and Ota Benga hits the steel floor with a bang, one of his arms falling out through the bars as the ape rears up above. At least he's going to die like a hunter, he thinks, but suddenly he feels a bag in his palm and looks back to see the muzungu girl who gave it to him.
It's peanuts, she says.
Peanuts, Ota Benga cries, holding them up, look, Dohong, peanuts. The orangutan snatches them away and lopes to the back of the enclosure to shell them.
Thank you, Ota Benga says to the little girl, thank you thank you thank you.
You're welcome, she says, and then a maternal arm yanks her back into the crowd.
˜
By the time a keeper comes to the bars with a hammock, a cheese sandwich, and Ota Benga's suit, Dohong has Ota Benga cradled like a child in the corner.
Hey, this is not funny, Ota Benga says, but the man just shrugs.
I don't make the rules, he says, handing in the food. Ota Benga splits the sandwich with a grateful Dohong, and it isn't until the next day that Director Hornaday comes by.
What's the problem? he asks. You need a home. We're giving you one. You'll have all the food you want and money from the crowd.
But it's a cage, Ota Benga says. Dohong grunts sympathetically.
An enclosure, Hornaday corrects.
But I'm not an animal.
The director smiles indulgently. Well, we're all animals, really.
But I'm in a cage, Ota Benga says, and you aren't.
If you want to leave the zoo, Hornaday says, I won't stop you. You can leave today if you like.
But in this city, Ota Benga's seen even the muzungu scavenging the garbage piles and huddling in doorways for warmth, and if this is how they treat each other, what chance does he have?
Well, Hornaday insists.
No, Ota Benga says. I want to stay.
There's a good man. Hornaday smiles and wipes his forehead with a white cloth. Just think what this exhibit will do for the public, Ota. What they can learn about the missing link.
I'm not missing, says Ota Benga. I'm right here.
Of course you are, Hornaday says, laughing. Now, I wonder if you could get Dohong to wear this, and he holds up a gray suit identical to Ota Benga's.
˜
The keepers wheel in a table for lunch and Ota Benga and Dohong dine together in their suits, Ota Benga mimicking the muzungu and Dohong mimicking him, taking careful bites with knife and fork and dabbing after with a napkin. After lunch, they chase each other through the swings and ropes, mock-wrestling for the cheering crowd, and then Ota Benga snatches up his bow and fires banana peel after banana peel at the ape as Dohong dodges through the ropes. Sometimes Ota Benga turns to the crowd and sings You're a Grand Old Flag or Meet Me in St. Louis, Louis as Dohong hoots accompaniment and scrambles to gather up the pennies, or Ota Benga plays the molimo for them and then passes it to Dohong who grunts and blows into it as well, and then they step to the bars and bow, Ota Benga first and then Dohong and then together, to the cheers and peanuts and pennies of the growing crowds. By the end of the week, he's got more than fifteen dollars in change stashed in the leaves and branches of Dohong's nest.
How much money to go to Africa? Ota Benga asks a keeper, showing him the pile.
The man smiles, already reaching.
Before or after room and board? he asks.
˜
How do you like New York? a reporter asks.
Your city is witchcraft, Ota Benga says, and you are all madmen.
Doesn't it make you angry to live in a cage? another calls.
No, Ota Benga says, it protects me from white people.
Is it true that you eat as many as sixty bananas at one meal? the first reporter asks.
Ninety. Come again tomorrow, I will show you.
Is it true that you're a cannibal? a third asks. Is it true that you ate your last wife?
Ota Benga's face darkens. Good night, he says, it's sleep time, and retreats to his hammock.
˜
Ota Benga's letting Dohong pick lice from his scalp when he looks up and sees his cage surrounded by black men.
Ota, one of them says, we've come to free you.
Msizi, Ota Benga says.
Excuse me?
You know Msizi, Ota Benga asks, leaping to his feet.
No, son, the man says, I'm Reverend Gordon. We read about you in the newspapers and we want to help. Are you a prisoner here? Are they mistreating you?
A keeper watches carefully from the edge of the crowd. Ota Benga scratches his nose and says nothing.
We're writing the mayor, Gordon says. We're writing the newspapers. God willing, we'll have you walking free tomorrow.
Ota Benga imagines his freedom: spearing rats, roasting pigeons, sleeping on cobblestones. Still he says nothing.
Do you understand me, son? Gordon asks, frowning a little. Do you realize what it means to have a Negro on display here? What it does to all of us?
Ota Benga looks Gordon for another long minute, this black man in his muzungu suit, then smiles and hoots. Ota Benga tosses off his own suit jacket, tears free of his shirt, and tugs at the laces of his shoes. Dohong lopes forward to scoop them up as the muzungu in the crowd begin to laugh.
Stop this, Gordon says, stop this at once. You know perfectly well what I'm saying to you.
Ota Benga takes off his shoes and slips one over his left hand. He extends the other shoe to Gordon.
Don't do this, son, the man says. Talk to me.
Look, Ota Benga says, grinning and lifting the loafer, shoe. Shoe.
˜
Ota Benga wakes that night to the scrape of metal on metal, and in the light of the new moon, he sees Dohong wedging a detached trapeze rod between the bars of their cage. The orangutan grunts and twists and the bars strain against their frames.
Dohong, Ota Benga whispers. The ape turns with a start, slipping the trapeze behind his back. Then he stares long and hard at Ota Benga and his face softens. He fist-walks across the cage and then reaches into the hammock to put the rod in Ota Benga's lap.
Ota Benga hefts it, rolling the smooth steel between his palms. If they start walking now, he wonders, how many days until they reach the forest? But he remembers the ocean of muzungu lights beneath the Observation Wheel. He remembers the scorn of the Twa, the machetes of the Force Publique, and the corpses of his daughters baking in the sun. How could we have made the forest so angry, he wonders, that life could come to this. He raises the trapeze rod and throws it from the cage.
Dohong rushes to the bars with a cry, big hands snatching, but the rod clatters along the concrete and into the dark. He toddles back, hooting, his almond eyes wide with hurt.
I'm sorry, Dohong, Ota Benga says, there's nowhere left to go, and he takes the ape into his arms.
˜
Author's Note
I'm particularly indebted to the following sources for helping to flesh out the world of Ota Benga: Adam Hochschild's King Leopold's Ghost; Douglas Preston's Dinosaurs in the Attic; Geoffrey Hellman's Bankers, Bones, and Beetles; Colin Turnbull's The Forest People; and William Bridges' A Gathering of Animals. Various conversations and incidents of this story are based on those recounted in Ota Benga's sole biography, Philips Verner Bradford and Harvey Blume's excellent Ota Benga: The Pygmy in the Zoo. All factual errors and re-imaginings are, of course, my own.
Art by Kerri Augenstein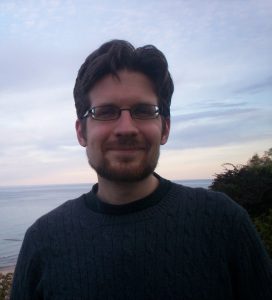 David Yost's fiction has been lucky enough to find its way into more than twenty journals, including The Southern Literary Review, The Sun, Witness, Pleiades, Mid-American Review, Harpur Palate, and Asia Literary Review.
affiliate tracking url | Air Jordan
https://hungermtn.org/wp-content/uploads/2014/04/firstlinedetail3.gif
697
1000
Miciah Bay Gault
https://hungermtn.org/wp-content/uploads/2021/09/VCFA_logo-rgb-200x200-1-300x300.png
Miciah Bay Gault
2010-08-09 13:51:28
2019-09-02 19:29:25
Ota Benga in the Land of the Dead

David Yost