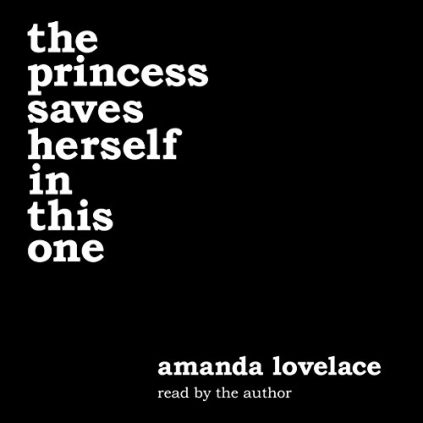 No matter how outdated or clichéd you think fairy tales have become, their appeal remains undeniable today. The whimsy and call for the suspension of belief, as applied to the mundane of our everyday, grasps at our hearts, evoking a sense of nostalgia and hope.
When I asked the employee at Phoenix Books in Burlington if he had any new poetry collection recommendations, he took me straight to Rupi Kaur. While I am familiar with Kaur's work and love her poems, I knew I wanted something less popularized. princess was his second choice for me, asking if I already knew Lovelace. I lied and said I did. After seeing the directness of its title, the book's cover gripped me: striking, black matte with pure white lowercase print, left-justified. As I began to quickly flip through its thick and creamy pages, I was thrust into an emotionally charged adventure that was impossible to turn away from. This is the first poem I landed on when I opened its wondrous pages: "maybe I find it so hard to believe in heaven, because I don't know if there will be poetry there."
I didn't know who Amanda Lovelace was, didn't know her book the princess saves herself in this one was the 2016 winner of the Goodreads Choice Awards for Best Poetry. I didn't know about her former acclaim or that she's found grassroots success through her Twitter (@ladybookmad). As a fellow writer and aspiring poet, this is a unique place to write a book review from, a place of minimal previous knowledge of the author, a place of instant admiration and wonder.
In a most modern and innovative way, Amanda Lovelace has used her poetry to take the reigns of one of my most favorite fairy tropes: the princess being saved from her demons. This collection is broken into four parts and presented to us as "the princess, the damsel, the queen, and you". The first three chapters beautifully weave together the author's story, exploring her relationships with men, family, friends, society, her body, her writing and herself. We as readers, as women, as humans, can relate to nearly all of the elements of her story.
In "the queen" Lovelace's words conjure the hazy ups and down of romance and heart-break with poems like, "before he left, he wrapped my heart in layers of barbed wire to make sure that no one else could ever get in, but you were more than willing to bloody your hands for me."
For her final chapter "you", Lovelace addresses the reader directly in a poetic love letter, promising that our work in progress (our work, our writing, our selves) is "pending: your own happy ending. – you'll get there." It addresses themes of love, family, mourning and empowerment, while keeping the reader both engaged and included. It provides an uplifting template for the stages in our lives, and our faith in each other.
If you're feeling bombarded by today's news headlines and the angst of the world's political unrest, my prescription as an untrained and unlicensed therapist is this poetic journey alongside Amanda Lovelace.
Believe in the fairy tale, her writing style begs of us; her syntax is revelatory, honest and endearing, her collection is a safe place. For the harder and more dreary days, Lovelace's poetry will deliver on its promise, and remind me that the princess can always undoubtedly save herself.
On her website, Lovelace describes herself as growing up a word-devourer & avid fairy tale lover. She has her B.A. in English Literature with a minor in Sociology. the princess saves herself in this one is her debut poetry collection & the first book in the women are some kind of magic series. A lifelong poetess & storyteller, Lovelace currently lives in New Jersey with her husband, their moody cat.
The second book in the series, the witch doesn't burn in this one, will be published in 2018.
Lovelace's poems and their inventive forms make this collection a heartfelt exploration of love for oneself and others.
Andrews McNeel Publishing, 2017.
ISBN: 978-1-4494-8641-9, 199 pages,
$14.99
Running Sneakers | Air Jordan 1 Hyper Royal 555088-402 Release Date – SBD
https://hungermtn.org/wp-content/uploads/2018/01/princess-1.jpg
500
500
Bianca Vinas
https://hungermtn.org/wp-content/uploads/2021/09/VCFA_logo-rgb-200x200-1-300x300.png
Bianca Vinas
2018-01-26 08:00:05
2020-07-01 10:45:49
the princess saves herself in this one by Amanda Lovelace

by Lindsay Gacad