Wonderfully absurd and weird stories fill this collection by Bryan Hurt. His characters range from astronaut-artists, a British aristocrat with his adopted girls, a goat and seagull questioning the afterlife on the edge of a cliff, and a run-down American writer panicking about the demands of his agents.
The opening lines are often so succinct and direct that Hurt pulls you in immediately: "Thomas Day was rich but very ugly." Oh really? I wanted to know more. Would he be an interesting man to know? I kept reading.
The simplicity of language is compelling. The short stories are concise and precise with no wasted words. There is a great rhythm and Hurt comes across as a narrator to trust. We know where we are immediately upon starting a new story; he grounds us as readers, yet there are such great turns and unexpected digressions and drifts that demand you pay attention. 
Hurt plays with the form of these short stories, more so in the second half of the collection. "The Contract" follows a CEO's own contract with life and relationships, and yes, form follows content. There are more pieces in the remainder of the book where form changes to suit each story. We see Hurt playing with experimental forms such as bullet-point lists and individually titled paragraphs.
Hurt's titles are evocative, although mostly in hindsight. Only at the end of the story does the title's significance really pop out, such as in the last story, "Good With Words." Here is our struggling writer overcome with the demands of an agent hungry for more words. He turns to his toddler once back home. There he is reminded of the power of language. He asks his child, "Tell me something about love." 
"Mama."
That sweetly, simple response is all that's needed for the narrator in this last story, and it's a fine example of Hurt's ease with using few words to embody heartwarming emotions. I walked away from  Everyone Wants to be Ambassador to France with a smile, a softening towards the world around me, and I look forward to more of his stories.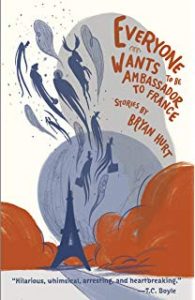 Everyone Wants To Be Ambassador To France: Stories
By: Bryan Hurt
Fiction, 160 pages, $15.95
Red Hen Press (June 26, 2018)Best Sneakers | Nike React Element 87
https://hungermtn.org/wp-content/uploads/2018/07/rsz_rsz_france-666x1030-1.jpg
497
497
Cammie Finch
https://hungermtn.org/wp-content/uploads/2021/09/VCFA_logo-rgb-200x200-1-300x300.png
Cammie Finch
2018-07-19 11:11:00
2020-07-01 10:48:58
Review: Everyone Wants To Be Ambassador To France by Bryan Hurt

by Sarah Leamy