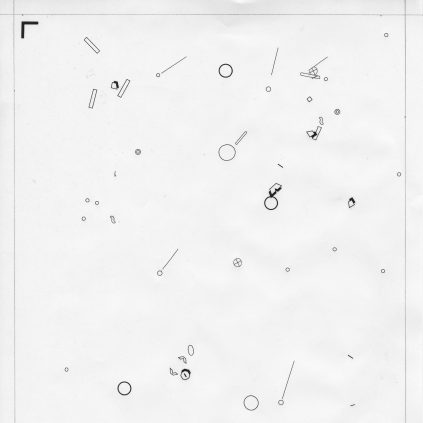 I
Believers stream out the strip mall church:
women with flowers in their hands,
praising, as they walk toward the paletero.
Timing his arrival to maximize sales
to girls wearing white fold over socks,
boys in ostrich boots and ties.
His shirt, one too many pearl snaps undone,
white hair tufted beneath a gold águila necklace,
skin more leathered than the men
who give him money for their daughter's paletas.
II
In the oncology waiting room,
a woman walks around selling
Ziploc bags of sliced fruit
covered in Trechas—
slices of sandia, mango, & jícama
packed like cigarettes
in a newly opened box.
For only $3 you can eat while
Buelita waits for her appointment.
III
At nine a.m. on the first Saturday of the month,
a line of Ford trucks drives into the cemetery.
It takes two men to cut the grass,
three to drink the beer.
They indifferently run the lawnmower
over each plot. One man offers to lift
the cement burial liner
on top of my aunt's grave:
naturalmente no le hago gratis
te tengo que cobrar.

From Hunger Mountain Issue 23: Silence & Power, which you can purchase here.
Art by Ian Lynam, curated by Dana Lyons.
Lauren Espinoza's poetry has appeared in New Border Voices: An Anthology, The Acentos Review, As/Us, Pilgrimage, Sinister Wisdom, and elsewhere. Her manuscript, Before the Body, earned Honorable Mention in the 2018 Andrés Montoya Poetry Prize and the 2017 Pellicer-Frost Binational Poetry Prize. A CantoMundo Fellow raised in the Rio Grande Valley of South Texas, she is currently a Writers' Studio Instructor and PhD student in Justice Studies at Arizona State University.
Best jordan Sneakers | Air Jordan XXX1 31 Colors, Release Dates, Photos , Gov
https://hungermtn.org/wp-content/uploads/2019/10/rsz_untitled1_-_lynam-scaled.jpg
2560
2560
Erin Stalcup
https://hungermtn.org/wp-content/uploads/2021/09/VCFA_logo-rgb-200x200-1-300x300.png
Erin Stalcup
2020-02-18 11:13:48
2020-06-21 06:27:42
Rio Grande Valley Triptych

Lauren Espinoza