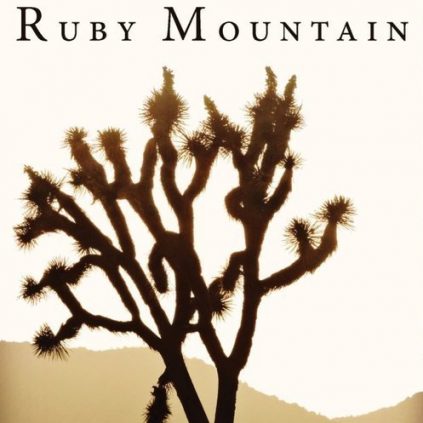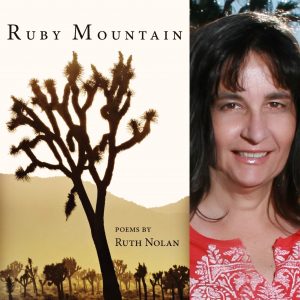 Ruby Mountain – Ruth Nolan
Finishing Line Press
October 21, 2016
---
Shouldn't you have spared the pretty hills…
So describes the harsh beauty of the Mojave Desert in the epithet of Ruth Nolan's sultry and haunting poetry collection Ruby Mountain – a portrait of devastating loss and healing found in Southern California's natural landscape. The collection embodies the inherent chaos and lasting impacts of a lover's suicide, paired with compelling ancestral history and environmental destruction. Nolan deftly extracts graphic pain into formal verse and free-flowing poems using potent images of burning hills, smoldering fires, and red-throated hummingbirds. Lines like "the agony of draught / the swagger of flash flood," and "this desert is an ocean of longing for love," offer glimpses of a varying despair countered with moments of grace.
Though regionally situated in Southern California, the poems speak to broader, universal experiences of suicide, loss, and love. Nolan begins by expressing these entwining realities in "Anniversary Five," wherein the speaker addresses her deceased lover:
shouldn't I yell at you, then cry
shouldn't I slap you in the face
shouldn't I push your car off a cliff
shouldn't I hike in your memory
shouldn't I look for your passport
shouldn't I pretend you did it for love
shouldn't I believe it was a mistake
shouldn't I wonder why not
shouldn't I wonder why
shouldn't you have done it somewhere ugly
She reflects, "I thought our love was a thunderstorm, rain hitting the rake naked by the pool," thereby questioning common perceptions of unconditional love. In "U-Haul Villanelle," the speaker's voice is sweet yet cautious, revealing an ongoing struggle for redemption, and an inner ambivalence between forgiveness and regret: "Dust so thick that I can barely breathe / These stories aren't so easy to remove / I pack another box and look ahead." Her mourning unravels these smaller acts of domesticity, alluding to the more quiet, pervasive nature of loss.
Also embedded within Ruby Mountain's rich tapestry are vestiges of another tragic love story. In "Last Manhunt," Nolan's speaker references Native American suffering in the same desert regions, bringing to light a history of marginalization and shaming. As such, the poet shows a deference to the land's ancestral heritage, creating a divergent space where love and loss collide, and the past and present intersect meaningfully:
He wears his deerskin shirt,
immune to bullets,
immune to railroads
immune to the absence of rain,
immune to real and fool's gold
The Mojave is an unapologetic protagonist containing both the debris of the past and psychic space for healing. "Ruby Mountain," for example, is both meditative and bold, urging the reader to not look away: "They say now – that you never died / that you slipped away under cover of dark / leaving only bullet holes / sprayed across the Wonderland of Rocks." Grief is carefully threaded throughout the book; the speaker's lover is the air and sinewy presence of the Mojave – the moving breath of desert. In "Nodding Off," there is a yearning in the poem that evokes both the mystic of the scenery, and the desolation of losing a loved one:
I see open space
where once there was a tree, views
of the little San Bernardino Mountains
a bit more breeze
and I want to photograph the absence,
frame it with memory, now I can see
familiar patterns of stars,
a better view of passing satellites.
Nolan's soft, subtle expressions paint these invisible terrains with a quiet, haunting power. The speaker's thirst for her previous life is a mirage that beckons us forward, using compressed imagery to recreate a treacherous internalized landscape. In these poems, the alienation of grief yields to the desert's curative elements. "Nodding Off" holds a reverence for the ragged scenery. Here, we touch the scorched earth and taste the speaker's restlessness.
it will give me hope, I hope
I hope I hope I hope
that things really are connected,
better this than the whip of thorny
cacti stinging me in the face
every time I stepped into the front yard,
the sad fact of a bird's nest tossed
onto the ground by a blast of wind,
the hooks of religions that rope us in,
the dams that block us all,
tell me there is no obsessive
compulsive desert here,
just a smooth meditation
of people walking the same
pilgrimages
This last stanza conjures symbolic images that achieve a balance between the poet's fragility and her unflinching self-awareness – similar to other poems in the collection, Nolan hones in on the shared experiences of those who have come before and those who will come after. We learn from Ruby Mountain that the trajectory of loss is a manifold path, touching upon the personal and becoming the ecology we inhabit. It's a book that bears witness to the resiliency of human nature itself and our ability to survive even the darkest of nights. Within Ruby Mountain, we find a gritty reminder that devastation and beauty have long coexisted – creating canyons and valleys, and a home for the desolate in search of light. In "What Rises," Nolan hints at redemption: "Deserts and mountains on loan / hammering the center of sunrise / into broken hearts."
---
Ruth Nolan, a former wildland firefighter in the Western U.S., is a writer and professor based in Palm Springs, CA. She's the author of the poetry book Ruby Mountain (Finishing Line Press 2016). Ruth's writing has also been published in James Franco Review; Angels Flight LA/Literary West; Rattling Wall; KCET/Artbound Los Angeles; Lumen; Desert Oracle; Women's Studies Quarterly; News from Native California; Sierra Club Desert Report, Lumen; The Desert Sun/USA Today and Inlandia Literary Journeys. She is the winner of a 2017 California Writers Residency award. Ruth holds her M.F.A. in Creative Writing and Writing for the Performing Arts from the University of California, Riverside. She may be reached at ruthnolan13@gmail.comNike Sneakers Store | Yeezy Boost 350 Trainers
https://hungermtn.org/wp-content/uploads/2017/03/rsz_1rsz_nolan-ruth-ruby.jpg
497
497
Miciah Bay Gault
https://hungermtn.org/wp-content/uploads/2021/09/VCFA_logo-rgb-200x200-1-300x300.png
Miciah Bay Gault
2017-03-20 09:00:04
2020-07-02 16:06:37
Ruby Mountain by Ruth Nolan

by Cindy Lamothe