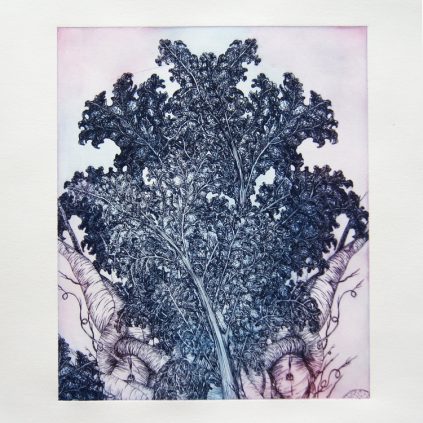 A man doused in roebuck piss says
I saw it as I skinned its thighs
& laughs.
Your death always a joke, the shock
of womb, a punchline.
Darting through the underbrush,
even your hooves resounded like cackling children.
This velvet crown was not always a betrayal—
In rutting season, the tongues
of stags & doe alike climbed
your hind leg, crying
I opened for my beloved but she was gone.
But now is the hour of moths.
Now the body remade as
a sack of buckshot.
A child wraps you in a bundle of sweat-stale
flannel, lifts you onto the truckbed
like a distant sister.
Nestled against your snout, he mouths
a wish for recognition, for his budding breasts
to hide themselves away like fawns.
From Hunger Mountain Issue 22: Everyday Chimeras, which you can purchase here.
Image: Nowinski, Maggie.
https://hungermtn.org/wp-content/uploads/2018/04/3_Nowinski_AnthropocenicAbjection_KaleCoral.jpg
750
750
Cammie Finch
https://hungermtn.org/wp-content/uploads/2019/03/Writing-and-Publishing-Logo-300x874px.png
Cammie Finch
2018-04-12 13:30:36
2019-03-16 07:59:24
The Antlered Doe

R. Cassandra Bruner