To Dean Young's New Heart, Which I Can Hear Beating On The Eastside
Some evenings, it's the Tejano thump from a Chevy
Tricked-out, all lowdown & shit, slow slinking up
Our dead tree street, reverberating the 120 bpm
Into our thin-walled fifties bungalow. Other times
It fades in & out on autumn breezes from marching
Band practice at the neighborhood high school, bass
Drums pounding one & three, high snares rattling
As if primitive wind chimes made of baby bones.
But mostly, it pulses softly in the background –
The dull headache throb, the paper cut blood drip,
The great horned owl at midnight, his who-who-ing
Pumping inside my chest like a stranger's organ.
It's Getting Awfully Crowded Up In Here
Everybody's talking at me / I don't hear a word they're saying /
Only the echoes of my mind – Harry Nilsson
I've been paying more & more attention to all the voices
Inside my head – the Swedish chef Muppet; Faulkner reading
Short stories in 1958, pie-pen-dih-culah & plant-ay-shun;
A third grade girlfriend giggling upon breaking my playground
Heart; Hendrix mumbling to Dick Cavett; subway announcements;
The high-talking neck-wattled Wisconsin weatherman, mocking
Our rare snow days, his accent like a piece of dried cheddar
Stuck to the roof of the mouth; the greybearded deafmute
Scratching his balls & barking at the librarian for pen & paper –
Yuh yuh yuh! Yuh yuh! My Winston County snake-handling
Lingerie-wearing charismatic preacher cousin, denouncing
The moral decline of our god-spurning country; a football coach
Laughing & popping his dirty wet towel on the bare ass
Of my developing & fragile ego; Stephen Wright, Bill Hicks;
The back alley lisping hobo, scoring grass from college kids;
My creative writing teacher, a slash pine stump of a man,
Reading Ferlinghetti to a classroom cramped with crackers;
Jesus Christ, Jerry Seinfeld, blessed are the yada yada;
Grandmother reciting family names like Old Testament verse,
Otho, Barnabas, Zebulon, Clefus, her voice thin & reedy &
Hearkening Wednesday night prayer meetings, catfish suppers,
Hot summer afternoons shelling peas, hailstones on a tin roof.
Art by Evie Lovett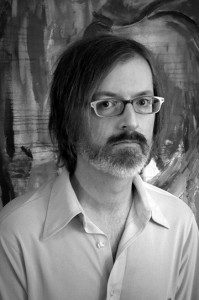 Harold Whit Williams is guitarist for the critically acclaimed rock band Cotton Mather. A session musician for numerous Austin artists over the years, his lo-fi studio projects DAILY WORKER, and the ambient home-recorded The French Riot, now have hours of music available online for download or streaming. A longtime UT Austin Libraries employee, Williams catalogs archived KUT music and writes a quarterly music review (Whit's Picks) for TexLibris. Williams is also a 2018 Pushcart Prize nominee, recipient of the 2014 Mississippi Review Poetry Prize, as well as being author of four books of poetry. His collection, BACKMASKING, was winner of the 2013 Robert Phillips Poetry Chapbook Prize from Texas Review Press, and his latest, RED CLAY JOURNAL, is now available from FutureCycle Press. He lives in Austin, Texas.
Nike air jordan Sneakers | adidas Yeezy Boost 350
https://hungermtn.org/wp-content/uploads/2015/08/CROPPED-Lovett.-Rainbow-Cattle-Co.-21.jpg
2917
4167
Miciah Bay Gault
https://hungermtn.org/wp-content/uploads/2021/09/VCFA_logo-rgb-200x200-1-300x300.png
Miciah Bay Gault
2015-03-24 14:52:29
2019-11-04 21:24:51
Two Poems

Harold Whit Williams