"And the difference was all the difference there was." ~ Toni Morrison
I'm hard pressed to say
America without sounding
like a terrorist.
I'm a guest here.
I arrived
with a few syllables
lashed to my back.
One of them is bitch.
I wear it
like a white dress
made for your funeral.
Here lies. Here lies.
Build a wall.
My man will lay
the first brick.
I'm already over it.
You say I don't
know how to be
a wife.
I never show up
for anything
for free.
I've always been in fashion.
I spent many
a night chained up
in the cabin.
I earned my right to stay.
Did I tell you
about my son?
He speaks languages—
a citizen of
so many plots
of ground.
We're bleeding this country.
I feed him with
the hard-earned money
of tax-payers.
It's champagne
every morning;
caviar at night.
Each black bead a fetus
more precious
than his skull.
Can I live?
My grievances
have always been small
and breathtaking,
like my country.
It's just that,
all of a sudden,
now, they're useful.
Art by Maggie Nowinski.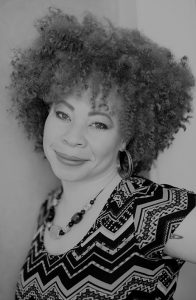 Destiny O. Birdsong is a Louisiana-born poet, essayist, and editor who lives and writes in Nashville, Tennessee. Her poems have either appeared or are forthcoming in African American Review, The Adroit Journal, Muzzle, Indiana Review, Bettering American Poetry Volume II, The BreakBeat Poets Presents: Black Girl Magic, Split This Rock's Poem of the Week, and elsewhere. Her critical work recently appeared in African American Reviewand The Cambridge Companion to Transnational American Literature. Destiny has won the Academy of American Poets Prize, Naugatuck River Review's 2016 Poetry Contest, Meridian's 2017 "Borders" Contest in Poetry, and the Richard G. Peterson Poetry Prize from Crab Orchard Review (2019). She has received support from Cave Canem, Callaloo, Jack Jones Literary Arts, Pink Door, The MacDowell Colony, The Ragdale Foundation, and Tin House, where she was a 2018 Summer Workshop Scholar. She earned both her MFA and PhD from Vanderbilt University, where she currently works as a research coordinator.
affiliate tracking url | GOLF NIKE SHOES
https://hungermtn.org/wp-content/uploads/2018/03/MN_081517_13_72dpi.jpg
1139
750
Cammie Finch
https://hungermtn.org/wp-content/uploads/2021/09/VCFA_logo-rgb-200x200-1-300x300.png
Cammie Finch
2019-03-22 12:09:03
2020-06-21 06:31:53
Of Unapologetic Black Women and Melania Trump

Destiny O. Birdsong