The teacher did not like the poem,
but seemed unable to say why, his face
seeping dismay or disgust.
Perhaps it was the procedure itself, the idea
of making an incision, no matter how small,
in those tender spheres, or the thought of sperm swimming
endlessly up and down a dead-end street.
Or maybe it was the gory description,
the red clots oozing from the wound
that refused to seal, the blood-soaked diapers.
Or maybe it was my failure to convincingly present
the action of the scene, how my husband
staggered from the bedroom to grab
another diaper while I huddled near the heater
with our newborn son; how I didn't even know
the gravity of the situation until I opened
the diaper pail.
Or maybe it was the coldness of the narrator
who refused to speak to a man who might be
bleeding to death.
Or maybe it was the anger
I didn't know what to do with on or off
the page because I had not been part of this
decision, still wanting the possibility
of a daughter. My husband told me later
that the bleeding had stopped by the time
he got to the emergency room,
but so much in me remained raw.
The teacher pointed his finger
accusingly at the poem: This is a mess.
I looked down, his words clotting
in my mind, the page itself oozing
red streaks and splots as I stuffed the poem
into my bag and tried to pretend
none of this had ever happened.
Art by Daniel Toby Gonzalez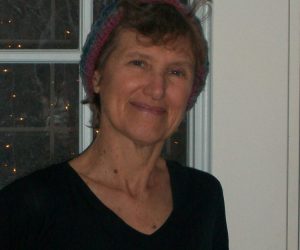 Carol Tyx teaches writing and American literature at Mt. Mercy University in Cedar Rapids, Iowa. Her work has most recently been published in Big Muddy, Earth's Daughters, Iowa City's Poetry in Public, and Rising to the Rim, published by Brick Road Poetry Press. On any given day you might find her cooking with kale, contra dancing, or standing on her head.
Running Sneakers | Air Jordan
https://hungermtn.org/wp-content/uploads/2016/09/The-Script-2-01-noframe-cropped-e1473864545209.jpg
700
700
Miciah Bay Gault
https://hungermtn.org/wp-content/uploads/2021/09/VCFA_logo-rgb-200x200-1-300x300.png
Miciah Bay Gault
2016-10-13 07:00:23
2019-10-25 14:03:48
Vasectomy

Carol Tyx