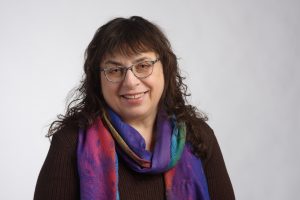 Caryn Mirriam-Goldberg began her visit to Kellogg-Hubbard Library on October 11th by reading from her latest release Miriam's Well: A Modern Day Exodus. She shared with us the opening chapter when the story's main character Miriam, her brother Aaron, their friend Alan, and Miriam's family get caught in the subway during a blackout in New York City during 1965. I was struck by her ability to bring all of us in that subway car with them through rich descriptions and interesting dialogue from strangers they were meeting only by circumstance. Caryn describes the novel as historical and mythological.
She then transitioned us to the writing workshop portion of her visit by going over thirteen rules she has developed over many years. Some of the highlights include: Don't worry about spelling, grammar, and most of all, making sense. Practice trust. Trust yourself to write what you need to write, how you need to write it. No self-deprecating remarks allowed (especially when preparing to read your work). Quickly after finishing up her final rule and without much of a pause she emphatically said to all of us: "You're the boss of you."  
She guided us towards writing any pieces we might be comfortable attempting that evening. She "assigned" us a couple of prompts but said we could go in any direction we wanted. When it came time to share, we were free to take a pass. One man struggled a little getting his words out and communicating. Caryn reassured him and made him feel welcomed. Just by witnessing this, I also felt welcomed. As someone who is just starting his journey towards leading workshops, I felt inspired to provide a similar presence for others.
The day before this visit I had the good fortune of being able to speak with Caryn  on the phone about her career. It has included being the Poet Laureate of Kansas, a Faculty member at Goddard College where she found the Transformative Language Arts Concentration program, and a facilitator of community writing workshops for many popuulations, including people with serious, late-stage illness. In everything she does, she strives to help others to "make the invisible visible."
I was really curious to see if Caryn believed writing workshops facilitated community. "Without a doubt," was her response. Bursting with pride in every word, she detailed her experience in the workshops she leads. They have been "powerful and wonderful." The participants might be battling cancer, M.S., or Parkinson's but they are "writing together and speaking freely using their own language."  Caryn's attributes this to the fact that "the veil is pulled off" for people living with serious illness.
This work is personal. Caryn is a survivor herself and lost loved ones to these types of disease. During 2002-03 when she was in treatment for breast cancer, she added to the community writing workshops she had been doing for years by offering to lead such workshops for people living with cancer. This exemplifies that for her there is no gap between what she espouses could benefit other writers from and her own process.
Our conversation then turned to the Transformative Language Arts Concentration program at Goddard. It is defined as "the intentional use of the written, spoken and sung word for individual and community growth, development, celebration and transformation." Caryn invites incoming students to be "in conversation with what is calling in their lives." As the program webpage details, this is achieved through creative writing, songwriting, drama, and performance, plus a community-based practicum, and deep study in the theoretical underpinnings of this field. According to Caryn, along the way there is "healing/health and social change." She is in touch with many of the graduates, and she is proud to say they are still doing work related to their time in the program. She traces this to the low residency model and the freedom it gives students to remain in their communities while also delving into the craft of writing. As listed on the program's web page, it follows in the tradition of Tikkum Olam, the Hebrew phrase that refers to "putting back together the broken world."
For Miriam's Well, Caryn turned to another Hebrew tradition known as Midrash. It refers to the actions of "re-interpreting and re-envisioning." I asked her if she felt this was important in American society today. She replied by calling my question a leading one but also adding that it is "important for us to have a method for working with myths." At the reading she shared with the audience that "sacred stories are central in our beings." Along those lines, she explained that many scholars spoke of the Torah as "black fire written on white fire" and the white space on the page is symbolic for the groups in society who have been traditionally unrepresented. For Caryn, it is also where the real story lies.
Caryn finds herself drawn to story. In Miriam's Well, she is working with the story of Exodus and retells it in the context of the most important events in the second half of the Twentieth and beginning of the Twenty First centuries. Readers can expect the main character Miriam to turn up during the AIDS crisis in San Francisco, the bombing in Oklahoma City, the attacks on 9/11, the aftermath of Hurricane Katrina and others. For me, it is a unique mix of Biblical Characters and Forrest Gump. It inspires a re-engagement with the American story. In other words, it is the perfect ambassador for Midrash.
The book took over 14 years to complete and came out of her method of working on three or four projects at a time. According to Caryn, this method holds off writer's block from settling in. Traveling back and forth between Kansas and Vermont twice each year, with additional travel to promote her books and lead workshops, she tries to spend as much time as possible writing in between her other work. She characterizes it as "touching base." I find it to be a practice I want to emulate.    
Travel was also a key part of her time as Poet Laureate of Kansas from 2009-2013. When the state arts commission, which housed the poet laureate program, was eliminated by the governor of the time, Caryn took the mission on the road. She crowd-funded her travel expense funds and collaborated with others to produces three anthologies.  She eventually found a home for the program under the Humanities Council of Kansas. She is proud to say both the council and the laureate position are still going strong today.
In her work as the Poet Laureate, she enjoyed most being able to connect with other poets. In her view, if a person does not like poetry, then "they haven't found the right poem." During the workshop I attended I began to write a poem focused on the image of my grandfather standing on his front lawn, waving us out of the driveway. It built off another poem I had just written as a letter addressed to him. I was excited to have written a poem connected and in conversation with another. I was eager to continue working on it.
Caryn believes writing is a "constant process of getting lost to get found again." It is a chance to affirm a person's connection with living on earth. She encourages people to fall because they can first feel the ground "catch" them and then ponder the metaphorical falling available to us. This philosophy mirrors the final two lines of her poem "You Rise Up to Meet the Falling World":
We are made to catch the falling world,

just as the earth is shaped perfectly to catch us  
She implores others that with "so much around us at each moment" and "living in screen-focused culture" to "open your vision."
Caryn opened my vision to true literary citizen, advocacy for expression, and how to make someone supported and heard. I will continue to return to our conversation, her reading, and that driveway poem I drafted. I know that if I have any questions, as I did while writing this feature up, I can always reach out to Caryn and she will be there to help; the same way she is for an entire community of writers who consider themselves fortunate to know her.
Thank you again to Caryn for speaking with me, being so inviting and welcoming, and for helping with some of the wording of this profile.
You can see about Caryn at her website: www.CarynMirriamGoldberg.com.
Nicholas Howard is a native of North Attleboro, MA, a graduate of Stonehill College, and a current candidate for an MFA in the Writing & Publishing program at Vermont College of Fine Arts. His words have appeared in Stonehill's journal for student work the Cairn, Stonehill's Alumni Magazine, the bi-weekly Warwick Beacon, and the blog for both the Flynn Center for Performing Arts and PoemCity. He enjoys performing his poetry at open mics and tries to live by the rule "listen more, waste less."
Best Authentic Sneakers | New Releases Nike
https://hungermtn.org/wp-content/uploads/2020/05/turned-on-enjoy-today-neon-signage-1935370.jpg
800
1200
Erin Stalcup
https://hungermtn.org/wp-content/uploads/2021/09/VCFA_logo-rgb-200x200-1-300x300.png
Erin Stalcup
2019-05-24 11:51:16
2020-06-20 11:04:03
A Profile of Caryn Mirriam-Goldberg

by Nicholas Howard