Virginia Booth: Amahl, I'm really curious to hear more about your participation with the Climate Change Theatre Action, and your play Oh, How We Loved Our Tuna!
Amahl Khouri: How did it start? That's a good question. I was invited by the Climate Change Theatre twice to participate in this global initiative. Weirdly enough I had been an environmental activist in 1991, when I was still in high school, in the middle of Jordan, where nobody had even heard of climate change. There was talk about the hole in the ozone, but there was not real concern on the ground in the '90's. So, it started there. Then I became preoccupied with things and didn't do much activism and then at some point I became obsessed with Sicily, I had a very profound dream about Sicily, and I was able to go to Sicily and when I arrived I visited the tuna canneries that used to exist there. I had read a lot about the tuna fishing that happened for thousands of years in Sicily where the mating tuna comes into the Mediterranean in spring and early summer, the fisherman off the coast of Sicily have this brilliant way of trapping them, they create this very complicated architecture net for the fish to swim in and they close the trap and pull up the net and bludgeon the fish. It's worked that way for thousands of years and it's been sustainable. Now, there is a lot of Japanese demand for fish and especially for tuna for Sushi. These fish can reach crazy prices on the tuna market on the auction in Tokyo. So, what they do is they have been scouring the entire planet for the tuna. They come to the Mediterranean with helicopters and they can see the fish from the helicopters, and they can trap them using much deeper nets, the result is that globally the blue fin tuna is almost extinct, because of this desire for sushi. Especially coming from Japan. And so, I wanted to marry my love for Sicily with this invitation to write a play about the environment and I wrote it as an elegy to the fish and the main premise of the play is about how you can love something so much that you can kill it. That's what's happened to the tuna, they loved it so much that they've killed it. It's a five-minute play and it's been read all over the world. 
VB: What was the most challenging part of this collaboration for you?
AK: Not to be didactic because I don't think theatre should be a place where audiences should go to be taught a lesson or be beat over the head with a moral. That's the real challenge for the climate change one, because we are fucking things up with the environment, and how do you present something that is artistic and at the same time has activism in it? I like to think that I found my way around it by doing something ironic, where it's a love song for the tuna but it's a love song from somebody that's killing this tuna. 
VB: Amahl, I've had the pleasure of taking your Craft Seminar, Unconventional Documentary Playwriting, with you this semester. During our first class you gave us a prompt that was followed by a thirty minute improv in front of the class. It was a very enlightening experience for me. I'm curious to know your thoughts and ideas about improv along with what led you to choose that particular exercise?
AK: I did a theatre workshop with a Greek theatre group called the Blitz Company five years ago, and for me as a playwright, I found that the improvs that I did with them were far more fruitful and productive than sitting in front of a laptop. I discovered so many things that were in my subconscious, so many associations that were there, that would have taken me forever to find, here at a coffee shop just typing away. It was more of a writing process ironically while also being a performance process, there was so much excavation that I could do. I had so much access to my subconscious, because the exercise is thirty minutes and after ten minutes you've exhausted your preconceived ideas and the things you had prepared to say. When you run out of things to say that's really when you write, it's kind of like when you write the first few pages and then the piece really starts in the middle. I wanted my students to have that practice of running out of clever things to say and having the pressure of the audience and being watched, it would force you to find something. For me, since this is a playwriting course, it was valuable to have all of you in a theatre situation. Where you have to perform, where you are being watched, where you have an assignment and to take you all into theatre. We are in a place where we have a library and it's a University, there's no theatre here, so we created the theatre. 
VB: Can you tell me what is the most rewarding aspect of working with students who do this form of improv?
AK: Definitely seeing my students run out of things to say, especially as writers. You know the saying —kill your darlings, for me that's the most important thing for you to do, to watch you break out of your old patterns and to find something new is very rewarding. I saw that in all the plays that you all submitted today, where you were able to kill your darlings in a new way. For me, the most rewarding thing, not even just in improv was today when I read your play scripts and compared them to your first draft and to see all of you trying something so new, it was very rewarding.  
VB: I would love to hear what drew you to the craft of playwriting?
AK: I used to write poetry and I had a fellowship at Penn USA in 2007. As I was writing poems, I started to write stories and it became prosaic. One of my workshop teachers was Terrance Hayes and he kept telling me this is too prosaic, this is prose. So, I thought—Oh this is somewhere between Prose and Poetry. For me, for the longest time, I didn't fit into a typical playwriting form. I found later on when I moved to Germany, I found existed on the stage.  I felt validated as somebody that could be a playwright to even though I didn't write dialogue and wasn't obsessed with plot and character, there was still room for me in certain theatres. Actually, I wanted to be a director and after a stint at UCLA for the fellowship, I went to Beirut and I apprenticed with a director. I was working as a Journalist at the same time, interviewing people and eventually I thought, It's my time to direct a play, I've been apprenticing so long. But then I couldn't find the plays that I wanted to direct, they didn't exist, because I think in Arab countries we are having a big crisis in playwriting, there aren't many new texts. So, I went to a talk by a German creator who said that they do documentary theatre in Germany and my mind exploded. I had never heard of that, so I figured with the training I had at the fellowship and with my skills as a journalist, I could combine that. I started to write the kind of plays that I wanted to see because they didn't exist. But it was never planned, one thing lead to another. 
VB: What are you currently reading?
AK: I'm reading, Nietzsche, The Birth of Tragedy, and Anna Tsing, The Mushroom at the End of the World.
I just read Ocean Vuong, On Earth We're Briefly Gorgeous, and Flights by Olga Tokarczuk, I'm reading off and on. 
I don't read very many plays which I don't like to admit, but I'll admit to you. I like to have other forms influence me rather than other than plays, novels, poetry. I'm reading the Best American Poetry of 2019, I just got that book. I'm reading a lot of cookbooks from the 14th century because I'm doing a lot of research on plants and incense for a performance that I'm writing. So, seeing the plants and spices that people have used has been very helpful for me. 
VB: Amahl, that wraps up our interview for today, I can't thank you enough for your time! As I stated previously, I am so impressed by the three-week module you taught here at VCFA. I know this is your first time teaching and I would very much like to reflect that you crushed it and hope that you continue sharing your knowledge in the future.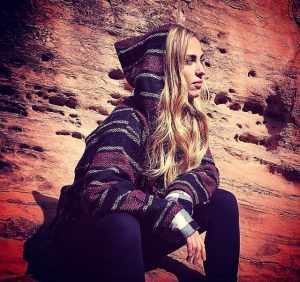 Virginia Booth is currently an MFA Candidate at the Vermont College of Fine Arts. Virginia mainly writes Creative Nonfiction and Memoir but has a natural affinity to all genres in the literary world. Her diverse and rich understanding of culture and human nature comes from her wisdom gained through traveling a vast part of the known world.  Many of Virginia's travel-writing pieces filled with her life-changing experiences can be viewed on her travel blog, www.healingartstravelgram.com. In addition to this, Virginia is the author of a Travel Memoir, The Un-Named Road, and is currently working on her second novel which sheds light on classism, privilege, entitlement, elitism, and resiliency.  While Virginia's heart lies in her writing, she also enjoys teaching classes on Web Design, Marketing, Travel Writing, and Speculative Fiction at VCFA, is a Editor for Hunger Mountain Journal of the Arts, and has facilitated writing workshops around the world.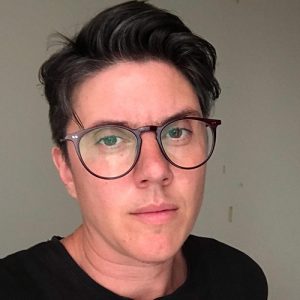 Amahl Raphael Khouri is a queer transgender Jordanian documentary playwright and theatremaker based in Berlin. Khouri is the author of several plays, including She He Me (Kosmos Theatre, Vienna 2019), ICH BRAUCHE MEINE RUHE(Politik im Freien Theater Festival, Munich 2018), & No Matter Where I Go (Beirut 2014). Khouri is also a part of the Climate Change Theater Action and their play Oh, How We Loved Our Tuna!was read internationally as part of the initiative. Khouri was a selected playwright at the Arcola Global Queer Plays (London 2018) and the Lark hotINK international play reading series (NYC, 2015). Khouri was a member of the Lincoln Center Director's Lab (NYC, 2013) and was the recipient of a Rosenthal Emerging Voices fellowship for poetry from PEN USA (Los Angeles, 2007). Khouri's work has been published in several U.S. journals, as well as Global Queer Plays(Oberon Books 2018), Skrivena Ljubav (Samizdat 2018) & International Perspectives on Where Performance Leads Queer anthology (Palgrave,2016). Khouri's work will also appear in the upcoming International Queer Drama Anthology published by Neofelis Verlag in 2020.
https://hungermtn.org/wp-content/uploads/2020/05/nicolas-olivares-koRlCPWfuzQ-unsplash.jpg
800
1200
Erin Stalcup
https://hungermtn.org/wp-content/uploads/2021/09/VCFA_logo-rgb-200x200-1-300x300.png
Erin Stalcup
2020-04-28 10:36:50
2020-06-20 10:54:14
An Interview with Amahl Khouri

by Virginia Booth