When the thumb of summer presses down
and the creek dries up,
a subterranean babble rises from under bed-rocks,
lapping at the roof of a mouth.
It could pass for someone sighing, a girl laughing,
lovers whispering secrets grabbed by air.
It could be what is left of ancient voices
escaping through their secret door—
much like trapped fingerling trout
thrashing against the prison chill
of their shrinking pools, weight of the end
upon them.
Art by Daniel Toby Gonzalez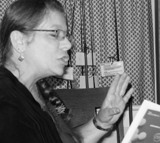 Georganna Millman lives in the Catskill Mountains of upstate New York with her husband Marty. They have two grown sons. She is self-employed, owning an independent retail pharmacy. She graduated from Skidmore College, has been a contributor to the Ernest Becker Foundation newsletter, and has lectured at the Chapman Museum in Glen Falls.
latest Running Sneakers | Shop: Nike
https://hungermtn.org/wp-content/uploads/2015/08/RESIZED-GONZALEZ_Twist_1000x700_2012_tobygonzalez.jpg
2917
4164
Miciah Bay Gault
https://hungermtn.org/wp-content/uploads/2021/09/VCFA_logo-rgb-200x200-1-300x300.png
Miciah Bay Gault
2014-12-01 22:38:31
2019-11-04 22:04:12
Hearing Voices

Georganna Millman