Of Form and Person
Unghost, the leftover residue across the surfaces of
the sea, after a receding
wave or a skimming of the hands. The present has no
such rhythm, like the sea
and its glassy walls, heart against cheek—a scale to
weigh the whales. 

With a sweaty waistband, Are you afraid of me? I ask.
May I turn you into a wheelbarrow with my hands?
Kiss through your clothes? 

Sometimes I think it was just my imagination, why
should I be afraid to die? I belong
to you; happy to sit with you, here, because it fits to
be outside where one can see
the heels of the clouds while lying on their backs,
dying, as the clouds say back, Bye, Kid,
beautifying balances—where you go to find your
voices. 

My favorite game is Raindrops! she says. Like ours,
she hadn't tired of their constellations,
of their runaway geometry; I lacked all the manly
graces. Would I have the grace
to help please? Please? As miracles, as prophecy
tongues, please, as a gift of modern acoustics, please,
as object of "Wonder how it still remains inside
the skin?"
She has a more generous mouth than I ever could,
until she tells me, Go home.
Children of Paradise
A magician in
a ghetto-full of
magicians, just groping.
What are you watching?
The buildings.
No more gossip, no more
news that was from another
time with less electricity.
Diapered kids between
windshield wiper streaks
like musical notes, the dark-
brown bodies padding on
soft feet splashing into
or gurgling hundreds of fire
hydrant baths, screeching
and whistling like helicopter screws.
These were the extremes:
the goods they made
when they met behind
the afternoon, listening, they
felt warmer, larger.
The summer felt drowsy
with its sunburnt knees,
Isn't it beautiful? Say it.
But, what on Earth for?
Show a little more pride.
And you feel so small
on the ground at the bottom
of a wall, all of the words
she wrote on the wall, talking
wonderfully and wind chiming only
half understandably, beautiful,
beautiful so that it made
you cry, Go! Go! Go!
But shouldn't we wait
until we actually see
the new world?
Art by Daniel Toby Gonzalez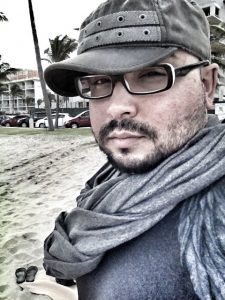 Born and raised in Miami, FL, Michael J Pagán spent four years (1999-2003) in the United States Navy before (hastily) running back to college during the spring of 2004. He currently resides in Lake Worth, FL, with his wife and daughter where he continues to work on his poetry, short fiction, nonfiction and a collaborative novel. He is a contributor to his alma mater's blog, The MFA at FAU, as well as his own, The Elevator Room Company, and is a co-founder of 100 Miles & Running – A Collective.
Asics shoes | Nike
https://hungermtn.org/wp-content/uploads/2016/09/Pussy-noframe-croppedBW-e1473864565756.jpg
700
700
Miciah Bay Gault
https://hungermtn.org/wp-content/uploads/2021/09/VCFA_logo-rgb-200x200-1-300x300.png
Miciah Bay Gault
2016-10-06 07:00:20
2019-10-25 14:12:51
Two Poems

Michael J. Pagán