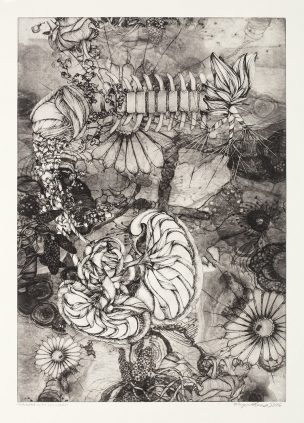 I laid down at your door a white bowl of milkweed houndstongue lupins
cape tulips & juniper a garland big enough to kill a thirsty horse I like
my peace like flower or fire wild you can bring a horse to water you can
force it to swim but you can't trust what comes after a broken animal
breathes too fast your eyes are wide there's not enough blood in the
brain all my love's in vain
From Hunger Mountain Issue 22: Everyday Chimeras, which you can purchase here.
Cover Image: Nowinski, Maggie. "(In)Habitat (Untitled – With Leviathan)" 2016. Photopolymer Intaglio on Hahnemuhle Copperplate, 13″ x 19″.
https://hungermtn.org/wp-content/uploads/2018/06/MN_081517_03_72dpi.jpg
1045
750
Cammie Finch
https://hungermtn.org/wp-content/uploads/2019/03/Writing-and-Publishing-Logo-300x874px.png
Cammie Finch
2018-06-25 10:03:26
2019-03-16 07:43:42
capture

Beth Bachmann