Yes, ya'll, Erin Stalcup is the badass new Editor of Hunger Mountain literary journal.
Erin joined the faculty of the MFA in Writing & Publishing program at the Vermont College of Fine Arts this past September. She is the author of the story collection, And Yet It Moves (Indiana University Press, 2016), and the novel Every Living Species (Gold Wake Press, 2017). Her fiction has appeared in The Kenyon Review, The Sun, Hinchas de Poesía, and elsewhere, and her creative nonfiction was listed as a Notable Essay in The Best American Essays 2016.
Erin received her MFA from Warren Wilson College's Program for Writers, and later served as the Joan Beebe Fellow at Warren Wilson. Erin has taught in community colleges, universities, and prisons in New York City, North Carolina, Texas, and Arizona, before moving to Vermont. 
The above bio is impressive and by all means true, but you've got to meet her in person to get the full Erin Stalcup experience.
Erin brings an irreplaceable passion and grit to Hunger Mountain. She's sharp, thoughtful, believes in diversity, kindness, and art. She states in her Editor's Note for the literary journal, Waxwing, which she co-founded with her husband, Justin Bigos, that she/they "made space for the weird and wonderful."
They made a space for people like me. 
This is what makes Erin a fantastic editor. She seems to instantly recognize the weirdly wonderful. Her punk rock flavor–her love of the ugly beautiful–the raw, the harsh heart-blistering truth–shines especially bright in the classroom, and in the pages of Hunger Mountain's twenty-third issue, the premiere issue with Erin as editor, our Silence & Power issue.
I asked my VCFA classmates, who'd just finished working on the new issue in Erin's Publishing & Fieldwork class with me, to describe our dear editor with one word, and they answered …
Exuberant, Empathetic, Vivacious, Heartfelt, Thoughtful, Enthusiastic, Rebellious, Curious, and Punk-Rock.
I would add Brilliant to the list.
One of Erin's students, Jordan, went on to say, "I'd describe the class as an invaluable experience that helped prepare us for the realities of magazine life as well as something that has taught us a lot of the fundamentals of the industry. How many people get to speak with representatives of all aspects of the literary world? Erin turned what could've been a very cut and dry production of the journal into a community venture to prepare ourselves, and one another, to be productive and (hopefully) prosperous literary citizens."
Welcome, Erin.  
We're so glad you're here.
I asked Erin some questions, to help the broader community get to know her.
What was your impression of Hunger Mountain Literary Journal prior to taking the position here at Vermont College of Fine Arts as Faculty & Editor of Hunger Mountain?
I first knew of Hunger Mountain because my grad-school bestie Robin Black had published fiction & a craft essay here. Because Robin is one of my favorite writers, her presence in these pages gave me the impression that Hunger Mountain was a solid literary journal, one that cared about craft in both art & analysis. 
Now that I've read our back issues more closely, I see that we are that, & we're also a space for experimentation, play, deep engagement with the world of written & visual art, & a far-reaching network of writers & editors from all over the world. 
Did you come in with any preconceived expectations about how your first issue as editor might go?
Um, no. Maybe I should have! I've never taken over someone else's creation before—I co-founded the literary magazine Waxwing, so I knew what that was like, but Hunger Mountain already had a legacy: twenty-two issues published & many editors who built it. I wanted to both honor the work & care that had gone into this journal, & make it my own—rather, our own; I knew I'd be creating the first issue with students in the Writing & Publishing program, & while I'd taught a Publishing & Fieldwork class before, it was again with a journal I'd co-founded, the undergraduate magazine The Tunnels. So, coming into this, all I knew was that I wanted to respect the community who created Hunger Mountain, & become a part of that community, while helping my student editors feel a part of it, too. I guess I expected that it would be hard? And worthwhile? And it was! But it was more fun & rewarding & joyful than I could have ever wished.
What has the reality of putting out your first issue of HM been like?
The ten first-year students who edited this issue alongside me are fierce: they also felt ownership of these pages, & we collaborated together so well. We did everything as a community, from writing a new Mission Statement to designing a new website to brainstorming the design for the print issue (created by the astounding VCFA Graphic Design alum, Dana Lyons). That crew was game for anything I threw at them—finding a new printer at the last minute, copyediting the work of pretty famous writers, declining work they loved but that we just didn't have space for—& it was such a delight to work with them. The tenacity & hilarity & brilliance of this squad made my first issue an honor & a pleasure. I'm grateful to them for being as all-in as I was. I think we made something beautiful & profound together.      
Who would be your dream guest prose & poetry editors?
Oh wow. So many. Ha—let's see if we can get Cormac McCarthy, while we're dreaming. Don DeLillo! Nah, let's do girls to the front for a minute. Writers of color to the front. Writers who are differently abled. Writers who are queer. 
How about Roxane Gay?!? Ta-nehisi Coates? Claire Vaye Watkins. I need to read more international writers so I can call them to the front. Tommy Orange. Amy Hempel. Colson Whitehead. N.K. Jemisin. Victor LaValle. Wayétu Moore. Each of those writers would reach into such amazing communities & bring us such righteous work.   
Poetry?!? Damn. Ross Gay. TC Tolbert. Matt Hart. Warsan Shire. Ladan Osman. Ada Limón. Okay, I've got to stop. 
(And I'm so grateful to the brilliant writers who've already edited & judged for us under my watch: Natalie Scenters-Zapico, James Scott, Yamile Saied Méndez, Erika T. Wurth, Natalie Diaz, Monica Brown, & Elissa Washuta. They're on my dream list, too, they've just already said yes!)
What literary journal have you loved the hardest & longest?
Waxwing! Ha. That's true. But as far as journals not my own, The Collagist. Matt Bell wrote the nicest rejection letters when he was fiction editor over there, & guided my ethics as an editor (we were on a panel once where he talked about giving suggestions to an author, but always making it clear that the piece will get published in whatever form the author wants, so they don't feel forced to take editorial suggestions that don't feel right just to get published … I've tried to embody his generosity & wisdom as an editor). Gabriel Blackwell & Matthew Olzmann have been just as generous & wise at The Collagist, & the magazine is regularly bringing on new wonderful, exciting writers to help edit. The clean, focused aesthetic of The Collagist was an inspiration for Waxwing, as well as their willingness to publish the weird & the wonderful, things that are beautiful in their grotesquerie. (By the way, I've still never been published in The Collagist, though I send them everything I write that I think might be good enough for them! I share this so that readers know that rejection happens to ALL OF US. All the time. And the dream journal isn't The New Yorker for all of us. There are so many magazines out there publishing brilliant writing, & we've all got different ambitions. It's a privilege to be a part of this world.)
(This just in! The Collagist has become The Rupture! Man, I cannot wait to see what this crew does with this new space & name.)
Secondary shout-out to a prestigious magazine who has been super supportive of me over the years: The Kenyon Review & Kenyon Review Online. They're innovative in the way they produce both a print magazine & an online journal, & I think they're one of the few old-school periodicals willing to take risks on strange work. It's such an honor to have been in both their paper & cyber pages, & I always read them with enthusiasm & joy.
Honorable Mentions: Newfound, The Wax Paper, & Nepantla (& I also love Anthropoid, As/Us, Mud City, Red Ink, & Forklift, Ohio: A Journal of Poetry, Cooking, & Light Industrial Safety, but they all are rebuilding, on hiatus, or haven't published anything new in a bit. But what they've already published is awesome.)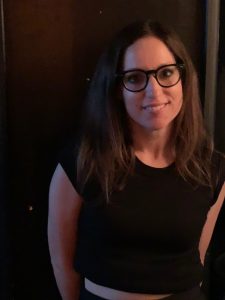 Tracy Haught grew up in Wichita, Kansas, the product of a newspaper columnist and a poet. She's been a Deadhead, a street punk, a military wife, a mother, a divorcee, and now she's a grad student. She's also pretty good with a pool stick. Her work has appeared in Magnapoets, The Oklahoma Review, Polyphony, Prime Mincer, Sugar Mule, and others. Tracy lives in Montpelier, Vermont (with her dog, Story), where she's a current MFA candidate in the Vermont College of Fine Arts Writing & Publishing Program. 
trace affiliate link | 【国内4月24日発売予定】ナイキ ウィメンズ エア アクア リフト 全2色 – スニーカーウォーズ
https://hungermtn.org/wp-content/uploads/2012/03/rsz_jason-leung-axkqisrpqsa-unsplash.jpg
800
1200
Erin Stalcup
https://hungermtn.org/wp-content/uploads/2021/09/VCFA_logo-rgb-200x200-1-300x300.png
Erin Stalcup
2019-07-01 08:00:20
2020-06-20 21:59:43
Meet Hunger Mountain's Badass New Editor: Erin Stalcup

by Tracy Haught